Insurance Menu for Fast-Food and Quick-Service Restaurants
Fast-food and quick-service restaurants often face the same risks as other businesses, such as property damage, employee theft, and cyberattacks. A standard business insurance policy usually covers these types of risks for a fast-food restaurant. However, a business that is a franchise, uses its premises, or seeks a bank loan may be required to purchase additional insurance to cover risks specific to the fast-food industry.
If you own or operate a fast-food or quick-service restaurant and are concerned about your insurance coverage, contact your agent now. As a seasoned authority, an agent is ready to help you evaluate whether your restaurant must maintain certain insurance, and which insurance you need to purchase.
Here are a few typical coverages the owner of a fast-food or quick-service restaurant might need to consider.
General commercial insurance
Restaurant property insurance covers damage from fire and weather events, and most frequently replaces the assets that a loss affects. General commercial insurance, including property and liability, offers standard coverages for pretty much all restaurateurs. While commercial property insurance covers fire or weather damage it will not cover flood damage, flood is provided by a separate policy for a building and its contents. For restaurants, commercial property insurance should include the business's signage and exterior items such as satellite dishes and should be covered in the insurance.
Commercial general liability insurance is needed for claims that others can make against a quick-service restaurant. Two different types of exposures are covered in a general liability policy, premises operations and products and completed operations. These coverages will protect against risks such as food poisoning arising after a client leaves the restaurant, scalding drink spills on customers, and slip-and-fall injuries, to name a few.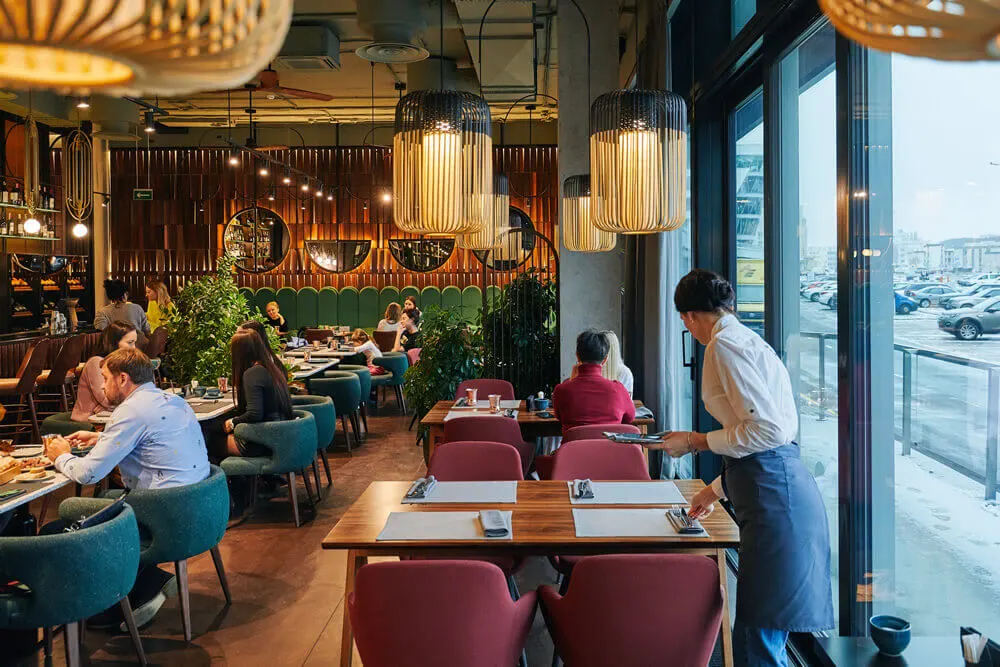 Business interruption insurance
If your fast-food or quick-service restaurant ever gets closed for a temporary period, business interruption insurance can compensate for lost revenue, if the closure is caused by damage to the building by a covered peril (wind, fire, vandalism, etc.). Your insurance agent can help you identify suitable coverage options for your situation.
Cyber liability insurance
Any business operating in the modern era must have cyber liability insurance. For quick-service restaurants, cyber liability insurance helps recover lost profits in the event the business is shut down for a day or longer while computer systems are under attack by cybercriminals. This insurance can also cover costs for repairing the company's network and information systems. Cyber liability insurance can also pay for customers who need credit monitoring following cyber breach.
Workers' compensation
Even the safest fast food and quick service restaurant can pose dangers for its workers. You implement a comprehensive safety training program for them, but working in commercial kitchens still presents inherent and unavoidable dangers such as risks of fires, burns, knife accidents, and slips and falls. It's not just a recommendation that all businesses purchase a workers' compensation policy, but is often required by law depending on the state where the business is based and number of employees. Your insurance agent will be able to tell you exactly what local laws and regulations your restaurant must comply with in regard to your workers' compensation program.
Commercial vehicle insurance
Does your restaurant offer delivery service? Does your restaurant own any vehicles? Do employees use their own vehicles? Commercial vehicle insurance is necessary to cover any vehicles, trucks, or vans used for business purposes.
Insurance Requirements
It may be necessary for you to contact your insurance agent to make sure that you have sufficient insurance to deal with the restaurant's special requirements. For instance, if you are a franchisee, your franchisor may have unique insurance requirements. Be sure you have your franchise agreement handy when you meet with your independent agent to discuss your coverage.
Financial institutions and mortgage companies can also have special insurance requirements for companies they finance. To safeguard their financed assets, your bank may require that you fulfill particular amounts of property insurance coverage for your restaurant
Fast-food and quick-service restaurants often lease the location where they operate from. Those landlords might require specific insurance coverage from your restaurant. Again, be sure to review your lease with your insurance agent.
Work with a reliable expert
Your restaurant has unique insurance needs that aren't always easy to navigate for Commercial Insurance. Collaborating with your insurance agent today can help you save both time and irritation. And you'll feel more secure when you're properly protected and insured.
We Are a Trusted Insurance Provider