Flavors of Assurance: A Guide to Ice Cream Manufacturer Insurance
If you own an ice cream manufacturing company in the United States, ensuring product safety is a top priority. While you take several precautions to maintain a safe environment, you cannot rule out mishaps or accidents. That's where Ice Cream Manufacturer Insurance comes to your rescue. This specialized insurance protects your company from many risks affecting your operations and financial stability.
Imagine your ice cream manufacturing facility is bustling with employees, production lines, and machinery working around the clock to churn out delicious frozen treats. One day, a piece of equipment breaks down suddenly, causing a minor fire in your production area. But thanks to your Ice Cream Manufacturer Insurance, you stand protected against substantial financial losses. Here are the types of coverage you can include under your Ice Cream Manufacturer Insurance Policy:
Commercial Property Coverage
As the proud owner of a vibrant ice cream haven in the heart of the USA, you reside amidst creativity and sweet scents. Imagine a stormy night with lightning dancing across the sky. Suddenly, you're face to face with a raging blaze – yet you stand prepared. Fire is a covered peril within your Ice Cream Manufacturer's Property Insurance Policy. You will be compensated for the damage to your property from the lightning-caused fire, allowing your business to keep churning out frozen masterpieces.
If you purchased Business Income, including extra expense coverage, you can also be reimbursed for your net income loss during the recovery period and expedite replacement equipment to get your ice cream manufacturing up and running as quickly as possible.
Workers' Compensation Coverage
As an ice cream manufacturer in the US, you understand that the heartbeat of your operation is your dedicated workforce. But amidst the world of creativity and production, the uncertainty of potential risks looms. This is where Worker's Compensation Coverage, a crucial component of your Ice Cream Manufacturer Insurance, comes into play.
Visualize this situation: Your skilled employees diligently tend to a crucial piece of machinery responsible for producing delectable frozen treats. Unfortunately, in a moment of distraction, they suffer an injury. While not a severe mishap, it still necessitates medical attention and a brief pause in their work. This is where Worker's Compensation coverage may come to your aid. It pays the medical expenses incurred by your injured employee, and if the doctor orders time off of work, it will pay a percentage of lost wages.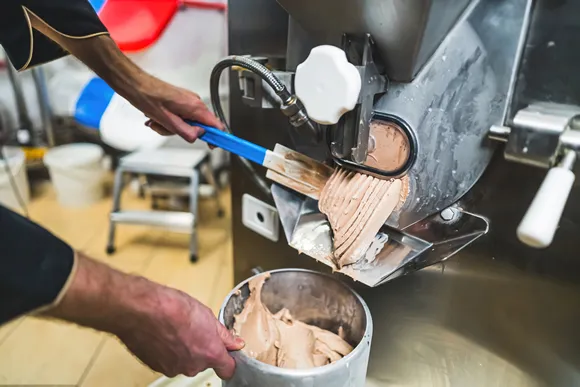 General Liability Insurance
Protect your ice cream business with General Liability (GL) Insurance. From accidents on your premises to product safety, General Liability coverage can respond to liability claims alleging your business's negligence caused physical harm to a person or property.
General Liability Insurance has two vital elements: Premises and Products/Completed Operations Coverage.
1. Premises Coverage
Slippery floors, employee injury equipment malfunctions, or unforeseen accidents can happen despite your utmost caution, resulting in property damage or bodily injuries to employees, visitors, or third parties. Premises Coverage can offer protection for incidents occurring on your manufacturing site, safeguarding your business from liability claims and related legal expenses.
2. Products/Completed Operations Coverage
For Ice Cream Manufacturers, product quality and safety are paramount. But risks like contamination, spoilage, or non-compliance with FDA standards may harm your creations and consumers. The Products/Completed Operations Coverage can respond to bodily injury liability claims if a product causes harm to a third party.
By incorporating both Premises and Products/Completed Operations Coverage into your General Liability policy, you can comprehensively protect your ice cream manufacturing business from liability claims for bodily injury or property damage caused by your operations.
Equipment Breakdown Coverage
The ice cream business's operations depend on the machinery that brings the creamy creations to life. However, the machinery may suddenly break down during production, causing product loss, delays, and disruptions. Here's where Equipment Breakdown Coverage, a vital part of your Ice Cream Manufacturer Insurance, takes center stage.
Consider a scenario: one of your crucial ice cream churning machines suddenly grinds to a halt, disrupting your production line. This coverage can fund the repair or replacement of the equipment if a sudden and accidental breakdown covered by the policy occurs. The breakdown cannot be caused by normal wear and tear or maintenance issues; these types of loss are excluded. For covered claims, you could be reimbursed for loss of business income caused by the breakdown.
Benefits of Ice Cream Manufacturing Insurance
1. Financial Security
You can gain a safety net against unexpected financial losses due to property damage, accidents involving your employees, equipment failure, and more.
2. Continuity Assurance
Your production can remain steady, helping with extra expenses and income loss in the event of interruptions in your business.
3. Overall Protection
You can rest assured that you have a safety net in place for various scenarios that could impact the viability of your business.
The following are the factors impacting Ice Cream Manufacturer's Insurance Cost in the US:
Business size and location
Desired coverage amount
Claims history
Industry experience
Annual revenue and payroll
Scoop Up Confidence with Coverage
Protecting your venture against unexpected risks is vital as an ice cream manufacturer. Ice Cream Manufacturer Insurance can guard against some of the twists and turns in your journey. Recovering from property damage, handling third-party liability claims, or paying the costs involved with employee injuries, insurance can shield your business and ensure its financial well-being.
Insurance Advisor's licensed agents design customized solutions, aligning Ice Cream Manufacturers with the most suitable coverage. Our wealth of resources, tips, and guides empower you to make informed business decisions. Read the Insurance Advisor blog to understand how Insurance Advisor can help your ice cream venture flourish.
We Are a Trusted Insurance Provider