Due to the many health benefits of juicing, juice bars have rapidly increased in appeal. With a growth rate of approximately 3% annually it's one of the fastest growing businesses. This has led to a juicing industry with $2 billion in annual revenue, it's no surprise that juice bars have generated much revenue over the past few years. If you have a juice bar already or are considering opening one, now is the time to get juice bar insurance for your business.
What is Juice Bar Insurance?
Juice bar insurance is a type of insurance that is designed to safeguard businesses that sell juices, smoothies and other beverages. Such insurance can help businesses have protection from a number of risks, including property damage, premises liability, and product liability. Juice bar insurance policy needs can vary depending on the business model, but they are often reasonably inexpensive.
What are the benefits of Juice Bar Insurance?
Owners of juice bars can obtain several benefits from insurance coverage. Some of the most common advantages include protection from owned property loss or damage, general liability or workers compensation. The insurance may also help businesses in case of a serious accident or injury. Finally, this insurance is an inexpensive way to protect your juice bar business, so it's totally worth it to get it.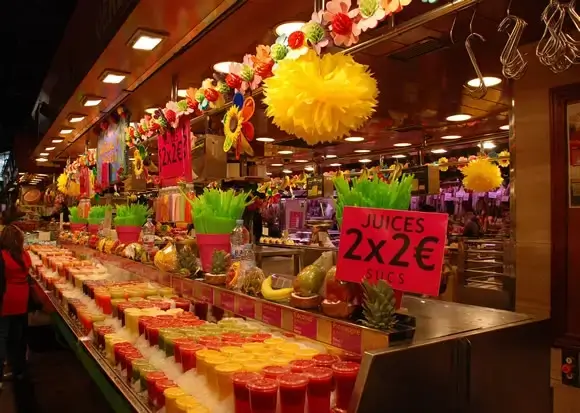 What is the cost of Juice Bar Insurance?
Insurance premiums for juice bar coverage may vary depending on where a policy is purchased, your annual revenue, annual payroll, assets insured and what coverage you need but these costs can be surprisingly low. Snapshots of the benefits that insurance coverage provides offer a good value on top of affordable premiums. By picking the proper insurance, owners will be able to protect their company in the event that an accident or injury takes place.
Why is Juice Bar Insurance needed?
We're a society always on the go. As averse as we are to waiting, always running around on errands and often multitasking, we are always trying to save time. This is where your smoothie, juice and snack bar shines, since the foods don't need to be cooked, so customers can quickly and easily get a smoothie or sandwich while out and about.
There may be times when you aren't keen on toiling for hours over a hot stove, but your business still faces everyday threats. One small error or oversight can cause your whole business to be shattered unless you protect yourself with appropriate business insurance for establishments offering healthy fast food. Read on or five reasons that securing the appropriate small business insurance is a good move on your part.
A customer chokes on a slice of fruit
Choking caused more than 4,000 Americans to die every year according to Statista. What if one of the customers in your establishment takes a sip of a smoothie and chokes on an unblended piece of fruit, what kind of insurance protection should your café have? Any food service establishment should look into creating a policy that minimizes choking risks and should also have employees prepared to respond promptly if it does occur. For example, the Illinois Health Department requires all restaurants to post a choking poster as a reference for its workers.
Depending on the circumstances, choking can be a huge liability for food service businesses. For example, one woman sued an NYC eatery after she choked on a fish bone. She had to have surgery and be hospitalized for four days, and was not able to speak for two weeks afterwards. In such cases General Liability Insurance responds to lawsuits alleging legal liability of the restaurant, providing defense and paying court awarded damages for physical injuries resulting from choking incidents brought by third parties, also called non-professional negligence.
Let's say a customer shoves the lever for ice a little too far and a few additional ice cubes drop to the ground. It isn't a major thing, but if your employees don't generally notice and dry the floor, you can end up facing liability issues. An unknowing customer might slip and fall, and you could find yourself facing a lawsuit for contributing negligence and the creation of unsafe conditions. A general liability insurance policy would be the policy to ensure your legal protection.
An employee trips over boxes on the floor
A floor manager is about to get ready to go home for the night when he trips over some empty boxes laying on the ground and falls hard. When he visits the doctor, it's immediately evident that he has a wrist fracture and needs a cast. Workers' compensation (which is required by law in most states) will cover the medical bills, a portion of wages for missed work, and rehab expenses for them in exchange for not suing you.
A customer alleges you served them contaminated food
A smoothie, juice and snack bar serving their customers may be held liable for unsafe food handling practices if a customer gets a food poisoning illness after eating or drinking your products. They will accuse you or your staff of not having processes with food handling and storage to ensure reasonable care is taken. A general liability policy with will provide product liability protection for claims of this type.
A lightning storm causes a power outage, ruining your ingredients
While lightning damage to your store's refrigeration units is covered by a standard property insurance policy, did you know that spoilage of your food is not covered? This is why it's vital that you have business property insurance with food spoilage included by endorsement. Your property insurance policy may be a separate policy or part of a Business Owners Policy (BOP) or package policy. Property insurance with the proper added endorsements will help your business recover from losses related to lightning damage and if properly endorsed, the cost of food that you lost due to lack of refrigeration caused by a power surge.
Types of Smoothies, Juice Bar Insurances
General Liability
Property Coverage
Auto Insurance
Workers Compensation
General Liability
Owning a juice bar hopefully means that your customers will visit it constantly. Since so many people are coming and going throughout the day, there is always a chance someone may be injured on your property. They might fall down on some spilled fruit juice, or they could trip over a kitchen mop lying nearby. No matter how they get injured, you need to ensure that you have sufficient financial resources in order to cover court costs if you are sued after a customer is injured. Having liability insurance provides that resource even if your bank account doesn't.
It can also cover legal costs if another business files a suit against your business, accusing you of slander or libel, using their name. It can also cover you if another party accuses you of copying their trademark or a website design. No matter how diligently you try to avoid copyright infringement, there still may be accusations regarding this issue. It is critical that you can defend yourself when allegations occur.
Business Owners (BOP)
As part of your juice bar insurance program, you need a business owners policy, or BOP, because this policy includes several coverage elements valuable to your business. One of the best parts of this policy is the business personal property coverage, so if any of your business contents, furniture, refrigeration or juicing equipment is damaged by a covered peril (fire, wind, hail, aircraft, riots, vandalism, explosion) or stolen, it will be replaced. Building coverage, is included so if you own your juice bar building and it is damaged in a fire, the insurance company will pay to rebuild. These are just some of the ways in which a BOP can protect your company.
Workers Compensation Insurance for Juice Bars
Juice bars and many other small businesses are required to have workers compensation insurance (WC), when there are 4 or more employees (requirements vary by state). WC insurance is a necessity because employees can get hurt from slipping on a wet floor or from operating a juicing machine. Unless you have a surplus of funds and are able to pay for your hurt employee's medical care, rehabilitation and a portion of lost wages out of your bottom line, a WC policy is what you need to provide those benefits. Even if you only have 1 employee, this coverage is recommended.
Excess Liability
You really don't want to wind up using your business assets in order to pay for customer injury or property damage claims. For that reason, you might wish to think about including an extra layer of insurance as a juice bar owner. Excess liability can make the difference in case your business's general liability insurance coverage limit is exhausted by payment of a catastrophic loss. Excess liability will respond to lawsuits that exceed the underlying liability policy's limit.
We Are a Trusted Service Provider