Dental laboratories manufacture dentures, bridges, crowns, orthodontic appliances, and other dental products. They also repair and customize dental products under the authorization of dentists and are equipped with various tools and machinery, including dental milling machines, casting machines, polishers, etc.
According to market research agency Grand View Research, the market size of dental laboratories in the US was $30bn in 2021 and is expected to grow at a compound annual growth rate (CAGR) of 5.4% from 2022–2030. This indicates a rising demand for cosmetic dental procedures in the country.
Since you have invested so much in your dental laboratory, it's important to have financial protection in case of unforeseen events. What happens if a natural disaster strikes? What if your equipment is damaged by lightning? What if a fire breaks out in the building and damages everything inside?
To overcome such situations, having dental lab insurance is a must. It safeguards against potential losses due to an unexpected event and provides necessary financial support.
Potential Risks and Liabilities
Dental lab owners are exposed to many risks and liabilities, such as those present in the following situations:
A customer could sue for an injury caused by improper fitting dentures.
Visitors or customers at your dental laboratory can trip and fall, requiring medical attention. Your business could be liable to pay for the damages incurred from the injury.
Your employees could injure themselves at work, require medical care, and must miss work while recuperating.
Dental laboratories today are filled with costly, state-of-the-art equipment like 3D printers, die-casting machines, dental scanners, microscopes, and air purifiers. Various potential factors could harm your equipment and property, which may necessitate incurring expenses for repairing or replacing the affected equipment personally.
Hence, having dental lab insurance is essential as it protects your dental laboratory from unforeseen risks and saves you from financial costs from liability, lawsuits, and other claims.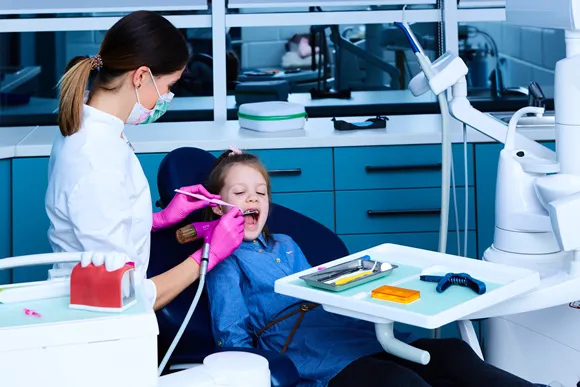 Coverages included in dental lab insurance
There are several policies applicable to dental laboratories. The most common ones include the following:
General Liability Insurance
This is basic coverage for any business and provides liability coverage for third-party bodily injury or property damage caused by your business or its employees. In case of third-party bodily injury, it pays for damages resulting from economic loss, medical costs, attorney fees, and settlements.
Suppose a client's property is damaged at the laboratory. In that case, general liability insurance could pay for the replacement or repair of the damaged property when your company is liable for the damage.
You may unintentionally copy a competitor's logo or slogan when advertising your dental laboratory. General liability insurance provides limited coverage for advertising injury, including written defamation of character (libel), spoken defamation (slander), and copyright infringement.
Business Owner's Policy (BOP)
This bundles general liability and commercial property insurance. Since BOP is a combination of the two policies, it typically costs less than these policies bought separately.
The general liability portion of BOP safeguards against claims arising from third-party bodily injury and property damage. It also protects against advertising injury liability claims.
The commercial property insurance component of a BOP provides coverage for your business assets, medical equipment, owned buildings, stock, computers, appliances, and furniture.
Worker's Compensation Insurance
Businesses that have a certain number of employees will be required to carry worker's compensation insurance. The number of employees that makes this coverage required, varies by state. Some states may say one, others may say four, check your state's requirements to make sure your business complies. Even if you take precautions to prevent work-related injuries, there are chances of staff getting injured.
For instance, lifting heavy equipment at a dental lab can injure an employee's back. Worker's compensation insurance pays for the medical expenses of injured employees. It pays for immediate and ongoing medical costs and a percentage of lost wages when an employee cannot return to work.
Employer's liability insurance is typically a part of worker's compensation insurance, which provides protection when an employee or their family sues the employer for negligence involving a work-related injury. It can help pay attorney's fees, court, and settlement costs.
Professional Liability Insurance
This coverage helps protect you from injuries caused by the professional services rendered by your dental laboratory. It is also known as errors and omissions insurance.
E&O insures against failure to provide promised services, execution, and delivery of services to patients, allegations of negligence as well as work mistakes or oversights. It can help pay for legal expenses, the cost of hiring a lawyer, settlement costs, etc., for covered claims.
Commercial Auto Insurance
If you or your employees use a business vehicle to deliver products to clients, then having commercial auto insurance is necessary. A vehicle accident can cause liability losses, especially if another motorist is injured. Commercial auto insurance helps pay for liability caused by auto accidents and provides any other state-mandated coverage.
Cyber Insurance
It is a policy that helps businesses recover financially after a cyber attack or breach. Dental laboratories store many client dentists' and patients' personal information in their computer systems that the business can be held liable for if compromised.
Hackers can easily steal data which can cause financial harm to you and your clients. Cyber insurance helps pay for notifying clients that their data was exposed, credit monitoring services for affected clients, cyber extortion demands, and public relations campaigns to restore reputation.
Factors Affecting the Cost of dental lab insurance
The cost of dental lab insurance depends on several factors, including:
Business revenue
Location
Services offered
Annual payroll
Type of insurance purchased
Policy limits and deductibles
Safeguard Your Dental Business
Dental lab insurance is essential to your business, protecting your company's balance sheet from unforeseen accidents. However, it is important to choose the right coverage and understand what an insurance policy covers before buying it.
To learn more about insurance types, check out Insurance Advisor online. We can help provide proper guidance, comprehensive quotes, easy payment methods, and useful insights about small business insurance suiting your business needs.
We Are a Trusted Insurance Provider