As a nurse, you play a vital role as a front-line caregiver, providing compassionate and skilled support to your patients. You work tirelessly, often facing challenging situations and providing critical care around the clock.
Acknowledging the risks and uncertainties you face in your line of work is essential. Remember that unless you are employed by an insured organization where the entity's insurance covers you, you must protect yourself by buying insurance for independent nurse contractors.
That's where nurse insurance steps in. Let's explore the importance of this insurance as well as its benefits and coverage options.
Types of Nurse Insurance
General Liability Insurance
This insurance can help cover claims related to bodily injuries resulting from your activities. This includes slip-and-fall accidents, medical equipment accidents, and other situations where patients or visitors sustain physical harm but not resulting from your professional services. General liability helps nursing professionals navigate claims or lawsuits. It will provide you with legal representation for covered claims and pay damages for which you are legally liable. Damages could include the injured party's medical costs, economic losses, and pay for pain and suffering. In addition, you could face third-party property damage claims. For example, if you accidentally spill something that damages a patient's personal belongings, general liability insurance can cover repair or replacement costs. General liability insurance for nurses can also cover personal and advertising injury claims related to allegations of invasion of privacy, wrongful arrest, copyright infringement, libel, or slander.
Business Owner's Policy (BOP)
This type of insurance package combines general liability and commercial property insurance. As a nurse, you regularly interact with patients, clients, and other healthcare professionals. A BOP's commercial property insurance can help safeguard your physical assets, such as medical equipment, supplies, office furniture, and other essential items, if you operate from a physical location. Whether you work from a dedicated office space or your home, this nurse insurance policy can protect your property against risks like fire, theft, vandalism, and wind.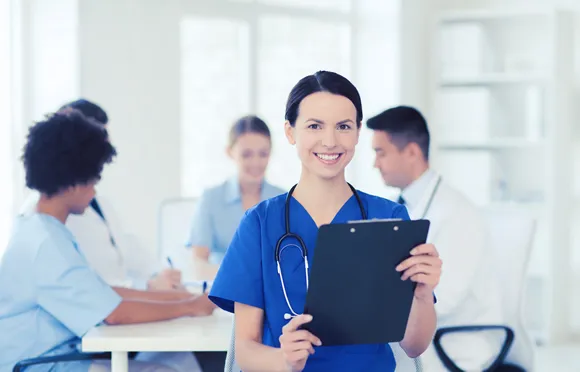 Worker's Compensation Insurance
If you've created a traveling nurse business and employ nurses, having worker's compensation insurance is essential. Healthcare settings are full of risks, and accidents or injuries can occur while providing patient care. For instance, nurses handle a lot of contaminated needles daily. They may accidentally themselves with a needle, leading to you contracting serious diseases such as hepatitis or worse. Here, worker's compensation insurance will cover incurred medical expenses and disability benefits if unable to work.
Professional Liability Coverage
Professional liability insurance for independent nurse contractors addresses claims related to negligence, including errors or omissions in the care, treatment, or advice you offer to patients. If a patient alleges that your actions or decisions physically harmed them, this coverage will protect you against potential legal and financial consequences for covered wrongful acts. If a claim or lawsuit is filed against you, professional liability insurance could help with hiring legal representation, paying court fees, and settlements when you are found to be legally liable.
Commercial Auto Insurance
For independent contractor nurses, reliable transportation is often necessary. Whether you're traveling to patient homes, healthcare facilities, or different locations for assignments, it's essential to have insurance coverage for your business-owned vehicles. Here, commercial auto insurance can help provide liability coverage. It helps protect you financially if you're found to be at fault in an accident that causes bodily injury or property damage to others. Commercial auto coverage covers damages from medical expenses, property repairs, and legal costs if a third party files a claim against you. It can also include coverage for accidents involving uninsured motorists. You may also insure your auto for physical damage with comprehensive and collision coverage.
Cyber Liability Insurance
Healthcare professionals are subject to the Health Information Portability and Accountability Act (HIPAA), which was put in place to help keep patient records confidential. As a nurse, this could make you a target for cybercriminals. Cyber liability insurance can cover the costs of responding to cybercrimes and data breaches. This includes expenses related to investigating the breach or crime, notifying the affected individuals, and damages when legally liable for the incident.
Cost of Business Insurance
When it comes to business insurance for nurses, several factors influence the cost of coverage. Understanding these factors can help you navigate the insurance landscape and make informed decisions. Here are some of the key factors involved:
Type and Scope of Services: The nature of your services plays a significant role in determining insurance costs. Different healthcare specialties or services may have varying levels of risk associated with them.
Business Size and Revenue: The size and revenue of your business can influence nurse insurance costs. Larger companies with more employees and higher revenue may require higher coverage limits, resulting in higher premiums.
Claim History: If you have a history of claims, insurers may view your business as higher risk, leading to higher premiums.
Coverage Limits and Deductibles: The coverage limits and the deductibles you're willing to pay affect the insurance cost.
Location: The location of your business can impact nurse insurance costs due to regional differences in risk factors, litigiousness, and market conditions.
Buy Insurance Today
Nurse insurance can play a critical role in helping safeguard your professional interests as a nurse. By investing in comprehensive insurance, you can focus on what you do best: delivering exceptional patient care. InsuranceAdvisor.com is your go-to platform for purchasing the right policy for your small business needs. Talk with our friendly agents today and use our easy digital platform to get quotes, research coverage, or purchase coverage
We are a Trusted Insurance Provider