Understanding Ophthalmologist Insurance
An ophthalmologist is a medical practitioner who diagnoses, treats, and prevents eye diseases, and injuries. Ophthalmologists may prescribe corrective eyewear or laser surgery to treat nearsightedness or farsightedness. Additional procedures include cataract removal, corneal transplants, vitreous or retinal repair, or enucleation. While the majority of ophthalmologists work in their own office, some are employed by hospitals or clinics.
What risk exposures do Ophthalmologists have?
Property Exposure
Is your practice well protected against fire, windstorms and theft? Most fixed property assets (building, furniture, fixtures) are sufficiently protected by the doctor's property policy. Business interruption or business income can be insured also on the property policy. This coverage provides a revenue stream when your building is damaged by a covered peril and prevents normal business operations. Always include extra expense coverage which pays other expenses incurred like if the ophthalmologist arranges for temporary medical facilities until his location is repaired and contents replaced.
Inland Marine Exposure
Typically, this type of coverage category is thought of as insuring everything that may be taken off site, but it is also necessary to cover sensitive medical and electronic equipment used in your practice. While property insurance is sufficient for other items in your office, it excludes damage to sensitive equipment if caused by "artificial electrical transmission". This represents our electrical utility services we all have to power everything. If you have equipment damage caused by a power surge or what is sometime referred to as a "brown out", this is not covered under a property policy. Your equipment would be covered for this kind of loss under an Inland Marine policy. The equipment in a typical ophthalmologist's office is generally very high-tech. All electrical wires need to be up to code and appliances in safe working order. Additional exposures that can be insured on this policy are loss of data and the costs to recover or recreate lost records. It's essential that all electronic records and programs are backed up and are stored in a cloud or off site.
Crime Exposures
Employee theft, embezzlement and theft of company assets needs to be covered on a crime policy. Also referred to as Fidelity or Employee Dishonesty coverage, this will protect your practice from employee crimes. Some changes may be needed in your processes. For instance, with bank accounts, someone not authorized to write checks, withdraw or deposit should be the person to reconcile and balance the books. Checks over a certain amount may require two signatures. These are preventative measures that are helpful even in absence of this policy.
Premises Liability
Exposure is moderately light; the patient areas need to be well lit and unobstructed. Patient encounters are accident free because the work areas should be free of obstructions and well-lit for safe navigation of the pathway to the physician's room. The ceiling-mounted equipment should be moved towards the doorway before patients exit examination chairs. Surgeons should keep the surgical area as sterile as possible at all times. Procedures for escorting personnel should be clearly communicated.
If a slip and fall does occur, this is the coverage, part of the general liability policy that will respond to client injuries occurring at your office. Bodily injury and property damage liability coverage is provided here.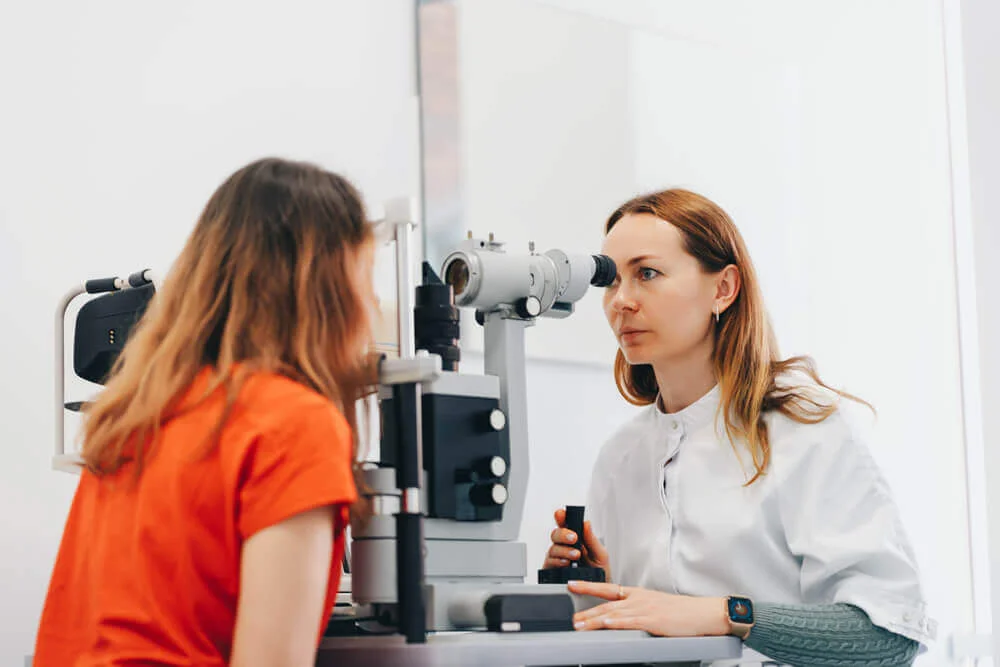 Professional Exposures
A good deal of ophthalmologists, those who are educated, trained, experienced, and licensed still may make a mistake. The more diverse procedures the ophthalmologist performs, the more likely he or she is to experience professional mishap. Needles and other apparatus have to be sterilized and cleansed to stop the spread of blood-borne diseases such as hepatitis, HIV and AIDS. Surgery must be watched over by an experienced trained nurse, with reliable sterilization of the surgical site. Medical equipment should be kept in order to minimize malfunctions. Staff training should be regular and documented.
Auto Exposure
Autos owned by businesses will require a minimum of the statutory liability limits and any other coverage required. Personal auto coverage is not the best way to cover a business owned vehicle that is in fact used for the business operations. Also, if employees go to pick up mail or make a bank deposit in their own car, the business may still be found liable if they are involved in an accident since they were technically working for your firm when the accident occurred.
Workers Compensation
Transmission of disease from a patient may result in transfer of disease to personnel. Gloves and masks are to be worn at all times when working near any bodily fluids. Employees who work on computers may have repetitive motion issues and be unable to perform their normal duties.
What types of insurance do ophthalmologists need?
Regardless of what kind of ophthalmologist insurance coverage you are searching for, it's vital that you understand what options are available. These insurance plans offer coverage for the most common risks of an ophthalmology practice.
General Liability Insurance
This policy covers third-party risks arising from accidental mishaps, for example, a client who slips and suffers an injury while in the office for a routine eye exam. Bundle several coverages, such as general liability and property insurance, and save on costs.
It best covers the following situations when the practice is liable:
Bodily injury
Damaged patient property
Libel and other advertising injuries
Property Insurance
The property coverage insures your office building, furniture, file cabinets, fixtures and other contents at your office. Your equipment is also covered by this policy subject to exclusions, but perils like fire, windstorm, hail, tornado, riot or civil commotion and theft are all covered by this policy.
It best covers the following situations:
Office burns down
Lightning damages computers and equipment
Tornado demolishes building
Theft of office contents
Workers' compensation insurance
Workers' compensation insurance is usually required for companies that have a certain number of employees, be sure to check what your state requires. This policy protects your employees, it can also cover a sole proprietor, corporate officer or member of an LLC from on-the-job injuries.
It covers:
Employee medical expenses
Disability benefits (a percentage of wage loss when injured is unable to work)
Lawsuits over employee injuries
Professional liability insurance
This insurance policy covers the cost of lawsuits arising from clinical mistakes in your practice, such as an incorrect diagnosis of glaucoma or other eye conditions. It's sometimes known as malpractice or errors and omission insurance.
It best covers the following types of situations:
Cataract surgery that causes vision problems
Eye damaged during surgery
Mismanagement of an eye disease resulting in loss of sight
Commercial auto insurance
Commercial auto insurance is required to protect the ophthalmology practice from liability arising from the use of a company owned vehicle or an employee's use of personal vehicle on company business. It pays for bodily injury and property damage occurring because of an at-fault accident. This is also where you cover your vehicle for comprehensive and collision damage. Other statutory coverage may be necessary as well.
It works best for:
Bodily injury to others because you ran a red light
Damage to another vehicle when at fault
Collision, theft or vandalism to your vehicle
Cyber liability insurance
This coverage lets eye-care clinics cope with the ramifications of cyber-crimes such as hacking, ransomware and security breaches. Though it may be added to a business's liability policy, a stand-alone policy is best. Coverage is more broad, additional exposures can be covered and there is no limit sharing.
It works best for:
Customer notification and credit monitoring expenses
Data breach lawsuits
Forensic investigation
Payment of ransom
Crisis Management
Ophthalmologist Insurance - The Bottom Line
It's important for doctors to negotiate the amount and type of ophthalmology insurance they will require. It is essential to be knowledgeable about your practice's particular needs. Review the limits purchased for each type of coverage, exclusions and other coverage available by special endorsement with your insurance agent.
We A
re a Trusted Insurance Provider