By installing burglar and fire alarms, your company helps families and individuals stay safe from harm and protects property. However, despite your best efforts, things can go wrong in your day-to-day operations. Hence, it is essential to go to the same length to protect your business as you do to protect your customers.
Commercial insurance can protect companies like yours from the devastating financial consequences of a third-party lawsuit or commercial property damage.
With access to burglar and fire alarm installation insurance, your firm can be protected from various hazards of the profession affecting your finances and operations.
Read on to learn about the common loss exposures in this industry and the relevant types of coverage that can protect your company from out-of-pocket expenses.
Potential Risks
Your alarm system installation business can be negatively impacted by various occurrences that can take a toll on the balance sheet. Here are some examples of potential claims:
1. Your client's home is burglarized. They claim that the alarm system installed by your firm did not do its job and are filing a lawsuit for the damages caused by the burglary. The business may be responsible for footing the bills for defense, legal fees, and damages.
2. Your crew is installing a system at a client's property. In the process, they damage some furniture. The client now wants to be compensated for the damaged furniture.
3. Several pipes in your workspace burst and the water gushing out causes damage to the nearby inventory of alarm systems for future installations. Some of your furniture and property also get destroyed.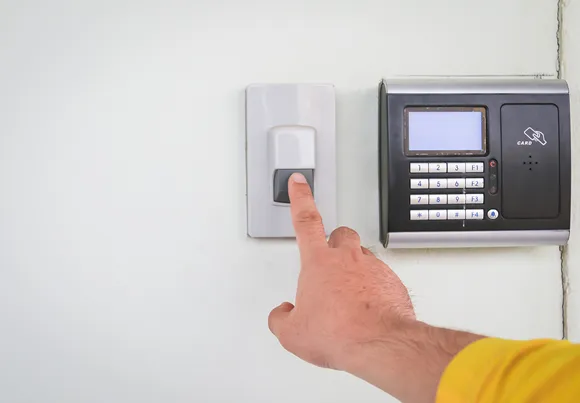 4. An employee uses a ladder during an installation job. In the process, they trip, fall, and break their hip and must be hospitalized. As the business owner, you would be responsible for paying for their medical expenses and wages lost during the recovery period.
The events described above can lead to your firm incurring financial losses. Your operations may be disrupted due to destruction and damage to property. But strategic investment in burglar alarm installation insurance can help your company survive tough times and recover quickly from setbacks.
Types of Alarm Installation Insurance
Burglar and fire alarm installation businesses play an essential role in ensuring the safety and security of households and companies alike. Here are the key types of insurance for this industry:
General Liability Insurance
Like any commercial business, alarm installers are vulnerable to the financial impact of third-party lawsuits. The defense costs and resulting damages can be expensive for firms when paying out-of-pocket.
General liability insurance can enable companies to defend themselves in lawsuits filed by third parties due to bodily injuries, property damage, and advertising injuries such as libel and slander.
Business Owner's Policy (BOP)
Alarm system installation companies have a building, a rented location for offices, employees, inventory, storage, and tools. These business assets are vulnerable to damage. A business owner's policy, specifically property insurance, can help cover the financial losses resulting from damage to your property.
BOP insurance generally offers both general liability and commercial property coverage. It can provide building coverage for the actual structure and contents coverage, which helps protect the tools, equipment, and furniture in your office and warehouse premises.
A business owner's policy helps cover the costs of damage and destruction caused to your property due to fire, theft, vandalism, hail, lightning, and windstorms. It may also help cover defense costs, court fees, and settlements for lawsuits filed for third-party bodily harm, property damage, and personal or advertising injury.
Commercial Auto Insurance
Since burglar alarm installation is performed at a client's premises, you probably use company vehicles to transport inventory, tools, equipment, and employees to and from jobs. Accidents can happen anywhere and at any time.
Your business auto use creates liabilities for your business when your driver is at fault or negligent in an accident. Damages may be owed to injured parties if a pedestrian is hit, the driver and passengers of the other car, or damage to their vehicle.
Commercial auto insurance can help cover the costs of third-party bodily injuries and property damage caused by a collision and provide coverage for Personal Injury Protection (No-Fault), Uninsured Motorists Bodily Injury, or options like Rental Reimbursement or Towing coverage.
Worker's Compensation Insurance
Your business probably hires a mix of installation workers, drivers, customer service agents, marketing professionals, and accounting personnel. Hence, it is advisable to purchase worker's compensation insurance. This coverage is mandatory in most states, depending on the number of staff employed.
Worker's compensation insurance helps cover medical and hospitalization expenses for employee injuries that happen on the job as well as occupational diseases contracted by workers. It will also cover the cost of wages lost by injured workers after a waiting period, usually seven days.
Moreover, with the included employer's liability coverage, this policy can help cover the costs of liability lawsuits filed by injured workers' families for their loss due to employee's job-related injuries and diseases.
Professional Liability Insurance
In the case of an alleged error or omission in a burgery alarm installation job, a client may file a lawsuit against your company and sue for damages when faulty installation causes harm. Professional liability insurance may help cover the costs of such alleged negligence and cases of misrepresentation, incorrect advice, and advertising injury.
Moreover, it can help pay defense fees and settlements, which would otherwise need to come from the business's bottom line.
Summing Up
Burglar alarm installation firms face multiple exposures to loss and it is crucial to take adequate measures to protect your business. Having burglar and fire alarm installation insurance can help safeguard your company from disruptive events such as third-party lawsuits, damage to property, employee injuries, and auto accidents.
Buying this insurance can help your company continue operations in the face of challenges and ensure you don't have to pay for losses out of pocket.
The key is to choose the right mix of insurance coverage to meet your firm's specific needs. Insurance Advisor offers business insurance to help protect your bottom line while you develop and grow your firm. We make online commercial insurance easy to understand and simple to purchase. Get insured with us today!
We Are a Trusted Insurance Provider