Understanding Insurance for HVAC Contractors
HVAC stands for heating, ventilation and air conditioning. HVAC contractors perform these types of service operations only after undergoing certified training and educational courses. Once certified they may work for an HVAC company or start their own business in this industry. HVAC technicians may install complete new systems, repair and maintain both, residential and business systems. It is best to consider all the risks involved in the nature of this line of work.
HVAC Insurance can protect your business from common risks that could cause property damage, bodily injury claims or lawsuits negatively affecting the financial state of your business. Following are the vital insurance policies covered under this insurance program:
General Liability Insurance
Business Owner's Policy
Workers' Compensation Insurance
Inland Marine Insurance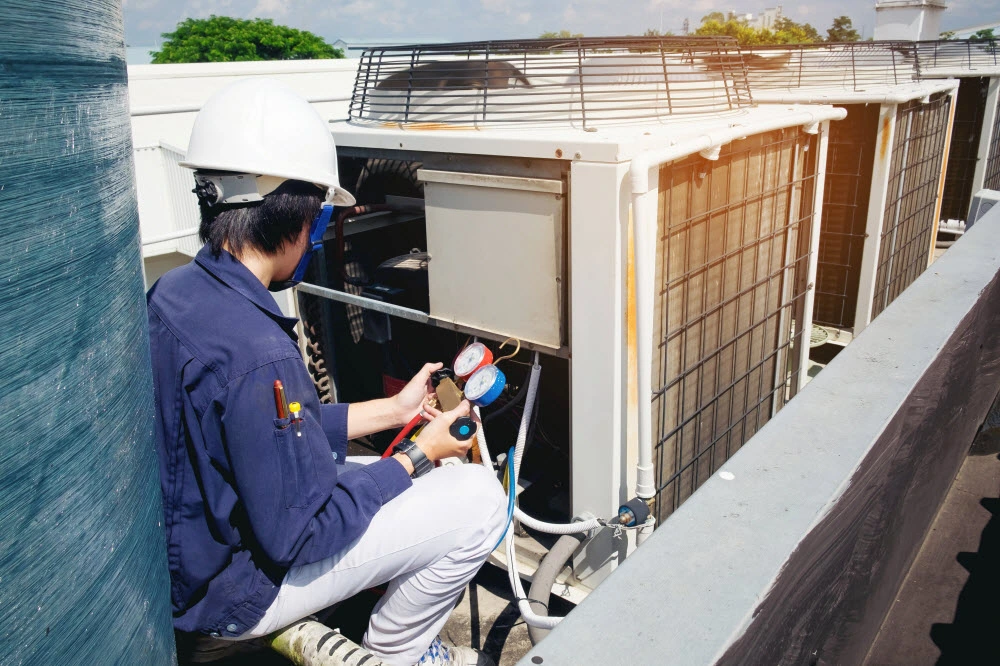 Risk Involved
Following are loss scenarios for the different policies included in HVAC insurance program which will help you understand the risks involved.
Scenario 1 - A technician working for an HVAC firm loses an eye when the roof top AC unit electrocutes him as he's replacing a part because it was installed improperly. The Workers' Compensation Insurance will cover his medical care, a portion of lost income, as well as retraining in a different profession if he can no longer perform the same job function.
Scenario 2 - Your employee installs a brand-new AC system at a jobsite. There is some remaining duct work to be done inside and when he returns the next day, he finds the outside AC unit is gone. Someone had evidently stolen it during the night. Your Inland Marine policy which includes an installation floater, would cover theft of equipment installed but not yet completed and turned over to the owner.
Scenario 3 - Your technician has his tools lying around for the installation of AC ducts at a client's house. The client's child cuts their finger with the tape measure while playing with it. The parents are furious about their child's injury and claim medical expenses and compensation. Your employee says the parents were not adequately supervising their child when the child was hurt. Your General Liability Insurance is there to tackle such claims and to protect your business. Let your insurer provide the legal defense for a fair outcome in court.
Insurance Policies & Coverages
General Liability Insurance
General Liability Coverage mainly includes:
I. Bodily injury liability coverage in case the client trips and falls over a step ladder, hurting themselves.
II. Client's home suffers property damage during the course of a repair.
III. Completed operations coverage for when you receive a call that the gas line hooked up to a heating system installed a month ago malfunctioned and contributed to the fire that destroyed the building.
Commercial Auto Insurance
Most HVAC businesses have owned vehicles to present a professional image when out on job sites and because there are power tools and equipment needed to perform the work. A Commercial Auto policy will provide the state mandated auto coverage, such as bodily injury and property damage liability resulting from an at fault accident. You can also include comprehensive and collision physical damage coverage for owned vehicles. Some companies put a lot of money into the specialized "wraps" that turn your vehicle into a large moving advertisement. Make sure you discuss the wrap and the cost to replace it with your agent because if damaged in an accident, it is not automatically covered under your standard comp and collision covarage.
Business Owner's Policy (BOP)
The BOP is a comprehensive package consisting of general liability insurance, business interruption insurance, and property insurance. Although you can purchase general liability as a standalone policy, this trifecta of coverage will protect your business from liability claims, damage to owned business property, loss of income and extra expense when your business location is damaged by a covered peril. You can customize your BOP to include inland marine coverage, employee dishonesty and for other coverage types by endorsement.
Workers' Compensation Insurance
Workers' Compensation is mandated in most all states. This insurance covers a percentage of lost wages, medical expenses and death benefits for the employee's family, provided these conditions are results of workplace mishaps. Employers, even if coverage is not required, should still consider this valuable coverage as without it your business will still be responsible to pay the statutory benefits to and employee that workers compensation would have paid.
Inland Marine Insurance
The inland marine category of insurance includes many different types of coverage, the two most appropriate for HVAC businesses would be coverage for your mobile tools/equipment and an installation floater. When stored at your business location, your property coverage would respond to an equipment loss. When away from your business location, in transit, at job sites, you need to have your tools and equipment covered either on a scheduled or blanket basis on an inland marine policy. The other coverage mentioned above, the installation floater is important if you regularly have high value equipment at risk during the installation process and before you have completed a job.
Comprehensive Costs
Since all businesses vary in size and nature of work, the cost of our insurance programs will vary as they can be tailored. Our agents will present you with the most viable options for your business needs. Most insurance providers consider your loss history, annual payroll and revenue exposures and nature of work performed before pricing policies.
Who Benefits?
HVAC independent contractors, companies in the business of heating or air-conditioning, customers and employees all benefit from the insurance coverage included in our HVAC Insurance Program.
We Are a Trusted Insurance Provider