Know Why Tree Trimming and Removal Services Insurance is Vital
Tree trimming and removal services are essential for maintaining healthy and vibrant trees and landscapes. Regular care and maintenance help ensure trees remain healthy and attractive for years.
However, providing these services can be risky, with the potential for third-party injuries and property damage, and equipment losses. That's where insurance becomes essential for businesses in this industry. The coverage provided by trusted insurance agencies such as Insurance Advisor can help cover damages and claims while protecting your company from the costs incurred if a client decides to make a claim or sue.
Common Risks and Liabilities
There are several risks and liabilities associated with this industry:
A client could trip over a pile of tools and injure their leg. The business owner could be liable for the injury and the medical costs.
While cutting down a branch, you may accidentally shatter a client's window; the cost of these damages will fall on your shoulders.
You've thought of a creative tagline for your business. However, your competitor thinks you're copying them and sues you for infringing their trademark. The resulting legal costs could be pretty expensive.
Equipment such as chainsaws, stump grinders, lifts, and other expensive equipment could get damaged or stolen at the job site. This equipment can be costly to repair or replace.
The landscaping business involves lots of physical labor and thus has greater chances of employee injuries. Business owners will have to foot the medical bills for these injuries.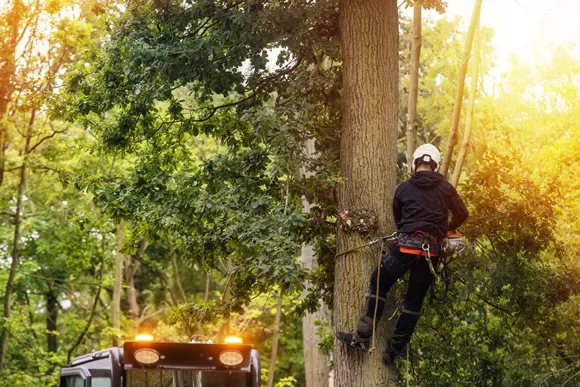 All such instances are likely to put a dent in your business's bottom line. Protect your company from such unforeseen expenses by purchasing insurance that covers major risks and liabilities.
What's Covered Under Tree Trimming Services Insurance
This type of insurance includes the following coverages:
1. General Liability Insurance
Since the services occur at customers' homes and businesses, there is a high chance of third-party injuries and property damage claims that general liability insurance (GL) can respond to.
This type of insurance can cover costs related to a bodily injury incident, from medical bills, attorney fees, pain, and suffering. If you damage someone's property while performing your work, it will also pay claims for replacement or repair costs of the damaged property.
In addition, GL can help protect your company against accidental advertising complications, including defamation of character—libel (written) and slander (spoken)—and copyright infringement. For example, while advertising your services, it's possible to unintentionally imitate a competitor's logo or slogan, and the competitor can sue you for damages; the advertising injury coverage in the GL policy can help cover such costs.
2. Business Owners Policy
Business owners' policies insure tree service professionals against common business risks and are a cost-effective way to combine general liability and commercial property insurance.
The general liability portion would cover your business for third-party injuries and property damage described above.
On the other hand, commercial property insurance covers your business assets, including buildings, tools and equipment, furniture, and more. Your property will be covered if damaged from fire, riot, vandalism, theft, and windstorms.
3. Commercial Auto Insurance
Tree removal service companies must transport tools, equipment, and employees to and from job sites. Your employees may be skilled drivers, but accidents can happen at any moment. Commercial auto insurance helps pay for bodily injuries and property damages caused to others by your driver's negligence. It will pay for claims and lawsuits arising from an accident involving your company vehicle when at fault.
This type of insurance can also protect your vehicle against comprehensive physical damages from fires, thefts, and floods and against collisions when comp and collision coverage is purchased on the business auto policy.
4. Contractor's Tools and Equipment Insurance
Your business transports equipment, tools, and other supplies from one location to another. Contractors' tools and equipment insurance may cover damages to such equipment and tools, which is critical as they are expensive and essential to daily work. Such insurance can also help protect the equipment you own, rent, or lease.
5. Worker's Compensation Insurance
Landscape tree trimming service can mean lots of heavy lifting and manual work. There are numerous ways employees can get hurt at the job site. Workers' compensation insurance pays for medical care and a percentage of lost wage benefits while the employee is recovering and unable to return to work.
Employer's liability insurance is typically included in a workers' compensation policy and may help protect your business if an employee's spouse sues the employer regarding a work-related injury. The coverage could help pay for attorney fees, court costs, and settlements.
How Much Does Landscaping Insurance Cost?
The cost of insurance for tree service businesses hinges on these factors:
Type of services offered
Business income
Number of employees and payroll .
Types, limits, and deductibles of insurance purchased
Policy limits and deductibles
Type of property and equipment insured
Location of business
Insure your Company Today
If your business is sued for property damage or injuries your caused, tree removal service insurance can provide coverage minimizing your business's outlay. Without this coverage, a single lawsuit could bankrupt a small business, plus clients generally prefer working with professionals whose companies are insured.
Many tree trimming and removal service insurance policies are available today, so you can choose the coverage that best fits your business needs. You can also add coverage, such as cyber insurance, to protect your company further.
So, as we mentioned before, insurance is a crucial investment for any landscaping and tree removal business. Choosing the right policy lets you sleep better, knowing your profits are protected.
Insurance Advisor is your go-to platform for purchasing the optimum coverage for your small business needs. Talk to our friendly experts today and use our proprietary digital platform for convenient payment options and attractive quotes.
Frequently Asked Questions (FAQ) about Tree Service and Removal Insurance
1. Why do tree care professionals need business insurance?
Like any business, tree care professionals need insurance for when things go wrong, and accidents happen. There are several types of insurance for consideration as an arborist or tree care professional. The types of coverage needed depend on various factors, such as whether the business owns vehicles, has employees, services offered, and whether the company owns any assets.
2. Can I buy business insurance online for my tree service?
Absolutely! You can quickly get a quote for and purchase insurance for your tree service company online at InsuranceAdvisor.com. We offer various business insurance policies to meet your needs. We have competitive premiums, different insurance carriers, and affordable payment options. Whether you need general liability, workers' compensation, or insurance on your mobile equipment, we'll get your business covered. Our experienced team is here to help you and answer your insurance questions.
3. What types of insurance do tree service businesses need?
Tree service businesses require several policies to protect their operations, equipment, employees, and customers, such as:
General Liability Insurance: It is essential for protecting a tree service business from third-party liabilities, such as property damage, bodily injury, or personal and advertising injury resulting from your company's operations.
Business Owners Policy: It is an insurance package, providing coverage for property, business income, and general liability claims. Combining these common insurance types on one policy may be cost-effective vs buying separate policies.
Commercial Auto Insurance: It is necessary to insure company vehicles to meet statutory requirements in the event of an accident where your company driver was negligent. Besides, if you have liens on any of your vehicles, the loan provider will require comprehensive and collision physical damage coverage to protect the loan's collateral from damage or destruction.
Contractor's Tools and Equipment Insurance: It protects your mobile tools and equipment needed to operate a tree service, such as chainsaws, stump grinders, lifts, and other equipment.
Worker's Compensation Insurance: This insurance is essential for protecting employers from paying the medical bills and lost wages of employees who get hurt on the job. Most states require businesses to have this policy when it reaches a certain number of employees.
4. Will insurance protect my tree service from everything?
While insurance can insure your tree service business for many risks, no insurance covers everything. Regardless of the insurance type you purchase, there are exclusions on all policies. Make sure to read the policy exclusions even if you read nothing else! If you use subcontractors, ensure they have the required coverage with limits at least as high as yours. Request and keep your subcontractors' certificates of insurance on file and get updated every renewal. Insurance is helpful, but it has limits. Be proactive, understand your policy, and ensure anyone you hire is adequately insured. Your business's protection matters!
We Are a Trusted Insurance Provider