Making candles is an art. It requires creativity, a passion for fragrances, a good eye for colors, and a strong sense of smell. But, creativity and passion are not enough when you convert your craft into your profession. One must think about the business aspects, paying the bills, having enough inventory, keeping the customers happy, and the potential risks. You may learn to handle many business issues, but unfortunate situations come without a warning. One way to protect your business from the unexpected is candle maker insurance.
What Is Candle Maker Insurance?
Business insurance helps entrepreneurs protect their businesses from risks such as property damage, third-party liability, and employee injuries. Eaccompanyss needs different insurance policies based on the unique risks it faces. Candle-making business insurance is a set of insurance policies specifically designed for candle businesses. The policies aim to cover various risks that a candle business faces.
What Can Go Wrong?
Candle-making seems like a relatively low-risk business. But unfortunate situations can come knocking at your door at unexpected times. Every company faces risks, and candle making is no different. There are many potential risks that one can imagine.
Accidental Fires
Candlemakers must heat the wax, pour it into molds, and test candles. These processes involve the use of fire and highly flammable ingredients. A fire can start accidentally, even due to a slight oversight.
For example, a defective remote control toy malfunctions and injures a kid who was playing with it. In this case, product liability insurance can help cover the costs if your company is found to be legally liable for the child's injuries. It can help with the defense and lawsuit settlements awarded by the court.
Physical Injuries
The business owner or their employees could get hurt during the process of candle making. For example, an employee could accidentally burn themselves with hot wax while pouring it into a mold.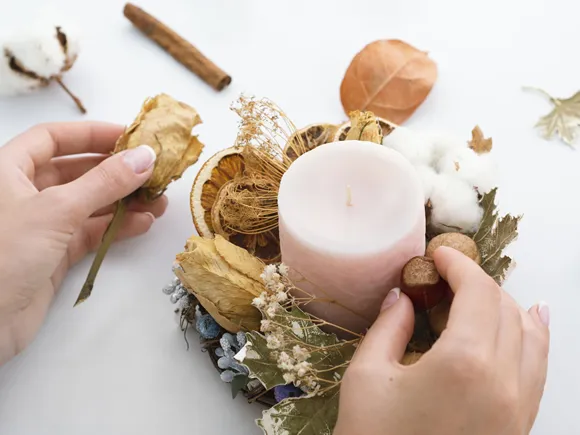 Customer Complaints
Candle businesses also need to deal with complaints related to their products. For example, a customer could have an allergic reaction to the fragrance of a scented candle, or a customer could receive a defective candle that creates a fire hazard in their home.
Insurance Policies Recommended for Candle Makers
Candlemaker business insurance can be customized according to the coverage that you need for your business. Let's look at some insurance policies that might help a candle business.
General Liability Insurance
A general liability policy can protect against certain third-party bodily injury or property damage claims against your business. Let's see what risks it covers in detail.
Physical injuries:This policy can cover claims or lawsuits related to physical bodily injuries to a third party caused by your business or products. For example, suppose a customer visiting your candle store gets their arm burned on a burning candle placed there for display. In that case, they may submit a claim to your business for their medical expenses to be compensated under this policy.
Property damage:General liability insurance covers damage to the property of others caused by your business operations.
Personal and advertising injury: This policy will respond to claims and allegations of libel, slander, and copyright infringement for covered acts.
Product Liability Insurance
Product liability insurance is typically part of the general liability policy and covers claims that occur after the consumer purchases the candle. In the example of a candle defect causing a fire in the home, product liability is the portion of the general liability policy that responds to the claim or lawsuit arising from this incident. The policy provides defense costs, legal fees, and settlements for which the business is legally liable for covered incidents. It can cover property damage and bodily injury caused by your product.
Workers' Compensation Insurance
Workers' compensation coverage protects your business as an employer and your staff. It covers the medical expenses incurred by an employee injured on the job. For example, one of your workers could get their hand burned because the glass container of a candle was accidentally overheated. This policy pays for their medical treatment and compensates a portion of wages lost if time off is needed due to the injury.
As the chances of getting injured while making candles are higher, this policy is an integral part of candle maker insurance.
Commercial Auto Insurance
If your business owns vehicles to deliver candles or transport supplies, you must get commercial auto insurance. In most states, this insurance is mandatory for vehicles to operate on public roads by the statutes relating to automobile financial responsibility laws. Here are some examples of risks covered by a commercial auto policy.
Bodily injury liability: If your business vehicle causes physical injury to someone during an accident where your driver is negligent, this policy will respond to third-party liability claims or lawsuits.
Property damage liability: When your driver runs a red light and damages another vehicle, this policy covers property damage caused by your driver's at-fault accident. For example, if your car hits another vehicle due to negligence, this policy can pay for the repair or replacement.
Comprehensive and collision: Similarly, if your vehicle gets damaged due to collision, theft, vandalism, fire, and other covered risks, this coverage can compensate for the repairs.
Commercial Property Insurance
This insurance policy insures the business-owned assets, whether you own a commercial building for your store or the contents inside. This policy has two parts- business property and business interruption insurance.
Business building and contents insurance: This part of the policy covers the structure of your business and the contents inside the premises from fire, tornado, wind, hail, lightning, and other perils. Flood and earthquake coverage are usually covered under separate policies.
Business interruption insurance: This coverage part replaces your revenue stream when your business is forced to close because of direct physical damage to the building by a covered peril. If a fire destroys your business, the bills don't stop coming in, and the company is not generating revenue. This coverage will reimburse the net income loss so the business can meet its ongoing financial responsibilities.
The Cost of Candle Maker Business Insurance
Candlemaker insurance cost depends on various factors like the coverage selected, the deductibles, the business's location and revenue. For instance, a home-based candle business would pay a lower insurance premium than a large candle-making establishment. Similarly, the higher the insurance coverage, the higher the premium.
Buy Business Insurance Today!
Safeguard the business that you have grown with passion and creativity with the right business insurance. Candlemaker insurance can protect your business assets, employees, and space. At Insurance Advisor, we offer several insurance policies for various industries. Get an instant quote online today. If you have questions about business insurance, we have a team of licensed insurance agents to help you. You can visit our blog to explore the articles, guides, and other helpful resources that we create.