A Comprehensive Guide to Furniture Manufacturing Insurance
Furniture manufacturers create beautiful pieces of furniture from wood, metal, glass, and other materials. Running this business successfully is no easy task. It requires substantial capital investment, skilled workers, and a creative mind. Managing a furniture business's design, production, and delivery can be challenging.
To manage the risks associated with this industry, every furniture producer should think about purchasing furniture manufacturing insurance. Before we look into what policies are recommended for furniture businesses, let's discuss why this business needs insurance in the first place.
Understanding the Risks Faced by Furniture Manufacturers
Every business faces daily risks, and the furniture manufacturing industry is not immune. Here are some common loss exposures faced by furniture-making companies.
Employee Injury
Furniture-making requires the use of dangerous tools and equipment. Workers use expensive industrial equipment and potentially dangerous handheld tools like electric saws and hammers. Naturally, the possibility of a worker getting injured is relatively high in this business.
Equipment Breakdown
Your machinery and equipment are crucial to the operation of your business. The entire operation could halt if one of your pieces of equipment breaks down unexpectedly. Its repairs could cost you a significant sum of money. Replacing the equipment might be necessary, which would be very expensive.
Property Damage
Being a manufacturing business, you may own a building or lease commercial space for production. Your business assets include the costly equipment and machinery needed to produce furniture. Fire, vandalism, hurricanes, or other covered perils could damage the business premises. When these unfortunate events occur, you must spend a fortune repairing and replacing your business assets.
Furniture manufacturer insurance can help in reducing the losses caused by such occurrences. One should choose insurance policies wisely to cover the most potential risks.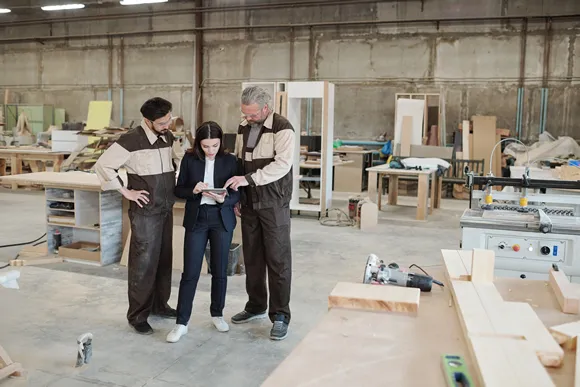 Recommended Policies and Their Coverage
There is no required set of insurance policies for a furniture manufacturing business, but the following insurance coverages are recommended.
General Liability Insurance
Your business can be protected from certain third-party claims through general liability insurance coverage. It covers claims resulting from bodily injury and property damage caused to third parties while conducting business.
This policy responds to claims or lawsuits related to third-party physical injuries caused by your business. It can also handle claims or suits for third-party property damage caused by your business operations. For instance, if your workers damage a wall while delivering furniture to a customer's house, you may be liable to pay for the repairs of the wall.
This policy will defend you from third-party litigation for bodily injury, property damage, and personal and advertising injuries, including libel, slander, and copyright infringement. The resulting settlement will be paid for covered incidents where your business is determined to be legally liable.
Workers' Compensation Insurance
The likelihood of an employee being injured at work is relatively high for furniture manufacturers due to power tools and equipment use. Workers' compensation insurance covers the medical expenses and a portion of lost wages for injured employees.
For instance, if one of your employees inadvertently hurts themselves while using an electric saw, the company would be responsible for covering their medical expenses and a percentage of lost income for missed work due to the injury.
Commercial Auto Insurance
A commercial auto policy is needed if you have business-owned automobiles for delivering furniture or transporting your tools and equipment. Most states require some auto insurance under their motor vehicle financial responsibility laws. Even if auto bodily injury or property damage liability is not legally required in your state, it's wise to get it because if your driver causes an accident through negligence, your company will still be held responsible for the bodily injury or property damage caused by your vehicle.
Your vehicle may get caught up in an accident and cause harm to someone else or their car. The liability included in a commercial auto policy is needed to respond to these accidents. Additionally, if your purchase comprehensive and collision, it will cover the loss to your vehicle due to accidents, vandalism, fire, theft, and flood.
Commercial Property Insurance
Commercial property insurance is an integral part of a furniture manufacturing insurance policy. It is designed to protect your business premises and the covered property inside. The coverage of this policy can be roughly divided into three parts- the building, the contents, and business income, including extra expense insurance.
Building insurance covers the structure of your owned business premises. It provides coverage against weather events like hurricanes or tornados, fire, vandalism, riots, and other perils. Furniture manufacturers can cover the manufacturing facilities or store buildings via this policy. However, you may need a separate policy covering flood and earthquake damage.
Business contents insurance aims to safeguard the business property inside the premises, such as your manufacturing equipment, computers, and equipment used to maintain the premises. However, this policy does not cover your equipment and tools when not at the business premises. You will need an Inland Marine policy for covering assets offsite or while being transported.
Comprehensive Cost
Of course, knowing how much this insurance will cost is crucial. However, furniture manufacturer insurance cost varies widely. The price of this coverage is affected by several variables, including:
Insured asset value
Business revenue
Insurance policies chosen
Physical location
Policy deductibles
Annual payroll
How to Get Furniture Manufacturing Insurance?
You can get business insurance online in a few simple steps.
Step 1: Consider significant risks your business faces and select policies that provide appropriate coverage.
Step 2: Request a quote for business insurance online at InsuranceAdvisor.com by filling out an online application. For some businesses, you can receive an instant quote for business property, general liability, workers' compensation, flood, and cyber.
Step 3: Pay the insurance premium according to the quote using a credit card or bank account.
Safeguard Your Valuable Business Today
At Insurance Advisor, we offer a variety of insurance policies for businesses belonging to diverse industries. We have a team of licensed insurance agents to help you navigate the world of business insurance.
Explore helpful guides, informative articles, and business insights on our blog to educate yourself further about insurance. Get furniture manufacturer insurance today to protect your manufacturing business from various business risks.
We Are a Trusted Insurance Provider