Woodworking and cabinet-making are specialized professions with various operational risks and liability exposures. Many things could go wrong while building or crafting your wood products or when customers use your finished products. A kitchen cabinet could come crashing down, or a built-in bookcase could topple over and injures the customer or damages their furniture.
In this industry, such events would directly affect your business's profit. Timely and adequate purchase of insurance for woodworking businesses and cabinet makers can help you cover the cost of such damages.
Read on to learn about the benefits of purchasing insurance for your firm, the types of coverage available, and the financial risks that can be mitigated.
Potential Risks in the Woodwork and Cabinet-Making Industry
When you run a business, any number of things can go wrong. However, access to the right insurance can help mitigate the costs of specific incidents and risks. Here are some examples of hazards that can be covered:
Say a client or vendor visiting your office trips and sustains an injury. They incur medical bills and are unable to work for a while. They decide to sue your company for damages.
Your employee gets injured while assembling a piece of furniture. They must treat their wounds and cannot report to work for an extended period.
A fire breaks out in your office and damages expensive equipment and other types of property. Your company operations are disrupted as a result.
A customer decides to sue your company for imperfections in a finished job.
Such events can have financial consequences for your company. Hence, investment in insurance for woodworking businesses and cabinet makers is necessary.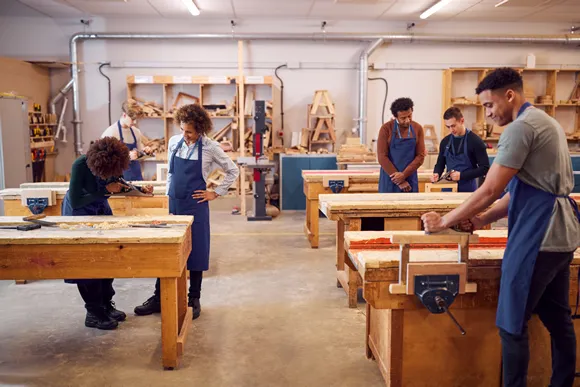 Types of Coverage Available
Product-based businesses need a specific mix of insurance coverages to protect them from everyday risks. Here are some common types of insurance:
General Liability Insurance
This is a primary type of insurance that helps cover liability losses from operations to third parties for bodily injuries, property damage, and advertising injuries. Without this type of insurance, your company is vulnerable to the high costs of settling claims and lawsuits.
Here's a brief look at what's covered under general liability insurance:
Accidents that cause injuries to a third party: Say a customer hurts themself in your shop, trips over some misplaced boxes, and makes a claim for medical expenses and lost work. General liability insurance helps cover the claim for economic damages resulting from medical bills and lost income.
Third-party property damage: The policy covers expenses related to damage or destruction of property belonging to a third party, such as a client.
Personal and advertising injury: In cases where a third party sues you for false detention, invasion of privacy, libel, slander, or copyright infringement, this type of insurance helps pay for litigation and settlements.
Product Liability Insurance
This is a valuable type of coverage usually included in your general liability policy for woodworking businesses and cabinet makers, as your work involves crafting furniture and products installed at client businesses and residences.
Say a cabinet falls on top of a client after it's been installed. They then decide to make a claim against your business for their damages from medical care and lost income. Product liability insurance can help cover the costs of settling such claims.
In short, this insurance helps with bodily injury and property damage arising out of claims from:
Incorrect installation
Manufacturing defects
Business premises
Commercial Property Insurance
This industry generally involves lots of work at the shop, building products with expensive equipment and power tools. Whether the client's property is owned or rented, commercial property insurance helps protect your company when business assets are damaged from covered perils.
With insurance for woodworking businesses and cabinet makers, commercial property insurance helps cover costs incurred by events such as fire, theft, vandalism, lightning, hail, and wind, to name a few.
Commercial Auto Insurance
Your business probably uses vehicles to transport tools, equipment, and finished products to client locations, and accidents could occur at any time.
Commercial auto insurance helps cover legal defense costs when sued for bodily injury or property damage liability when your driver is ticketed and at fault for the accident. The coverage can also kick in when your company car is involved in a collision or suffers damage or loss due to vandalism, fire, theft, and specific weather events when comprehensive and collision coverage is purchased on your company vehicles.
Other statutory auto coverage is included on a business auto policy just as on a personal one. Personal injury protection, also known as no-fault coverage, uninsured motorists' bodily injury, and property damage coverage, is included on a business auto policy for woodworking businesses and cabinet makers.
Worker's Compensation Insurance
Worker's compensation insurance is mandatory in most states (depending on the number of staff employed). It covers employee medical expenses and a percentage of lost wages due to work-related injuries and occupational diseases. Here's an example:
Say a worker badly cuts themself using woodworking equipment building a wooden staircase. They need to be immediately hospitalized and require time off from work to recover. This is where worker's compensation insurance comes in, as it will pay for these expenses.
This type of insurance also offers a death benefit to the employee's family in case of fatal accidents.
The Takeaway
Cabinet makers and woodworking businesses design, make, install, and market products. Hence, such companies' professional risk and insurance needs can be unique.
Business owners must invest in business insurance to stay protected from third-party lawsuits, property damage, and other consequences. This entails purchasing the right insurance policies to cover your business needs.
The best approach is to partner with an insurance agent who understands small companies' challenges. At Insurance Advisor, we offer affordable, simple, and convenient commercial insurance quotes. Speak to our friendly team of licensed agents to find the right insurance for woodworking businesses and cabinet makers.
We Are a Trusted Insurance Provider