General Liability Insurance Workers Compensation Insurance Umbrella or Excess Liability Insurance
Understanding Business Insurance for Nail Salons
Businesses need to minimize uncertainties. A nail salon may specialize in providing its clients with nail care services or other beauty treatments. In either case, liability insurance for nail salons usually applies to most other operations. Many establishments typically offer a mix of nail services, eyelash extensions, waxing, and other personal care services.
Mitigating the risks of a business is an investment in its future. In 2019, the market size of the US Beauty and Personal care sector was approximately $81.8 billion. The insurance sector is eager to help its insureds by taking care of their potential losses so the shop can focus on operations and ensure their future.
Business and Professional Risks
Nail salons help their customers meet their beauty and personal care goals. But in doing so, they are exposed to many opportunities for something to go wrong. They may have to provide services to difficult and demanding clients. There may be complaints about the manicures, an accidental cut while trimming cuticles, or injury caused by a potent chemical they used. Other scenarios may include:
An employee of the nail care salon doing a pedicure in a hurry and accidentally cut the client's foot.
The client may claim that the service provider did not perform the callus removal correctly and caused medical complications.
The risks in dealing with a combination of strong chemicals, providing hands-on services, and managing an unending queue of customers can open the salon to dealing with some sticky situations.
Here are a few instances where nail salons are at risk:
Example 1
A client alleges that some chemicals got mixed with the shampoo used at a beauty salon. The customer developed a painful rash on the scalp and had to undergo medical consultation and care for recovery.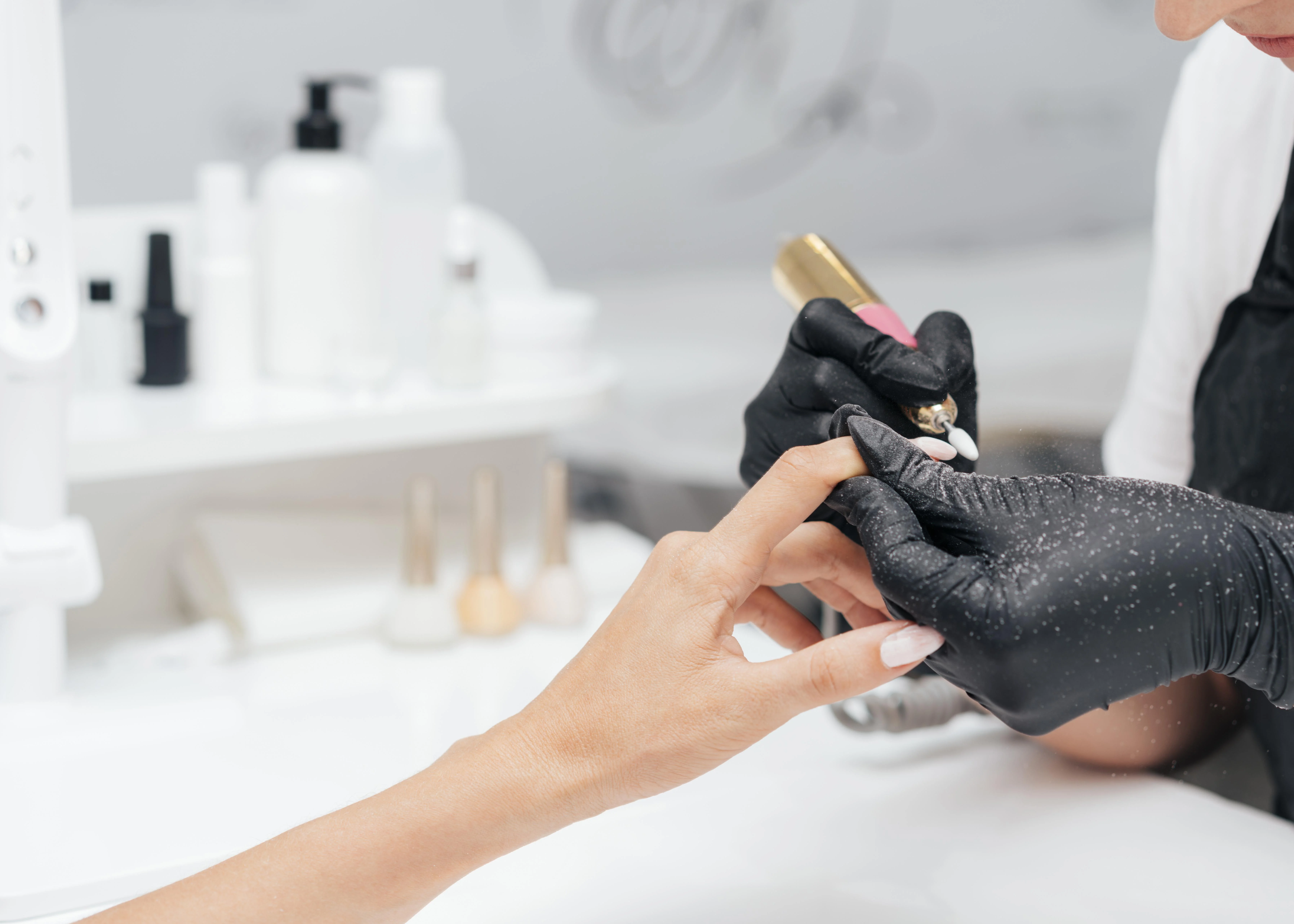 Example 2
A client claims that an untrained nail salon employee used unsterilized tools for her acrylic nail treatment. A sharp instrument used in the process drew blood and caused an infection.
Example 3
A client enters a nail parlor, trips on the carpet, and falls, resulting in a shoulder dislocation. The client, who is in a lot of pain and misses work, files a bodily injury liability suit against the nail salon.
Recommended Policies
Insurance policies protect nail salons and nail technicians' businesses. They provide business owners with a feeling of security against unexpected liability claims.
It would help if you understood which policies are required to mitigate the associated risks to running a successful nail salon. Salon owners should consider investing in these policies:
General liability insurance
Property insurance with business interruption
Professional liability
Workers' compensation insurance
Cyber insurance
This policy protects businesses against bodily injury and property damage claims or lawsuits in which your business is found liable. It also covers limited personal and advertising injuries, which include claims of libel, slander, false arrest, copyright infringement, or misappropriation of advertising ideas.
In addition to the settlement costs, the policy provides legal defense and court fees. Here are a few situations where this policy may be helpful:
Example 1
An employee of a nail salon slanders a client to a friend from another nail salon. The word reaches the client, who makes a claim against the first nail salon. General liability insurance will respond to this type of claim.
Example 2
Your business may inadvertently use a part of an advertising copy of a competitor's advertisement. The competitor notices this violation and files a lawsuit. The general liability insurance will defend the suit and pay the awarded settlement if the salon is found liable.
Example 3
A salon employee spills nail polish on a client's expensive purse. The client raises a claim with the salon to get a reimbursement for the bag, stating that the bag is of great sentimental value and the damage has distressed her beyond words. The salon's general liability insurance will handle this property damage claim.
Property Insurance with Business Interruption
Wildfires, windstorms, tornadoes, or riots could damage or destroy a nail salon's property, leading to a halt in business operations. A commercial property insurance policy covers the owned building, furnishings, fixtures, equipment, computers, and phone systems for damage or theft by covered causes of loss.
A property policy includes business interruption or business income coverage. It provides a revenue stream if a covered peril damages the building and renders the business inoperable. This valuable coverage allows the shop owner to meet the business's ongoing financial obligations. The owner should also buy the extra expense coverage. It will help with the expenses of setting up a temporary location or expediting replacement equipment.
Example
An accidental fire caused by a short circuit during a storm destroys a nail salon, forcing the business to close shop temporarily. The property policy pays for the fire damage.
The extra expense assists with the expense of setting up another location temporarily while the original place is under repair. The business interruption coverage will replace lost income during this period.
Professional Liability Insurance
There will undoubtedly be negative customer experiences around a professional's services, callus removal, cuts, or the wrong chemical used for a beauty treatment. That is where professional liability insurance stands by the business.
It addresses and provides legal defense and pays for court-awarded settlements when a client takes legal recourse against the salon. They might claim the salon's misuse of chemicals, negligent service delivered, or other mistakes and omissions led to their harm.
Example
Latex gloves used at a nail salon caused wheezing, coughing and difficulty breathing for a client. The client sued the nail salon for their allergic reaction, claiming the salon was aware of her latex allergy, but they used the latex gloves anyway, without the client's knowledge. Professional liability coverage helps the business with the costs incurred in such cases.
Workers' Compensation Insurance
Depending on the state, businesses with a certain number of employees are required to buy this policy.
Suppose an employee gets injured while working at the salon. In that case, this insurance policy covers the medical bills incurred for their injury and a percentage of lost wages stipulated by the statutory benefits if the injured employee is unable to perform her job.
Cyber Insurance
When a business's computer devices and networks get compromised, the business could face liability claims from clients. The company finds itself dealing with court-awarded settlements or lengthy lawsuits for data privacy breaches.
Protecting a business from online scammers or hackers is essential, as criminals are constantly developing new ways to break into computer systems.
There is a need for an insurance policy that can protect your company from damaging legal action arising out of data theft or digital breach.
Example 1
Ransomware: Malware enters your system via a malicious email, encrypting the store's data and crippling the system. Cyber risk insurance responds to the damages in such a scenario.
Example 2
An unknown person hacks a business and steals customers' and workers' bank account details. He also gets the employees' Social Security numbers. He sells the information to someone on the dark web that manipulates the data to create fake identities.
The legal defense and other costs to deal with this mess exceed $1 million. In such a scenario, cyber insurance protects the business-make sure you buy a high enough limit!
Comprehensive Insurance Costs
To decide on the right set of insurance policies to protect a nail salon, one must look at factors such as the business's revenue, the number of people it employs, its location, the number of places it has, and its claims' history. These factors will determine the cost of the salon's policies.
Suppose the client misstates or omits any relevant information? In that case, it can lead to price increases or even refusal or withdrawal of coverage.
Who Benefits?
A well-functioning nail salon is ultimately in the interest of the owner, the business establishment, the employees running the shop, and the customers who visit the premises.
Therefore, good nail salon insurance benefits all the stakeholders of the store.
We Are a Trusted Insurance Provider