Understanding Animal Hospital/Veterinarian Office Insurance
Accidents may happen even if we take every precaution, and working with animals, if anything, only increases that uncertainty. Even with qualified vets providing treatment, it's not always easy to diagnose a problem since animals are non-verbal creatures and can't explain what ails them.
Pet clinics need insurance to mitigate the unique risks they face and to give you, the owner, and peace of mind knowing your practice is protected. With more than 2000 suits filed in the US courts each year, veterinary malpractice cases are a reality that animal hospitals can't ignore.
Veterinary service professionals rank among the most likely to be injured on the job. From system hacking that brings a veterinary hospital's entire system down to a furious dog owner's complaint that turns into a lawsuit, from a worker slipping and falling on a wet floor to a cat injury, we're with you to ensure your work doesn't face disruptions. You might need the following insurance plans for your pet clinic:
Malpractice Insurance (Professional Liability)
General Liability Insurance
Workers' Compensation Insurance
Commercial Property Insurance
Cyber Insurance
Umbrella or Excess Liability
Risks and Liabilities
Veterinary hospitals follow standard procedures to contain their risks and succeed in significantly reducing them as well. Yet, no workplace can be free of incidents, and that is the nature of uncertainty. A veterinarian's office takes insurance to minimize and secure exposures unique to its business. Some types of exposures are listed below, along with relevant examples:
Bodily injury: Two dogs fight in the waiting area, and one of the owners gets bit.
System hacking: Customer information gets stolen from official computer systems.
Professional errors: A wrong injection is administered, or an illness has been misdiagnosed.
Natural disaster: A storm causes major damage to the roof of your animal hospital.
Customer injuries: A customer suffers a dog bite because another customer didn't keep their pet on a leash.
Negligence: A horse suffers a leg injury because it wasn't properly secured.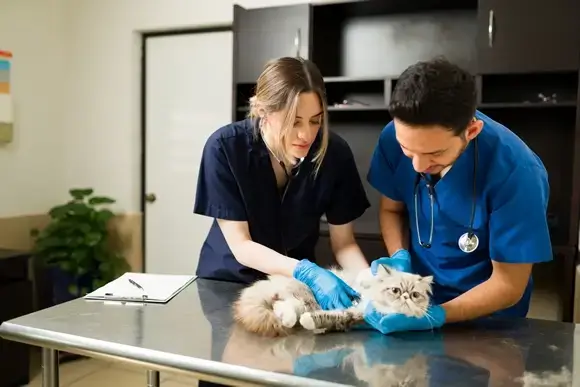 Scenario 1: Lawsuit: A customer files a lawsuit against your pet clinic after their older pet dog, kept overnight in your kennel, is found dead the next morning. Your professional liability insurance will respond to this exposure.
Scenario 2: A worker at your veterinary hospital gets scratched in the face by a pet cat. Your worker's compensation insurance will address not only their treatment costs but also a part of their lost income if they cannot return to work for a certain period.
You can pick the right plans to insure your pet clinic by considering your business size (annual revenue, annual payroll), its location, values of assets and equipment, types of services provided and the risks associated with them, and the sizes and number of locations you have in natural calamity-prone areas. These would contribute to the cost of insuring your business.
Recommended Policies
If you own a veterinarian's office, you can choose from the following insurance policies:
Professional Liability Insurance
This policy responds to malpractice and negligence lawsuits. Legal expenses can disrupt the day-to-day functioning of your veterinarian's office. Instances of professional misconduct are errors or omissions that result in bodily injury to patients or personal injury to owners.
Scenario 1: A cat dies after a wrong injection is administered.
Scenario 2: An older pet dies while waiting for the vet to arrive.
Scenario 3: A restless young dog escapes from a pet hospital due to the staff's negligence.
General Liability Insurance
Any unexpected accident that results in injuries to pets or their owners may lead to a bodily injury lawsuit, advertising injuries, or damage to rented premises. With general liability insurance, you will be reimbursed for the aforementioned cases, along with third-party property damage.
Scenario 1: Advertisement injury: Anxious to increase your clientele, you notice an advertisement from another area vet and think it's a good idea to offer the same deal at the same price. Not knowing you're doing anything wrong, you copy the brochure and put your logo on it. The other vet is vexed and sues you for copying their marketing material and taking their business. The advertising injury included in your general liability would respond to this suit.
Scenario 2: Property damage: One of your customers is carrying an expensive phone. A pet monkey steals it and drops it into a bucket of water. In this case, you will be secured under general liability insurance.
Workers' Compensation Insurance
Both medical expenses and a lost income are compensated under this insurance plan for injured employees hurt on the job. Workers' compensation insurance also provides financial benefits to the dependents of your employees who die on the job, per the statute.
Scenario: An employee of yours suffers a vicious dog bite at your premises. Your workers' compensation insurance will pay for his treatment and a portion of his lost wages until he can return to work.
Commercial Property Insurance
An animal hospital cannot be run remotely. It has a physical location where surgeries are performed, pets are kept in post-operative care, and aging pets are kept for observation. Most importantly, it is a place where pet owners bring their pets for check-ups. Apart from land, the building and different types of equipment installed in an animal hospital are its business assets. This policy addresses the damage caused due to fires, storms, hail, theft, and vandalism.
Scenario: A fire devastates the equipment and the building of your veterinary office. Your commercial property insurance will fund the repair, replacement, or reconstruction needs of your office property.
Business Owner's Policy (BOP)
Many small businesses start with this three-in-one insurance plan. It is a mix of the following types of coverage:
General liability insurance: It compensates against bodily injury or property damage to your customers.
Commercial property insurance: It helps protect the physical location of your business and the equipment installed there.
Business income insurance: It compensates for lost business income if an insured building gets damaged by a covered peril.
Cyber insurance: Cyberattacks result in expensive lawsuits that could shut down small businesses. In addition to tarnishing your reputation, a cyberattack can cripple your business financially by making it pay for the expenses incurred for incident response, restoration of system damages, regulatory fines, and individual lawsuits of affected customers. Your cyber-insurance can save you from such situations and help you recover quickly.
Comprehensive Costs of Insuring veterinarian hospitals
The comprehensive costs for an animal hospital or veterinarian office insurance policies vary based on several factors:
Annual revenue
Location and assets insured
Types of services provided and risks associated
Number of clients
Annual payroll
If you are a pet clinic owner, speak to a licensed agent from Insurance Advisor today and get an insurance program customized to your requirements.
We Are a Trusted Insurance Provider