Understanding the Benefits of Photography Studio Insurance
Photography is an art that requires a lot of creative thinking and careful observation. With the growing need for photographs on every occasion/event, the photography business has been in massive demand over the years. In the United States, the projected market size of the photography industry in 2022 is USD 11.5 billion, according to IBIS World's Photography in the US Industry report.
Setting up a photography studio is not child's play. Photographers need to buy a lot of expensive cameras and equipment. Naturally, there is a risk of these items getting stolen or damaged, resulting in a substantial financial loss. To provide a safety net to the photography business, buying photography studio insurance is a must.
Importance of Photography Studio Insurance
Professional photographers own a lot of costly tools to capture the best shots. These expensive devices are exposed to many risks; therefore, photography insurance is vital for business. Insurance helps financially protect the company from equipment loss.
Suppose a client trips over the tripod stand and breaks an ankle. Then, general liability insurance will respond to the demand for monetary damages due to the medical treatment needed by that client. The photographer need not worry about paying those hefty medical bills.
Types of Business Insurance for Photographers
Business Owner's Policy:
A Business Owners Policy, known as a BOP, is popular among professional photographers because it combines general liability, commercial property, and business income insurance into one policy. Hence, it is a cost-effective policy to purchase.
General Liability:
The general liability policy helps cover claims from bodily injury and property damage. For example, suppose a client gets injured during a photo shoot. In that case, the photographer may be liable to pay his hospital bill. That is where general liability insurance comes into the picture.
There can also be a situation when a photographer accidentally damages a client's property while taking pictures. General liability insurance covers property damage to third parties if caused by the business's negligence.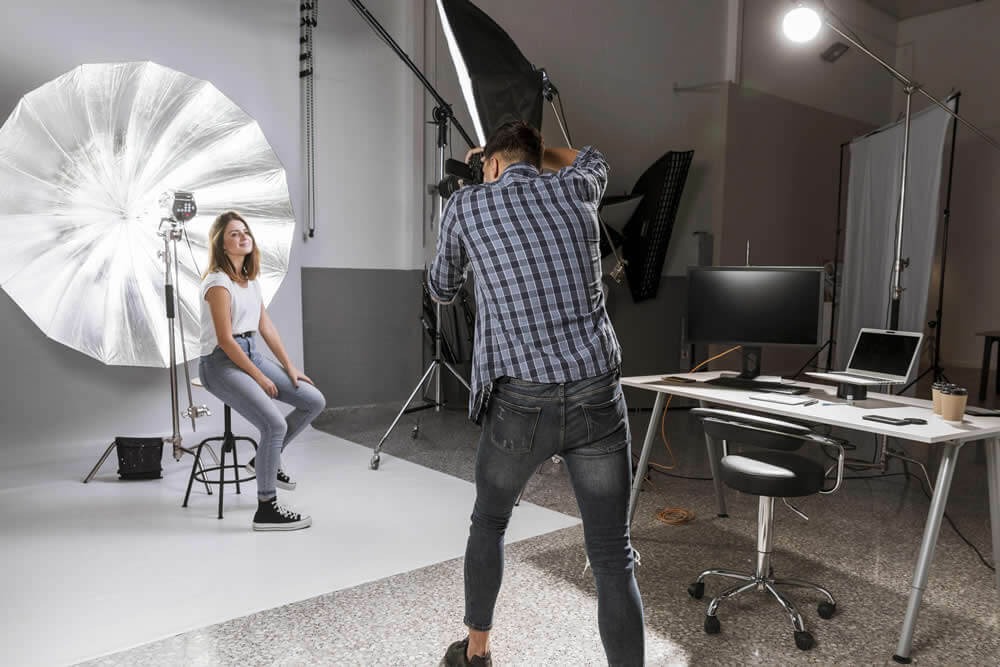 With the rising popularity of drone use in this industry, remember that you need specific "unsupervised aircraft liability insurance" if you use drones in your work. Aircraft liability may be a separate policy, or you might be able to endorse it to your general liability policy. Make sure you discuss drone exposure with your agent if you own or rent them in your business.
Business Property Insurance:
This type of insurance provides coverage for property owned or rented (by endorsement) by the business owner. This policy can provide financial protection for loss or damage to business contents. It also provides coverage for equipment like cameras, flash drives, memory cards, specialty lenses, computers, external hard drives, camera stands, and backdrops within the business premises.
This type of insurance provides coverage for property owned or rented (by endorsement) by the business owner. This policy can provide financial protection for loss or damage to business contents. It also provides coverage for equipment like cameras, flash drives, memory cards, specialty lenses, computers, external hard drives, camera stands, and backdrops within the business premises.
Business Income Insurance:
This insurance protects against loss of business income. It applies when building damage occurs due to a covered peril making normal operations impossible. Whether you close during repairs or because you need to relocate, this revenue stream will assist you in paying your ongoing expenses. The closure must be due to direct physical damage to your building which causes a suspension of your business, temporary or otherwise.
Cost of Photography Studio Insurance
Photographers can customize their Business Owner's Policy to get the coverage added that they need. The coverage required for your equipment off-premises may be available to add by endorsement to the BOP.
The cost and type of photography studio insurance needed will depend on the business's revenue, the number of staff employed, the value of insured assets, and potential risks to the business. For instance, a photography company with higher sales may have a different premium than a company with less sales.
Other Coverages for Financial Protection
Potential risks to the photography business can be many; one may need an extra layer of financial protection to prepare for an unforeseen situation. Here are other coverages that you can add to your photography studio insurance for broader protection:
Professional Liability
With this type of coverage, one can get protection against claims alleging that you made a mistake or did not take proper action while providing your service to your clients. For instance, perhaps you were late to an event and missed crucial photos or videos of the event. Your customer could then make a professional liability claim since you missed that "once in a lifetime moment" they hired you to capture. This additional policy will also cover the legal defense costs for professional liability lawsuits. It can also provide financial protection in case sued for:
The photographer loses the photos
Something goes wrong with the equipment, such that it captures no pictures or video
The client makes accusations of negligence or financial loss
Workers' Compensation Insurance
Employees are the backbone of any business, and an organization needs to take care of them to enhance productivity. When an employee gets physically hurt while working, for instance, an employee falls off a ladder while setting up a photo shoot backdrop and fractures an ankle. A workers' compensation policy will cover the medical costs associated with the treatment.
It also covers legal costs if the employee files a negligence lawsuit against the employer. This insurance also compensates the employee for the income they lose when they cannot work because of an injury.
Inland Marine
Having expensive equipment is something one cannot ignore in the photography business. Likewise, having the right insurance coverage can give peace of mind to the photographer in case his expensive property is damaged or stolen.
Drones have become an integral part of the photography business because of their immense potential to capture aerial shots. Now, coverage is available for unsupervised aircraft such as drones used during outdoor photoshoots for bodily injury or property damage caused by the drone.
Most photographers travel for shoots, which creates a higher risk of damaged equipment. For instance, if the photographer's camera gets damaged while driving to a shoot because of an auto accident, this would be covered by an inland marine policy.
Inland marine insurance is beneficial because business property insurance doesn't cover damages to property in transit or while away from your business location.
Commercial Auto Insurance
A personal automobile policy may not cover vehicles used for business on a regular basis. A business auto policy is advisable if you regularly use a personally owned vehicle for business purposes.
Auto insurance covers bodily injury and property damage arising from an at-fault accident. For example, suppose you run a stop sign and hit another vehicle. The other driver is injured, and their car needs repairs. Your auto liability coverage is responsible for responding to this accident. State laws govern the type and limit of required insurance needed in your state.
Still, even if not required, it doesn't mean that the vehicle owner is not liable for any injuries or property damage caused due to such mistakes. If sued for an accident that you caused, you will need the legal defense coverage provided in your auto liability policy.
Summing up
Choosing the right type of coverage is imperative, depending on business needs. First, one should look at the risks the photography studio is exposed to and then opt for adequate insurance coverage. The right photography studio insurance will mitigate the risks impacting the business's bottom line.
We A
re a Trusted Insurance Provider