Understanding the Need for Printers Insurance
Commercial printing businesses face unique risks, although their insurance requirements can vary from each other. As a printer, you need to analyze the risks your printing business faces daily to put together a comprehensive printer's insurance program that will shield you from covered claims. You will need several insurance policies to cover your risks—coverage for errors and omissions, property insurance, crime coverage, general liability insurance, workers compensation and an umbrella or excess liability policy, etc.
Businesses that carry out printing-related activities may also offer the following types of services:
Commercial printing
Screen printing
Linotyping
Lithographic
Bookbinding
Platemaking
Typesetting
An independent insurance advisor can help you customize an insurance program to fit your potential risks and needs.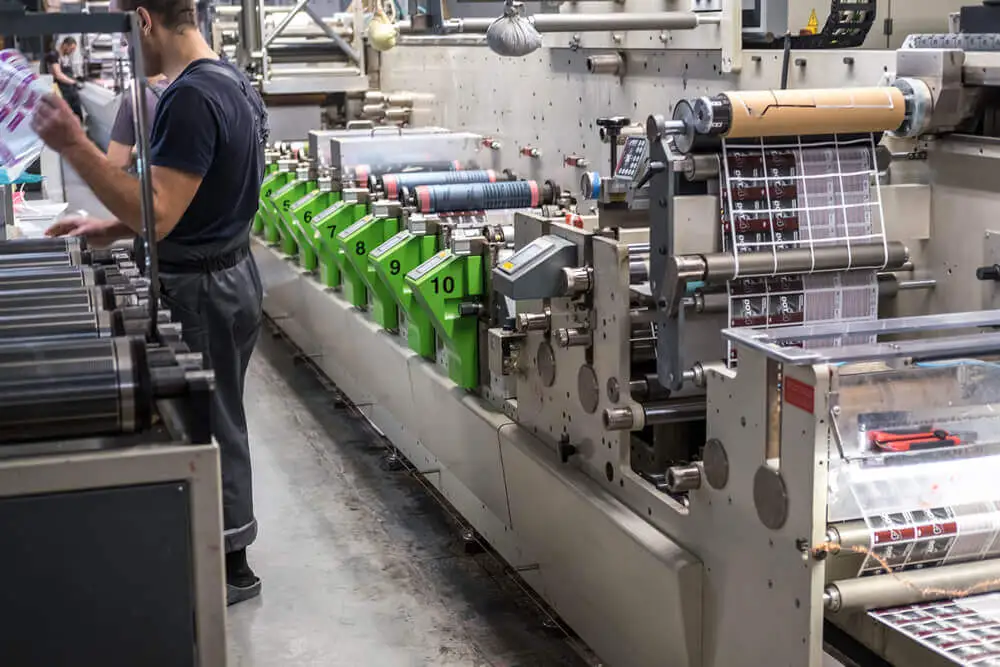 What are the Probable Risks in Commercial Printing Business?
Your professional printing business faces common and business-specific risks while conducting routine operations, such as:
Injuries to employees, the public, and clients
Mistakes, errors, oversight, and negligence in printing services provided to customers
Damages to the building and assets, including office equipment and furniture
Equipment breakdown causing a business interruption
Violation of NDA terms and obligations causing financial or reputational damage to the client
Hence, you need printers' insurance to help mitigate those risks and protect your business from a variety of losses.
Recommended Policies
The risks that a commercial printing business encounters can be covered by selecting a combination of policies. You can consider the following types of policies to protect your business from general business and printing loss exposures:
Business Owner's Policy (BOP):
Many businesses, including commercial printing, start with a BOP for basic coverage. It offers a combination of a general liability policy, business interruption policy, and property policy at an affordable price. An independent agent can help you find the right mix to protect you from financial stress.
Commercial Property Insurance:
This protects business-owned buildings and other business assets, including computers, office equipment, stock, tools, furniture, and office equipment that you use for a commercial printing business.
Business Income Coverage:
This coverage, also known as business interruption coverage, compensates you for lost business income and pays for fixed operating expenses if you have to suspend your services due to damage to your building from a covered peril. For example, this policy helps cover your lost income and pay your operating expenses, like payroll and monthly bills, till you reopen.
General Liability Insurance:
This policy, sometimes called business liability insurance or commercial general liability insurance, covers third-party claims of bodily injury or property damage resulting from business operations. Some claims from customers or vendors that general liability insurance covers are physical bodily injury, property damage, medical costs, legal expenses, rented premises damage, and personal and advertising injury when found to be legally liable. Without general liability coverage, you'd have to pay for these types of claims for which you are liable out of pocket.
Professional Liability Insurance
This helps protect against claims alleging oversight, mistakes, errors, omissions, and negligence by professional printers in the deliverables. A client who is negatively affected due to the above reasons can make a claim against your business or sue for damages. An example would be if a sales flyer listed the incorrect price for an item and your client suffered a financial loss as they needed to honor that price.
Commercial Umbrella Insurance:
This covers the gap between the limits of your general, auto and employers liability policies (called underlying insurance), when those limits are exhausted from a claim payout, and there is an unpaid balance from a court-awarded judgment or settlement.
Workers' Compensation Insurance:
This is usually not optional but is mandatory in all US states for businesses with a certain number of employees. The laws may vary from state to state, but generally, even small businesses should have workers' compensation insurance as soon as they hire their first employee. It covers payments to employees for medical costs and lost wages for work-related injuries and illnesses. Even when this policy is not mandatory by law, it is highly recommended to have it in place to protect your business from paying out of pocket for any statutory benefit an employer, with or without this policy, is required to pay when an employee is injured.
Equipment Breakdown:
Commercial printing businesses need various types of equipment up and running to meet the demand of customer orders. While property insurance will protect your equipment to an extent from covered perils, only equipment breakdown insurance will cover the risks arising from sudden and accidental malfunctions or breakdown of equipment. Damage to your owned assets from an equipment breakdown occurrence is excluded under the property policy, as well as any ensuing loss of income. Hence, equipment breakdown coverage for sizable commercial printing operations is a must!
Other Commercial Printing Policies to Consider
Cyber Liability Insurance
This covers third-party liability claims in the event of data loss, cyber hacks, and breaches of information, which results in a loss or leakage of data, blueprints, and confidential information. Cyber policy also covers the cost of litigation and other types of required expenses.
Business Auto Exposure:
All states have some sort of financial responsibility laws governing bodily injury and property damage caused by motor vehicles. Owned business vehicles that you or your employees use for delivering your product will be covered under this policy.
Employment Practices Liability Insurance:
This offers protection from legal action by a current or former employee, including claims of sexual harassment, wrongful termination, discrimination, breach of employment contract, failure to employ or promote, negligent evaluation, wrongful discipline, wrongful infliction of emotional distress, and deprivation of career opportunity.
Comprehensive Costs
The cost of an insurance program for a professional printing business depends on several factors, including:
Type of printing services offered
Values insured for business equipment and property
Annual and projected revenue of your business
Property: Physical location, year built, and type of construction
Number of employees and annual payroll
Claim history
Types of insurance coverage and coverage limits
Selecting relevant policies keeping the above factors in mind will decide the total cost of commercial printing insurance.
How to Buy Commercial Printing Insurance?
You can request quotes for insurance policies by clicking here. You can also call us directly to discuss your requirements with an insurance agent who will assist you in selecting the best option.
Benefits of an Insurance Advisor
Independent insurance advisors help you find the right insurance policy for your commercial printing business. In addition, they can offer support during the claim process. Insurance Advisor has a nationwide team of licensed insurance agents specializing in insurance for businesses. They can be your advisor and information source for your commercial printing insurance needs. They combine the relationship of a traditional agent with the flexibility and convenience of online services.
We Are a Trusted Insurance Provider