As of January 2023, the US had over 138,000 engineering businesses, a number that has grown by 0.1% since 2022, according to an IBISWorld report. These companies provide their customers with building design, civil engineering, construction, and other services. Like many other businesses, they face risks and challenges in their business and need insurance coverage. If you are a part of this growing industry, getting engineering insurance can help you safeguard your firm.
What is Engineering Insurance?
Insurance for engineers is a set of policies designed for engineering firms, architects, and consultants. The insurance coverage needed depends on your business's operations and client requirements, but you can tailor the policies to your unique business needs. Engineering can be a risky business. Sometimes, clients may claim the service your firm provided was not up to the mark. Occasionally, an expensive piece of equipment may break down suddenly and need replacing immediately. Employee injuries are also a consideration. A worker could get badly injured while at a job site, leaving the engineering firm to meet the statutory benefits owed to an injured employee. Engineering businesses also face common business risks like property damage, vehicle accidents, loss of revenue due to interruptions in operations, and cyber attacks. These risks can lead to sudden large expenses and revenue losses. Getting engineering business insurance can help in reducing the impact of these threats.
Which Policies Are Helpful for Engineers?
Here are some policies that generally benefit engineering consultants, architects, and other professionals in this line of work.
1. General Liability Insurance
This insurance policy covers various injury and property damage claims filed by third parties. It generally covers physical injury, property damage, personal injury, and advertising injury caused by your firm. For instance, if a client slips and falls while visiting your office, a general liability policy can respond to their claim for medical expenses and lost income. If your employee accidentally damages your client's property while surveying their property, this policy can pay for the repair or the replacement costs when negligent for the damage on covered incidents.
2. Commercial Property Insurance
Engineers or firms that own business assets can insure a building or business personal property on a commercial property insurance policy. Building insurance covers your building and business personal property from losses caused by covered perils like wind, tornado, fire, vandalism, riot, theft, and more. However, you may need a separate commercial flood policy to cover losses from floods, as these are generally excluded under property coverage. Earthquake is also typically excluded from this policy, and separate coverage is needed.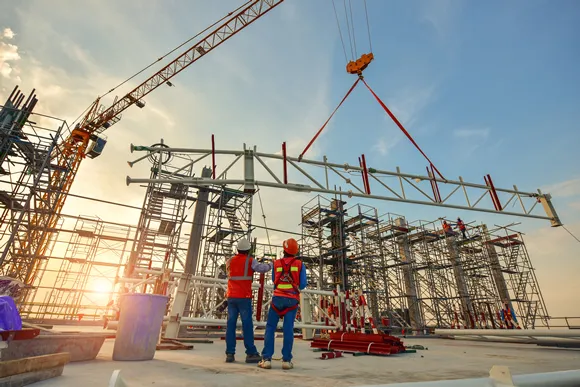 3. Worker's Compensation Insurance
Workers employed by engineering practices may work in potentially dangerous situations. These workers could easily get injured even while using personal protective equipment (PPE). Worker's compensation insurance will pay the injured employee's statutory benefits owed in your state, such as the cost of medical care, rehabilitation, and a portion of lost wages.
4. Commercial Auto Insurance
Engineering firms may use vehicles to transport tools, equipment, and employees to various work locations. If your company owns business vehicles, a commercial auto policy is a necessity. Apart from Virginia and New Hampshire, all other states have made some level of financial responsibility laws for damage done by vehicles, mandatory. However, even if an auto policy isn't compulsory in your state, you should have auto liability coverage for claims from at-fault accidents. If your company vehicle gets into an accident, a business auto policy will respond to liability claims and lawsuits for third-party injuries. It also covers repairing a third party's damaged property or vehicle when negligent for the damage. While your driver injured in an auto accident has primary coverage under workers' compensation, third-party damages from vehicular accidents can be quite costly and are best handled by your auto liability insurance provider.
5. Professional Liability Insurance
Professional liability is an integral part of the engineering business insurance program. Sometimes an employee may make a mistake in the work product, or your work may cause a financial loss to the client or another party. This policy is meant to cover allegations or claims of negligent work, errors, and omissions in the professional services provided that cause a financial loss to others. Sometimes, the client may sue you for not completing a contract within the promised time or for not doing the project according to the agreed-upon design. A professional liability policy will defend claims that customers have filed against you in the scenarios mentioned above for insured wrongful acts.
6. Cyber Insurance
Cyber liability policies can help your firm recover from cyber-attacks and data breaches. It can cover the costs of responding to the cyber attack and recovering the compromised data. It can also cover losses from ransomware attacks and phishing scams. In addition, architecture and engineering firms may store client details, plans, and contracts on computer systems, and this data can get compromised. Cyber liability coverage can help cover the costs of defending privacy-related lawsuits and claims in such a situation. Cyber can also cover first-party claims, like the loss of revenue resulting from a cyber attack, data recovery, and hardware damage.
7. Business Owner's Policy
A business owner's policy (BOP) generally includes general liability and commercial property insurance. It is an attractive choice because the cost of this policy is lower than purchasing these individual coverages separately.You can choose to extend the coverage of a BOP as per your needs. You can add employee dishonesty coverage, business interruption insurance, or a commercial umbrella policy to the coverage to gain enhanced protection against various risks.
How Much Does Engineering Business Insurance Cost?
There's no uniform premium for engineer's insurance. For example, a big firm will pay a higher premium than an individual engineer. Similarly, a business may have to pay more if they have higher revenue or if its work is in a higher-risk category.
Here are some of the critical factors that affect the premium amount:
Type of work performed
Business revenue
Payroll
Type of insurance purchased
Value of business assets insured
Loss history
Limits of liability chosen
Safeguard Your Valuable Assets With Insurance
You work with valuable tools, equipment, and property as an architect or engineer. Tailoring your engineering insurance policies to the risks that you face can be a helpful way of getting better protection. At Insurance Advisor, we provide commercial insurance for companies across various industries. Click here to explore the wide variety of insurance policies that we offer. You can also browse our helpful resources section to get advice on choosing the optimum coverage. Our licensed insurance agents can help you with comprehensive quotes and easy payment options. Get a quote today!
We Are a Trusted Insurance Provider