Why Errors and Omissions Insurance is Key?
Errors and omissions (E&O) insurance provides coverage for professional liability lawsuits if a client alleges that your work resulted in a financial loss to them. For healthcare professionals, the coverage differs and usually relates to bodily injuries resulting from medical malpractice. E&O is also known as professional liability insurance, which is essential for companies and individuals that provide professional services, including lawyers, doctors, architects, engineers, accountants, and consultants. Let's take a look at why this insurance is critical.
Why is E&O Insurance Important?
Clients of professional service firms may require companies to have this insurance before signing a contract with them. Proper insurance coverage helps reassure your customers that your firm is backed by insurance to cover errors or omissions while performing your service. Professional liability could also be a requirement for qualifying to practice in the healthcare industry in various states.
Who Needs Errors and Omissions Insurance?
Any business or individual that provides professional services should consider buying this coverage. Even if your company is not at fault, defending against a lawsuit can be expensive and time-consuming. Insurance can provide financial backing to your firm by offering legal counsel to defend professional liability lawsuits for covered claims.
Here are some professions that would benefit from buying this coverage:
Consultants, staffing firms, and media organizations: These professionals are at greater risk of being sued as they provide information, advice, and services to customers. Similarly, companies that create and publish information, such as media firms, could be exposed to lawsuits over negligence in work. Media professional liability insurance could help them cover the costs of lawsuits related to work oversights, missed deadlines, and advertising injuries.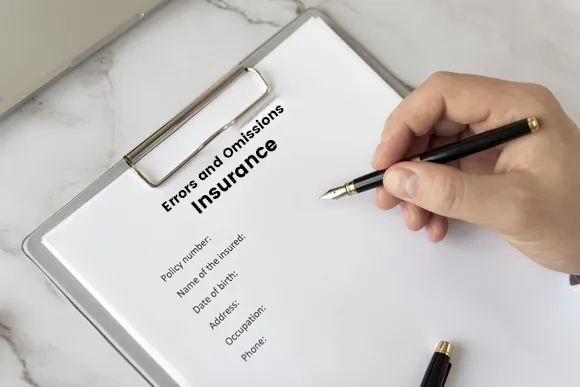 Financial institutions: These bodies are exposed to regulatory violations, regulator penalties, breach of duty, improper disclosure of risks related to investment products, and more. Financial institutions' professional liability helps cover damages and costs related to such judgments and settlements.
Information technology professionals: IT professionals are vulnerable to lawsuits over data breaches, coding errors, faulty security measures, etc. Potential clients prefer to work with tech companies that have an active E&O policy.
Construction Professionals: This category includes architects, engineers, construction managers, and other professionals in the construction industry. Such professionals are at risk of exposure to claims related to design defects, building errors, and other legal issues that may arise while providing construction services.
Construction projects can be complex and involve many parties, increasing the risk of professional negligence, errors, or omissions. Contractors' professional liability helps provide a safety net to protect contractors from potential claims or suits that may arise.
What does E&O Insurance Cover?
This coverage typically covers claims related to professional negligence, errors, and omissions that cause a financial loss to customers or other third parties. This can include claims related to:
Failure to provide adequate advice or services
Mistakes or errors in the work done
Services that were not delivered
Missed deadlines
Accusations of negligence
Inaccurate recommendations
The specific coverage provided by professional liability insurance can vary depending on the policy and the insured's profession. The coverage provides legal counsel, pays court costs, and settlements for insured incidents.
What does E&O Insurance Not Cover?
Several types of claims are not covered by professional liability insurance, including:
Bodily injury and property damage: These costs are typically covered by general liability insurance.
Employee injury: This is covered by worker's compensation insurance, which helps pay for the medical costs of employee injuries and occupational diseases related to work.
Workplace discrimination or harassment: Employment practices liability insurance can help pay for such claims.
Accidents caused by company vehicles: Commercial auto insurance can help cover the costs of accidents caused due to your company's vehicles.
Directors & Officers Liability: This insurance can cover the cost of claims made against directors and officers of a firm for actual or alleged wrongful acts while managing the company. These wrongful acts could include breach of trust or duty, misuse of company funds, and more.
Cyber attacks: Cyber insurance policies are designed to cover these occurrences.
How Much Does Errors and Omissions Insurance Cost?
All companies have unique needs and insurance coverage requirements. Your company's industry and exposures drive the cost of professional liability insurance. Factors that contribute to the premium of your insurance plan include:
Business risk: If you are in a high-risk industry, you will likely pay higher premiums. For example, a business owner of a financial consulting firm that advises on million-dollar investments may have to pay higher insurance costs than the owner of a small consultancy would.
Coverage limits: The higher the limits on your policy, the higher the premium the insurer charges.
Claims history: You could pay more for your policy if your company has a claims history.
Location: E&O coverage costs also depend on the location of your firm. For example, you may have to pay a higher premium if you have an office in a more litigious location.
Annual Revenue: The more income a company makes, the more potential for errors to occur that result in a claim.
Final Take
E&O insurance is essential coverage for firms that provide professional services to clients. Lawsuits related to professional liability can cost hundreds of thousands of dollars and affect your company's reputation. If you provide professional services, it is important to consider obtaining insurance to protect yourself and your business.
For more insurance tips and helpful insights, visit the Insurance Advisor blog today and learn how to address your small business needs. Contact our agents for advice on the right coverage to purchase, and use our digital platform to purchase the optimum insurance policy for your firm.
We Are a Trusted Insurance Provider