Understanding Business Insurance for Travel Agents
Travel agents create travel plans for their clients and assist them in choosing vacation spots and finalizing entertainment plans. In addition to booking transportation and providing lists of hotels and attractions, travel agencies also offer insights like tipping advice, recommendations on food and beverages, or information about the local people and their culture. Travel agents may face claims caused by errors and omissions. For example, if a client was not advised that a trip's cost increases after a specific date, they may blame the agent for not telling them and expect the agent to pay the price difference. Sometimes, genuine errors can occur as well.
In 2021, the market size of the US travel agency sector was approximately 34.64 billion US dollars. Insurance companies can help travel agent businesses grow by managing their risk so that these agencies can focus on their operations.
Business Risks
Travels agents have clients looking to unwind and don't want mishaps to spoil their fun. Their holiday mood causes a zero-threshold for taking a 'no' for an answer. If there is a lapse on the travel agent's end, the client will expect things to be made right. Because of an agent's error, the return flight date on the itinerary of a large group is a day later than the date on the airline ticket. As a result, the group misses their flight and must book the return tickets again, incurring additional charges. Hence, the travelers file claims against the travel agent and agency.
There are legal defense costs and settlement expenses related to liability lawsuits, a customer injury at your office, a data breach that exposes client information or professional negligence; these are costly incidents that insurance companies can help you cover.
Example 1: Travel health insurance provided by a travel agent never gets issued, leaving an ill traveler stuck with the medical bills and medical transport back home.
Example 2: A travel agent's scheduling error caused a group of clients to miss their international flight and other connecting flights, causing mental anguish and extra expenses incurred by the stranded travelers.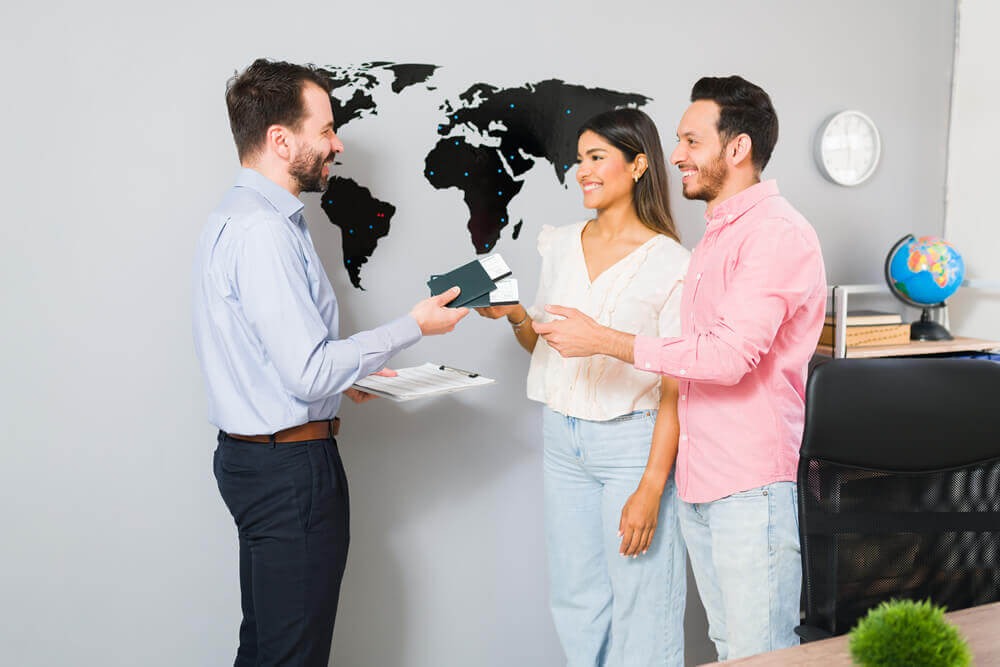 Recommended Policies
It is essential to understand your business's potential for claims, and purchase the relevant policies:
General liability insurance
Professional Liability
Workers' Compensation Insurance
General Liability Insurance
It protects a business against claims for bodily injury and property damage liability from your business operations. The policy pays for legal defense costs and court fees for covered claims. These are reasons that make general liability insurance an essential policy for businesses. It will not cover losses resulting from your professional services as a travel agent. It may also protect against personal and advertising injury, including any harm to another caused by libel, slander, or advertising. However, in most cases, professional service businesses have these claims covered by the professional liability policy.
Example 1: Bodily injury – While the travel agent is explaining the travel itinerary to the client, the client's child bumps a computer monitor, and it falls on his head, causing injuries. The general liability policy would respond.
Example 2: Property Damage – An employee of the travel agency accidentally spills hot coffee on the keyboard of a client's expensive laptop. The client claims reimbursement for the laptop and the restoration cost of the critical data in it. The agency's general liability insurance will respond to this property damage claim.
Property Insurance-Business Interruption
When unforeseen events like wildfires or hurricanes destroy a business's building, disrupting business operations, the business interruption with extra expense coverage comes into play. The business interruption coverage will replace the revenue stream while the building is rebuilt or the travel agent finds a new location to operate from. Replacement of net operating income allows a business to meet ongoing financial responsibilities.
Example: A travel agency's storefront is destroyed during a typhoon. It causes the travel agency to close down temporarily. The business interruption and extra expense coverage help the business survive by paying for repairs, loss of income, and temporary or permanent relocation. Without this coverage on a property policy, the agency may never get back on its feet after such a disaster.
Professional Liability Insurance
Travel agents do more than just book airline tickets. They organize trips, make hotel bookings, book excursions to tourist attractions, make dinner reservations, and more. The travel agent can make mistakes, such as incorrect information given here or an employee's poor communication there. That's where professional liability insurance comes in.
Example: A travel agent's scheduling error caused many clients to miss their international cruise, and no refund was available.
Workers' Compensation Insurance
This policy covers employees' medical expenses and a percentage of their lost income if they are unable to return to work because of the accident. Workers' compensation also provides financial benefits for an employee's dependents if an on-the-job injury causes death.
Example: An employee close to retirement has a heart attack and dies at a travel agent's office while performing his duties. The workers' compensation policy will pay the statutory benefits required in that state.
Cyber Insurance
A travel agent managing digital data for his clients' destinations, debit or credit card details, and hotel reservations has cyber exposures. If the client's private data gets comprised via a breach, the business can expect customer liability claims to which this policy would respond.
Example: An employee took his company laptop home and forgot it on the train; it was never recovered. The laptop contained clients' private and payment information on the hard drive. The company had to notify its clients that their personal and banking information was at risk. Though this policy pays for credit monitoring for affected clients, they still filed a lawsuit for damages due to the business's negligence in protecting their personal information. The legal expenses for client notification, credit monitoring, and court-awarded settlement added up to $400,000.
Comprehensive Insurance Costs
To decide on the right set of insurance to cover a bicycle shop, one must look at a mix of the business's revenue, the number of people it employs, its location, the number of outlets it has, and its claims history. What the store's policies will cost will be a calculation based on these factors.
Who Benefits?
A well-functioning travel agency is ultimately in the best interest of the public, the business establishment, the employees running the agency, and the customers who visit the premises to make purchases. Therefore, a good travel agency insurance program benefits all the stakeholders of the store.
We Are a Trusted Insurance Provider