The mortgage brokering industry is a lucrative one. The real estate market is flooded with people looking to purchase property - from a residence to a commercial space. Mortgage brokers simplify the process of applying for, qualifying, and processing a loan. They earn a commission when the transaction is complete.
However, this business comes with several risks and liabilities.
If your business is part of the mortgage broking industry, then it is better to be prepared to face the risks of this profession as well as the rewards. For instance, mortgage brokers guide their clients on the best lenders in the market. If the client suffers a financial loss resulting from your professional service, they may sue your company.
The costs of defending a claim or lawsuit and the potential settlements can be exorbitant. Paying out-of-pocket can result in disrupted operations and bankruptcy.
Having mortgage brokers' insurance can better prepare your business for these professional hazards. Let's learn more about the risks and liabilities and how insurance helps mitigate potential financial losses.
Potential Risks And Liabilities
Several things can go wrong in the mortgage broking business. Here's a snapshot of common scenarios mortgage brokers must be aware of:
Your business is in charge of scouting the best mortgage terms and conditions for a potential borrower. Once the deal goes through, your client sues you for financial loss from your advice. They believe they could have got better terms and conditions on their mortgage with another provider you represented. Your business faces attorney fees, court fees, and settlement for the damages when found liable.
Your office is completely vandalized, and furniture, electronics, and other contents are damaged. Your business must foot the bill to repair or replace the damaged property.
During a meeting at your office, a potential client injures themself. They need to be hospitalized and receive treatment. They are now suing you for compensation for medical expenses, lost time at work, and pain.
There is a cyber attack on your company's network, and the essential financial information of your clients, vendors, and employees is compromised. You must inform all parties, manage public relations, and conduct a forensic investigation. These response activities come at a significant cost.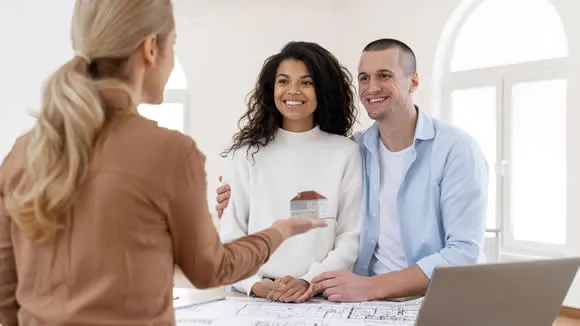 No doubt, a lot can go wrong in a business. But the blow can be softened by investing in comprehensive business insurance for mortgage brokers. Let's understand what type of insurance is relevant for real estate professionals in the mortgage broking business.
Types Of Mortgage Brokerage Insurance
Mortgage brokerage firms must consider the following types of insurance to protect their interests:
General Liability Insurance
Third-party lawsuits are an expected consequence of this line of work, and it is advisable to have general liability insurance. General liability insurance covers third-party claims or lawsuits that allege bodily injuries, damaged property, and personal and advertising injuries. It will provide your company with defense representation and pay the cost of potential judgments and settlements for covered acts.
Commercial Property Insurance
As a mortgage broker, you probably run your business from a physical office space, which houses furniture, computers, printers, and other contents. Commercial property insurance protects your business's property when covered perils damage or destroy it.
This type of insurance helps pay for repairing and replacing property due to fires, theft, vandalism, wind damage, lightning, and hail, to name a few. However, it does not pay for damage caused by floods, earthquakes, war, and nuclear activities, among other policy exclusions.
Errors & Omissions Insurance
Also known as professional liability insurance, this policy protects your business when clients allege misconduct that results in a financial loss. For instance, they can sue you for missed deadlines, misrepresenting facts, incorrect advice, and contract disputes with lenders and borrowers.
Errors & Omissions insurance helps real estate professionals with legal representation. It also pays for court and expert witness costs and settlements for covered wrongful acts where your professional staff was negligent. Paying out of pocket can be costly without this valuable coverage.
Workers' Compensation
Your staff may sustain injuries while working. These incidents can result in hospitalization, medical costs, and extended time off from work during recovery. This is where workers' compensation comes in handy. Mandated by most states when a business reaches a certain number of employees, this insurance policy covers medical costs and other expenses resulting from an on-the-job injury, a percentage of lost wages, and a small death benefit to the family in case of a fatality. The death benefit offers the deceased's family financial support to cover funeral and burial costs.
Cyber insurance
Mortgage brokers store massive amounts of client data across various cloud-based software and smart devices. The data may be financial or personal, and needs to be confidential. However, with the number of cyber attacks growing worldwide, mortgage brokerage businesses are vulnerable to data breaches.
This is where cyber insurance is invaluable. It helps pay for the cost of notifying borrowers and lenders securely, the cost of forensic investigation and data recovery, and payouts for ransomware attacks.
Cost of mortgage brokerage insurance
The cost of comprehensive mortgage brokerage insurance can vary based on specific factors such as:
The consumer segment - a premium clientele would demand higher coverage limits and costs.
The scale of your mortgage brokers' business - for instance, how many clients you serve and in how many locations?
Regulations governing the geography you serve and their implications on the terms and conditions.
The size of your office premises and if clients visit your office
Size of your team and nature of job roles
Summing Up
Purchasing mortgage brokers' insurance is a must in this industry today. The risk of something going wrong is significantly high because many factors are beyond your control. Your company can partner with a seasoned insurance provider like Insurance Advisor and identify the best policy for your business needs.
Visit the Insurance Advisor blog or our website to know more.
We Are a Trusted Insurance Provider