General Liability Insurance Workers Compensation Insurance Umbrella or Excess Liability Insurance
Understanding Appliance Stores Insurance
Modern homes, apartments, and commercial buildings use consumer appliances for home and kitchen. Appliance stores stock home appliances like air conditioners and TVs to kitchen appliances like refrigerators, dishwashers, mixers, washing machines, and ovens. Consumers visit physical or online stores to find the right brand and model that offer suitable appliances. Some of these appliance stores also provide after-sales services.
Due to the high level of interaction in physical stores among the customers, employees, and heavy products, there could be several risks in the form of property damage, injuries, and other accidents that an appliance store could be exposed to. Online appliance stores also have risks in the form of product liability, transportation, damage, or injury during delivery and installation at the customer's premises.
Probable Appliance Store Risks
Loss of or damages to the store's inventory in transit due to an accident resulting in loss to the store owner.
Bodily Injury : Customers could injure themselves while shopping for an item from the appliance store or during delivery and installation.
Commercial Property Damage : Damages to the property of the business, including buildings, inventory, equipment, and furniture, by insured perils.
Cyberattacks : Leakage of the customer's personal information, details of its suppliers and employees, and the company's confidential information, ransomware, etc.
Crime : Appliances displayed or stocked at the store are highly susceptible to theft, vandalism or burglary.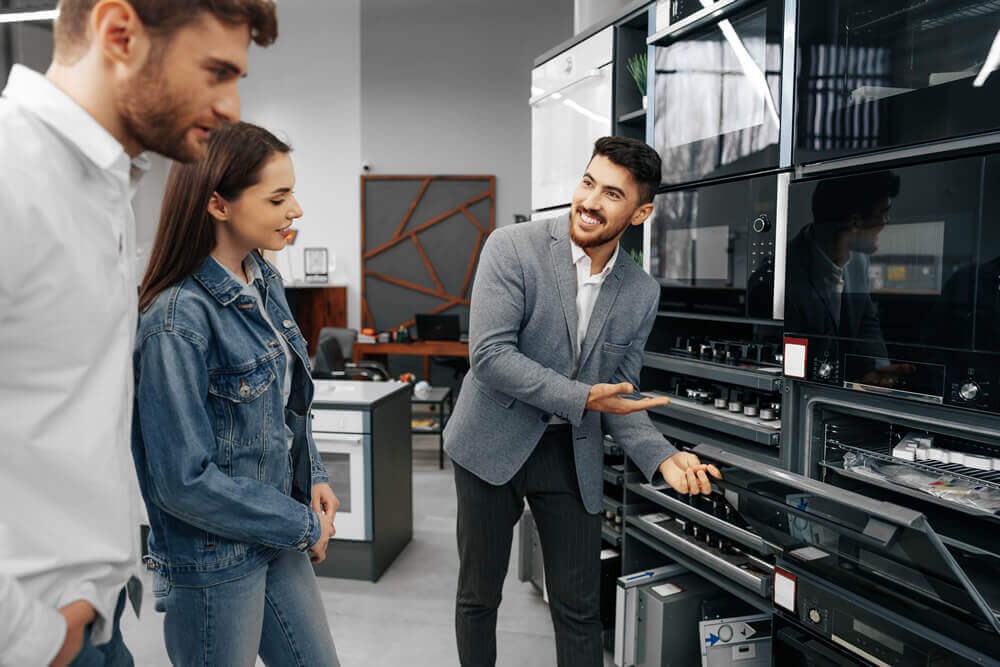 Recommended Policies
Business Owner's Policy (BOP)
This package policy combines the coverage of General Liability Insurance, Commercial Property Insurance, and Business Interruption Coverage. This type of policy is meant for small businesses to protect them from major risks at a reasonable cost. An insurance advisor can help you find the most suitable coverage by adding other coverages to your BOP.
General Liability Insurance
This insurance can compensate for the legal expenses arising from property damage or bodily injury liability caused by your business operations. These risks include losses your business is legally required to compensate the customer, damages resulting from your work, and legal expenses. Some forms of general liability insurance also redress advertising injury if the store infringes the copyright of a rival. The general liability insurance typically compensates the following risks for appliance stores:
Premises Liability : This relates to damages and injuries caused to visitors – customers, vendors, or the public – on your store premises or while your business operations take you off premises for delivery or installation.
Products Liability : This insurance protects you from liability claims or suits arising from bodily injury harm faced by customers while using the appliances you have sold or property damaged by your product.
Completed Operations : This policy protects you from complaints your customers have against you for damages occurring after you have completed the required installation work.
Commercial Property Insurance
This policy protects your appliance store business from unexpected damage to the company assets, including buildings, inventory, equipment, and furniture. This insurance takes care of expenses incurred due to damages by fire, windstorm, hail, riot, vandalism, aircraft, and other perils.

Business Income Insurance
Business interruption coverage compensates appliance stores for the income lost due to direct physical damage to the building by a covered peril, which prevents the store from conducting normal business operations closed for repairs and maintenance.
Worker's Compensation and Employer's Liability Insurance
Worker's compensation insurance is mandatory for most businesses in the USA, depending on the number of employees. It provides statutory benefits and protects the business for employee injury claims. It does this by covering medical expenses for employee injuries arising from work, a portion of the wages lost while out of work, and legal expenses for employee lawsuits alleging negligence against the company.
Commercial Auto Insurance
Commercial vehicles being used for business purposes are covered - though requirements may vary from state to state. Provides coverage for bodily injuries and property damage liability when you or an employee cause an accident. The protection of commercial auto insurance includes payment of defense costs, medical bills related to accidents, damage to your car from accident, vehicle theft and damage from vandalism, and uninsured motorist coverage in case the driver without insurance injures the driver or passengers in your vehicle.
Umbrella or Excess Liability Insurance
Umbrella and Excess Liability insurance provides additional limits beyond the primary liability policy limits for business owners. If a covered claim exhausts the limits on your primary general, auto and employers liability coverage, these policies will pay for claims exceeding underlying limits for covered losses.
Cyber Insurance
This insurance protects your business from third party liabilities and first party benefits arising from cyberattacks that lead to unexpected expenses like incident response expenses, system damages, ransoms, recovery expenses, legal fees, and privacy liability and regulatory or PCI fines.
Comprehensive Costs
The comprehensive costs for appliance store insurance policies vary based on several factors like:
Annual revenue
Assets insured
Types of services provided and risks associated
Location of stores
Number of employees and annual payroll
Claim history
Deductibles and limits chosen
The mix of policies and the above factors will decide the total cost of appliance store insurance.
How to Buy Appliance Store Insurance?
You can request quotes for insurance policies by clicking here. You can also call us directly to discuss your requirements with an insurance agent who can help you select the best option for insuring your appliance store.
Benefits of an Insurance Advisor
Independent insurance advisors help you find the right insurance policy for your appliance store. In addition, they can offer support during the claim process. Insurance Advisor has a nationwide team of licensed insurance agents specializing in insurance for businesses. They combine the relationship of a traditional agent with the flexibility and convenience of online services.
We are a Trusted Service Provider