Understanding Bicycle Shop Insurance
A bicycle shop offers its customers a host of services. One of them often may be to provide training to riders, where many safety precautions are taught to bicycle enthusiasts. Yet, since unforeseen events don't announce their arrival, buying small business insurance for your bicycle store could mitigate exposures.
US bicycle and accessory sales in 2021 was $8 billion. Insurance is gaining significance in guarding against the various threats to the bicycle shops and bicycle and spare parts wholesale industry.
Business Risks
Bicycle manufacturers and bicycle shops need appropriate insurance policies and must cover risks unique to their line of business. Property exposures, for instance, need coverage. In addition to selling new products, bicycle shops use different materials, including flammable solvents, oils, and lubricants for repair work – an essential part of the services they offer. These chemicals could potentially be a fire hazard. Similarly, bicycle shop owners need to assess and cover other risks unique to their line of business.
Example 1: Bodily injury – This could be sustained by a customer from a bicycle sold with a critical piece of the wheel assembly missing or a repair gone wrong.
Example 2: Theft – Money or inventory could be stolen from a bicycle shop by a criminal or an employee.
Example 3: Unexpected disasters – There might be a raging fire in the bicycle shop.
Example 4: Covered building damage – This may cause a bicycle shop to shut down temporarily. The loss of revenue could put the business at risk.
Example 5: Data breach – A bicycle shop that accepts orders online could be especially exposed to a data breach of credit card details and other customer private information.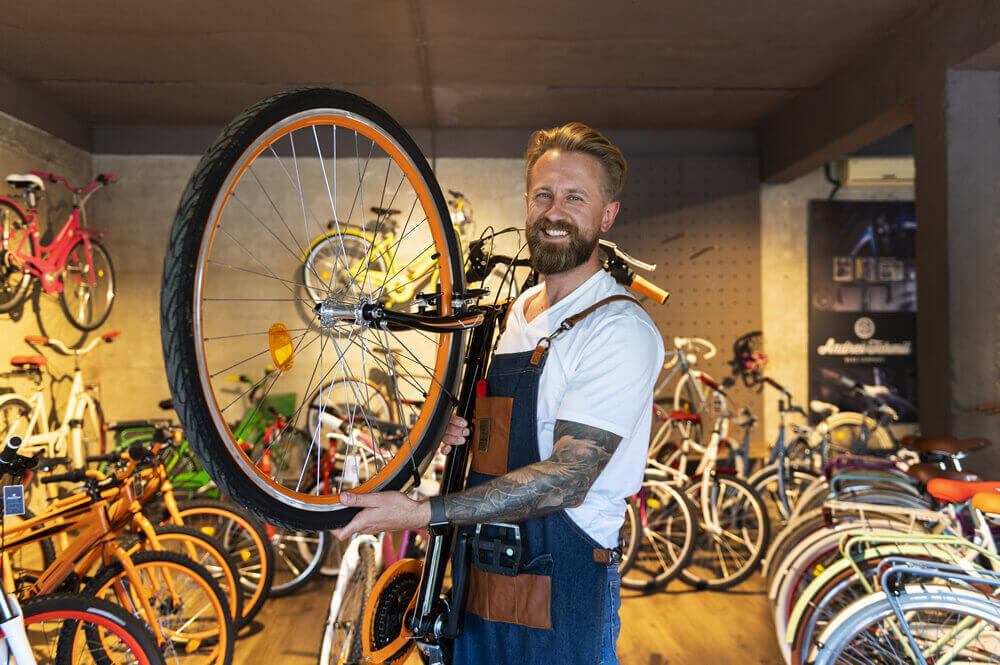 Recommended Policies
The bicycle manufacturer deals with multiple exposures, but there are bicycle store insurance policies that can mitigate these risks while they focus on running their business. Insurance policies with particular relevance to bicycle stores are:
General liability insurance
Business interruption
Commercial crime insurance
Bailee's coverage
Workers' compensation insurance
General Liability Insurance
This protects against bodily injury and any medical payments that go with it. It also covers damage to customer's property, or harm to another caused by libel, slander, or advertising. A must-have policy for businesses, it pays court related and legal fees related to claims raised. Many people visit the bicycle shop, making the safety of the visitors and the store an important prerogative for the business owner.
Example 1: The store provides repair services, and something goes wrong with a repaired bicycle, causing the rider to have an accident where they are hurt. General liability will cover the ensuing property damage or bodily injury.
Example 2: Bodily injury sustained by the client in the store will be covered by the premises liability section of the general liability policy if the store is found to be liable for the injury.
Product liability insurance, also part of the general liability coverage, provides coverage when a client claims some bodily injury or property damage from a malfunctioning product sold at the premises.
Example: A customer sustains an injury from a bicycle sold with the brake line cut.
Commercial Property Insurance
Property insurance protects the premises and equipment, inventory, stock, and furniture. It covers the bicycle shop in case of a disaster like a fire or a tornado that destroys it.
Business Interruption
Covered property damage to the building that causes a bike manufacturer to shut down its retail outlet temporarily resulting in lost sales. For example, the loss of revenue could put the business at risk of closing, particularly if the interruption happens during peak shopping like Christmas. A business Interruption policy will cover the repair expenses and replace lost income so the shop can pay the rent and other expenses until the facility reopens.
Commercial Crime Insurance
This insurance covers the bike shop from crimes such as theft, robbery, forgery, burglary, and fraud by outsiders or by employees.
Bailee's Coverage
If there is damage to or theft of bicycles brought in for repairs and maintenance by a customer, it's covered by bailee's coverage which is added to the general liability policy.
Workers' Compensation Insurance
Workers' Compensation Insurance covers employees' medical expenses and a percentage of their lost income if they suffer some injury while working at the store. Workers' compensation also provides financial benefits for an employee's dependents if they lose their life performing their work at the establishment.
Example: An employee suffers a back injury while unloading bicycles from a truck. The store's workers' compensation insurance would compensate him for his medical expenses and lost wages till he returns to work.
Additional Coverages
Business Owner's Policy or BOP
BOP combines general liability, property, business interruption, and extra expense coverage. Smaller bicycle stores, in particular, prefer this cost-effective policy.
Cyber Insurance
A bicycle store can also be exposed to cybercrimes. The exposures include the risk to privacy, operational risk, service risk, privacy risk, and security risk.
Example 1: Data breach – A spam email operator accidentally exposes a large number of records, including the bike store's information.
Example 2: Ransomware – A malware enters via a malicious email encrypting the store's data, crippling the system.
Commercial Auto Insurance
Bicycle manufacturers transport bicycles and gear from their premises to their retail customer locations. A bicycle shop may also deliver to their end customer.
Example: A bicycle shop owner is out on delivery in a van. She accidentally runs a stop sign and hits another vehicle. The store's commercial auto insurance would pay for injuries sustained by the driver or passengers in the other vehicle as well as repairs to their vehicle.
Comprehensive Insurance Costs
To decide on the right set of insurance to cover a bicycle shop, one must look at a mix of the business's revenue, the number of people it employs, its location, the number of outlets it has, and its claims history. What the store's policies will cost will be a calculation based on these factors.
Who Benefits?
A safely functioning bicycle shop is ultimately in the interest of the public, the business establishment, the employees running the shop, and the customers who visit the premises to make purchases. A good bicycle shop insurance benefits all the stakeholders of the store.
We Are a Trusted Insurance Provider