Business Insurance for Bridal Shops
Many future brides have imagined their dream weddings since they were young girls. An essential aspect of this occasion is finding the perfect wedding gown. Wedding boutiques & bridal stores provide these women with inventory to select the ideal gown from and alterations for the perfect fit.
Bridal stores must protect their business operations with good insurance coverage so that when a loss or accident occurs, they will be able to recover and continue operations as quickly as possible.
Why do bridal shops need insurance?
The worst circumstance that can happen with a bridal shop is a mishap or catastrophe leading to a destroyed or missing gown right before the wedding day. This is most true in the wedding-dress business, where the sale of the most elaborate dresses is very important.
When the big day nears, stressed brides-to-be remind themselves about everything they need to do and begin meticulously planning each aspect of the day's events to provide picture-perfect photos for their friends and family. However, they are so consumed by this process that the loss of their ideal dress can cause severe frustration and distress.
In 2021, weddings in the United States cost an average of $28,000, based on The Knot 2021 Real Wedding Study. If your shop ruins the special day because you cannot provide the bride with the dress she bought, an ensuing lawsuit will be likely and expensive.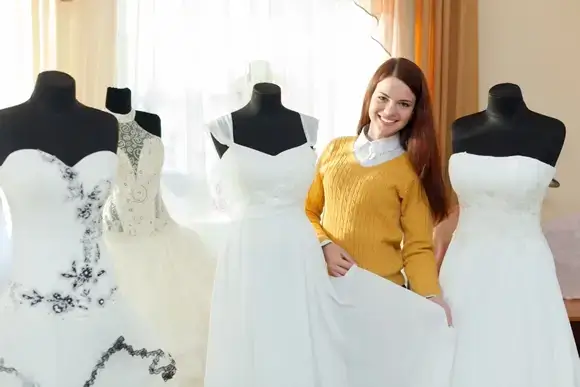 What types of business insurance do bridal stores need?
These insurance coverages protect the most frequent threats faced by bridal shops.
Business owner's policy
A business owner's policy (BOP) can bundle general liability and commercial property insurance and typically has a low combined cost. Business owner's insurance covers an array of small businesses from the frequent issues that the retail industry faces, including third-party bodily injury and property damage liability arising from your business's negligence as well as damage to your business location and contents.
A business owner's insurance policy protects against these.
Damage to inventory, equipment, and other business property
Lawsuits over customer injury or property damage
Premises and product liability
Matters related to advertising injury
Business closure due to covered building damage
Property Insurance
Damage to equipment, inventory, and other business property
A BOP consists of commercial insurance that helps protect:
Equipment, such as sewing machines, computers, and cash registers
Your store's products and inventory
Owned building or if as a tenant the lease requires you to insure
Your shop's furniture and fixtures.
If you suffer a loss due to fire damage, break-in, and theft of property or a burst pipe that does damage to your inventory, the property coverage in a business owner's policy should help cover the costs to repair or replace the damaged property.
Business closure
A business that has to shut down operations because of damage incurred in a fire or tornado can lead to long-term financial troubles for a store reliant on daily transactions for its cash flow. Often included in a BOP, business income or as its sometimes called business interruption, can cover losses incurred due to a temporary shutdown.
For example, your store may need to close for several months to rebuild after a fire. Business interruption insurance would replace your net revenue so that you can pay your ongoing operating expenses, including payroll.
The extra expense coverage can be included with business interruption coverage. Extra expense insurance will provide payment to help mitigate your losses by paying the expenses incurred for setting up a temporary or new location where you can continue your normal business operations.
General Liability insurance
General liability insurance protects your organization from the expense of claims and liability lawsuits. Most commercial leases and contracts require a business to have general liability insurance. Bridal shop visitors and clientele might be exposed to conditions in your store that could cause injuries or other accidents. General liability insurance protects your business against claims and lawsuits brought by third parties. General liability policy covers claims related to:
Store injuries
Damage to the property of others
Damage or injury caused by a product
Personal and advertising injury
Coverage provided by General Liability insurance for a bridal store business
Customer injuries
You may be liable for financial damages if a visitor or customer of your bridal store is injured on the premises. A customer or visitor lawsuit can rack up substantial expenses. General liability insurance can help pay for the following:
Damages from pain, suffering, lost work, and medical bills
Defense
Negotiated settlements
Court-ordered judgments
Note that this policy does not include injuries sustained by staff. For that, you will need a worker's compensation insurance policy.
Customer property damage
A customer's property may be accidentally damaged by an employee's actions. The property damage liability included in the general liability policy will respond to these claims.
Damage caused by a product
Product liability insurance included in most general liability policies insures against injuries or property damage caused by products you sell. This coverage handles claims or lawsuits alleging defective products and poor workmanship caused injury or damaged property.
Personal and Advertising injury
If your bridal store engages in commercial advertising, you may be vulnerable to a lawsuit from a competitor claiming that your company wrongfully copied its logo or harmed its reputation. General liability insurance will protect your business from such a claim. It can help cover lawsuits related to:
Defamation, both libel (written) and slander (spoken)
Copyright infringement
You need to protect your company with this coverage if you use any media for advertising your products and services.
Workers' compensation insurance
Work-related injuries are covered through a worker's compensation policy. This coverage is mandated in most states for businesses that have a certain number of employees. Employees are the crux of any business, whether you run a bridal shop or a thrift store, your employees answer questions, sell items, and keep everything running smoothly. However, accidents can happen even in the safest workplace. Workers' compensation insurance enables workers to receive medical care, wage replacement, and other remedies if they're injured at work.
Workers' compensation can help pay for an injured employee's:
Immediate medical costs, such as emergency room expenses
Ongoing medical costs, such as medications and rehabilitation
Partial lost wages while the employee is recovering
Employer's liability insurance is typically included as part of the Workers' Compensation policy. Its purpose is to protect employers from employee lawsuits that allege the employer's negligence caused or contributed to their injury. It can help with the following:
Defense cost
Court costs
Settlements or judgments
For example, if your store is robbed and the cashier is seriously injured, the cashier may blame you for having inadequate security.
Without workers' compensation coverage, if the employer is sued by an injured employee how will those costs be met? Even though a state may not require workers' compensation, the employer is still liable for injuries suffered by employees on the job and any benefits the employee is eligible for under the state's workers' compensation laws. Employer liability insurance, however, does have limits to how much it will pay for a claim, but it's very easy and affordable to increase those limits.
Cyber Insurance
Cyber insurance covers the costs associated with a security breach or cyberattack. Coverage may include the cost of notifying customers, credit monitoring, legal fees, fines, and settlements.
Your bridal store may become insolvent if a data breach compromises your customers' payment information. Would you be able to pay out of pocket to defend a suit brought by your customers? That is why it is essential for businesses that store private information and credit card information to have a cyber insurance policy.
This policy provides coverage related to the following:
Data breaches
Cyberattacks
Ransomware
Phishing
Malware
Denial of service (DOS) attacks
Crises management expense
Loss of income
System or network damage
Other cyber incidents that disrupt business
Commercial Umbrella Insurance
The commercial umbrella insurance policy extends the limits on general liability, commercial auto liability, and employer liability coverage. Once the limit is paid out on a policy and there are more damages to be paid, the umbrella policy steps in to fund the remaining amount owed. Lawsuits can devastate any company once your primary insurance coverage is exhausted. Commercial umbrella insurance provides additional limits to pay a higher "per occurrence" limit.
This policy adds limits to selected policies called "underlying policies" which include:
General liability insurance
Commercial auto liability insurance
Employer's liability insurance (part of workers' compensation insurance)
Umbrella insurance does not cover the following:
Most claims excluded by the underlying policy
Professional liability/errors and omissions lawsuits (for this, look to excess liability insurance)
Property insurance claims
Payments made by an underlying policy
Employee discrimination lawsuits
Cyber Liability
Commercial auto insurance
Commercial auto insurance is a package of auto liability coverage and coverage for your business-owned vehicles. Just like any liability coverage, the auto liability will pay the claim for damages arising out of negligence from the use of the business vehicle. When your business vehicle is involved in an accident and the driver is ticketed; this creates liability for negligent driving by your employee. Even if your staff members are exceptionally cautious, auto accidents can still happen. Injuring another party or destroying another party's vehicle can be very expensive.
Coverage provided by Commercial auto insurance for a bridal store business
Adjust your policy based on what is mandated by your state, but you can even choose to purchase extra comprehensive coverage that covers non-state-owned vehicles.
Legal expenses
If your boutique is sued following an auto accident, legal costs can accumulate rapidly if an individual is injured. With business auto liability insurance, the insurance carrier provides your defense and pays for the negotiated settlement or court-ordered judgment.
We Are a Trusted Insurance Provider