Cabinet-making is an excellent business. You can work with your hands, be creative, and turn every day into an opportunity to make money on a job you love. You put a lot of work into launching your cabinet-making business, and now you just want to enjoy the fruits of your labor. Insurance specifically designed for your cabinet shop's needs will make it more convenient for you to enjoy your business.
Why do you need Cabinet Shop insurance?
A cabinet shop falls under small business. Small businesses that need the most assistance are most vulnerable to a first-rate disaster, lawsuit, or death. A large company, however, is much more likely to offer financial support in the wake of these kinds of situations. You have a lot invested in your organization's success if you own a company. Without the proper insurance coverage, you could jeopardize your legacy. Adequate liability and property damage coverage will ensure the fulfillment of your business dreams.
Is Cabinet shop insurance mandatory?
Workers Compensation
Workers' compensation insurance isn't usually required to be purchased by employers until they've hired employees. Most states call for workers' compensation when you have a minimum number of workers on the payroll. However, other states may require this coverage even with one employee if in a high-risk industry. Be sure to check your state's requirements for this coverage.
Remember, even if the law doesn't require a workers' compensation policy, as an employer, you may still be liable to pay an injured employee all the state-required benefits out of pocket. Medical care and lost wages can add up quickly, so not buying a policy does not alleviate the responsibility an employer has for their employees if injured on the job.
General Liability
Many local county or city municipalities require general liability insurance to operate a business in their communities. They may set the required limit for certain types of professional licenses or even occupational licenses. Err on the side of caution, and check with your local government's requirements before running a business in their locale.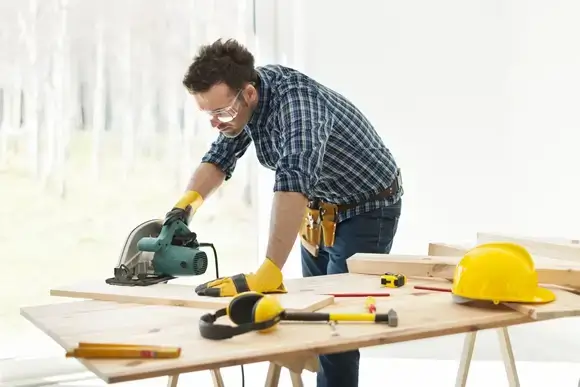 Recommended Insurance for Cabinet Shops
General Liability
Commercial General Liability coverage is intended to protect the business from the negative financial impact resulting from claims or lawsuits arising from your business exposures. Commercial General Liability insurance, also known as CGL, covers damages for bodily injury or property damage liability, legal defense, and court costs.
Commercial general liability insurance safeguards you against the most common types of lawsuits that may harm you, like customer lawsuits or workplace accidents. It's the most common commercial insurance coverage since it covers a wide range of potential problems.
While general liability insurance for your business can vary, it covers four main types of protection:
Third-party bodily injury or property damage
Personal and advertising injury liability
Goodwill Medical Payments (No legal liability)
Tenants Legal Liability
Bodily Injury Or Property Damages To Customers
General liability protects your company from legal repercussions if a client gets physically injured at your establishment, from your product, or during installation. Examples of this include a visitor slipping on freshly waxed floors, an employee accidentally hurting a client, or damaging their property during installation.
The work you perform, the products you sell, your company, or your office space can all be associated with a visitor or client being injured. Suppose a kitchen cabinet that your business installed falls off the wall, damaging the stove and injuring a baby. Even if your business didn't install the cabinet, it may be tough to determine where the fault lies, with the cabinet manufacturer or the installation. General liability is usually the least expensive, most recommended coverage for all businesses.
Personal And Advertising Injury
Personal and advertising injury protection differs from other liability in that it does not cover physical injury to a person or damage to their property. This part of your general liability insurance policy protects you from lawsuits and claims that occur due to third-party claims of hurting a person's feelings or reputation. Instead, think of it as hurting someone's social standing or brand.
Some examples include things like slander, libel, and accidental copyright infringement. If an employee is accused of invading the privacy of a customer, this section of your general liability will defend your business, and for covered acts, it will pay the claim or judgment. Personal injury claims may also include claims for wrongful eviction and false arrest.
Medical Payments
Your commercial liability insurance's medical payments section covers minor injuries and accidents for the public. This portion of your policy may help you avoid expensive legal processes and settlements by allowing your insurer to pay for small medical expenses that would not usually trigger a lawsuit. Known as "goodwill" coverage, negligence does not have to be proven for this coverage to pay. Medical payments coverage is usually limited to $5,000 or $10,000 on a general liability policy; and sometimes it may be excluded altogether.
Tenants Legal
If your business rents or leases commercial space, you may have seen this coverage required in your lease agreement. Tenant legal liability protects your landlord from damages to the building that your business negligently caused. Instead of your landlord suing you for damage to the building because your employee started a fire by smoking in a wood shop, this coverage could pay for the fire damage. Usually, this limit can be increased depending on the contractual requirements.
Business Owners Policy (BOP)
A BOP bundles general liability and property insurance together on one policy. In addition to general liability insurance discussed above, property insurance protects your business-owned assets from loss or damage caused by covered perils. This policy can be customized to include other essential coverage for your cabinet-making business.
Building and Contents - Cabinet makers need to take loss prevention measures to avoid having their workspaces, storage buildings, and tools from being damaged from a fire or other perils. If your shop, warehouse, or equipment is damaged as a result of fire, the property coverage will cover the cost to replace your contents and restore or rebuild the structure.
Business Income and Extra Expense – This coverage is part of the property insurance coverage on a BOP. It will replace your revenue stream if the building you occupy is damaged by a covered peril, preventing your normal business operations from continuing. As a result, your net income can be reimbursed. This allows the business to meet its ongoing financial responsibilities. If your shop had to close because of the damage, you may lose a lot of money due to the time that production and customer sales cease while recovery starts.
Inland Marine – Installation Floater
An installation floater is a type of inland marine insurance which means the covered property is not at a static location but is mobile. For instance, your delivery truck is in an accident loaded with high-end cabinetry on the way to the job location. If there is an auto accident and the cabinets are a total loss, this is the coverage you need. If you can't add this to a BOP, you may need a stand-alone inland marine policy which can also insure your tools and equipment when not at your shop.
Products and Completed Operations (Included in General Liability) - If you build cabinets for a customer, and if those cabinets cause bodily injury or property damage to the customer, the completed operations under the general liability policy will respond when claims occur after you've completed the project.
Equipment Breakdown - If you're a large cabinet manufacturer, your equipment breaking down could cause many headaches. Job delays, contractors upset, not making deliveries ordered, and so on. Equipment breakdown covers the sudden and accidental breakdown of equipment and can also cover loss of income resulting from the breakdown. This is not meant to cover maintenance issues or lack thereof, but it will help to expedite replacement parts or new equipment that will allow the shop to get back on track.
Electronic Data - As a modern cabinetry business, you own software programs and data that you'll need to back up for security reasons regularly. If these electronic assets are damaged by power outages, power surges, or other covered perils, Electronic Data coverage on a BOP (which is really inland marine coverage) can replace or repair this sensitive equipment.
Newly Acquired or Constructed Buildings - As your company grows, you may eventually require extra workshop space, buy a storage building or build a consumer showroom. A BOP can help you protect these additional new structures as you add them.
Valuable Papers Protection - Restoring important records and contracts following natural disasters or unexpected events can be very costly to your business. This coverage pays the expense to recover those necessary documents.
Employee Dishonesty Coverage - Your company can lose up to six percent of the annual profit due to employee dishonesty. Dishonesty coverage can assist with losses from dishonest actions of your employers, such as forgery, check alterations, credit card fraud, as well as unauthorized money transfers.
Workers' Compensation
Even if you have a single employee, you can be held accountable for employee injuries, regardless of whose fault it may be. Workers' compensation insurance will respond by paying the statutory employee benefits required in your state when one of them gets injured while working for you. Though it may not be required if you only have a couple of employees, make a wise choice, and purchase the coverage so you won't have to bankrupt your business to pay what is owed to a hurt employee. Workers' compensation insurance provides a few types of coverage for your company's employees. Major benefits:
Medical Care Coverage - Workers' compensation insurance is an essential part of any business's legal strategy because it pays for the medical care needed after an injury on the job. If you have workers' compensation, your workers won't have to sue you to collect reparation for any medical expenses. This policy covers expenses for a doctor's care in an emergency room, an ambulance ride, a hospital stay, follow-up, physical therapy, and rehabilitation. Illnesses are only covered if the illness is directly resulting from the work being done or the environment of the workplace. Employees aren't covered by workers comp for most illnesses.
Temporary Or Permanent Disability Coverage - If your employee becomes disabled and can't return to work for months or years, temporary disability coverage will compensate for lost wages and any necessary medical attention. If the employee reaches maximum improvement but still suffers an impairment, permanent disability coverage will continue to provide him or her with the benefits payable for that type of impairment required in that state.
Employers' Liability
Employers' liability coverage is usually included on a workers' compensation policy. Employers' Liability will provide defense for the employer if an employee who was hurt while working alleges the employer was negligent in some way for the accident to occur. Perhaps an employee was hurt because an emergency shut-off switch was disengaged, and if it had been working correctly, the injury could have been prevented. Not only does this policy provide a defense, but if the suit is lost, it pays the damages incurred.
Business Auto Insurance
Cabinet makers may do their own deliveries or hire an outside company, but the cabinets made must get to the installation location. When a cabinet maker does its deliveries, the frequency may be a few sites daily, while others only deliver a couple of times a week. Accidents happen, and for this reason, cabinet makers need to get business auto insurance. Commercial automobile insurance protects you and your organization from third-party liability losses triggered by automobile accidents.
If your driver runs a red light and crashes into another vehicle, your company's liability coverage will be called upon to pay the damages caused by the negligent driver. Bodily injury and property damage liability is an essential coverage on the business auto policy. The higher cost of vehicles, repair, medical care, and the number of vehicles involved contribute to the need for an umbrella policy. The highest limit normally available on a business auto policy is $1,000,000, which may not be sufficient if someone is seriously hurt.
Of course, any other state-required auto insurance is available on this policy, including No-Fault or Personal Injury Protection, Uninsured or Underinsured Motorist coverage, as well as Comprehensive and Collision for the company's vehicles.
Cost of Cabinet shop insurance
The cost of small business insurance differs depending on the situation. Many factors impact the price, such as your location, types of policies required,revenue, payroll, and values of assets insured. The risks your business has and the industry you're in affects the premium. It's impossible to give even a ballpark figure without these variables factored into the overall cost.
We Are a Trusted Insurance Provider