Several things can go wrong for owners of consumer electronics businesses. Imagine a water pipe bursts causing water damage to several shop owned expensive computers at the premises. Water intrusion ruins circuit boards, making them impossible to repair. Such an event would negatively impact the consumer electronics repair business, since they would be out the money needed to replace or repair.
By buying commercial insurance, business owners can protect against such outcomes and build a sustainable business for the long term. This blog covers a range of potential liabilities. It also explains how comprehensive small business insurance can protect consumer electronics repair businesses.
List of Potential Liabilities
Business owners of consumer electronics repair enterprises are vulnerable to several potential outcomes. Here's a snapshot of what can go wrong:
Consumer electronics repair shops may stock a large number of consumer electronics at any given time. These can include computers, tablets, and smartphones, which can be damaged due to natural calamities like fire, hurricanes, and lightning. This outcome leads to a high cost to the business.
Repairing consumer electronics can result in accidents for employees. For instance, there is a potential for an employee to get electrocuted during the repair work.
Accidents can also happen with the public. For instance, someone may slip on the premises and fall. The injured party may sue the business, alleging the company was negligent because the floor was wet. Business owners could end up spending extensively on defense costs and damages.
If a fire breaks out, vandalism occurs, or the store is burglarized, furniture, laptops, and other equipment may be destroyed or stolen.
Business owners can protect their businesses from financial ruin by investing in commercial insurance.
Comprehensive Insurance is Key
Any consumer electronics repair business must consider all potential outcomes and buy insurance that provides adequate coverage. Here is a snapshot of the types of commercial insurance that can protect consumer electronics repair businesses.
General Liability Insurance
This basic commercial business policy protects a small business against common liability claims. These include bodily injury, property damage, medical payments, damage to premises taken on rent, personal & advertising injury, and commercial insurance.
Some claims made by third parties may be genuine. Businesses without insurance end up paying out of pocket for lawyers, expenses, and compensation to the third party when the case is lost. With general liability insurance, those expenses can be covered. Also, with covered liability claims, sometimes, compensation is paid out by the insurance company even when the case does not go to court.
Commercial Umbrella Liability Policy
There may come a time when a business has exhausted the limit of its general liability policy. In this case, having an umbrella comes in handy. Commercial umbrella liability insurance provides excess limits on top of the underlying general liability limits. This is a good policy to leverage when the business faces several lawsuits resulting from one occurrence.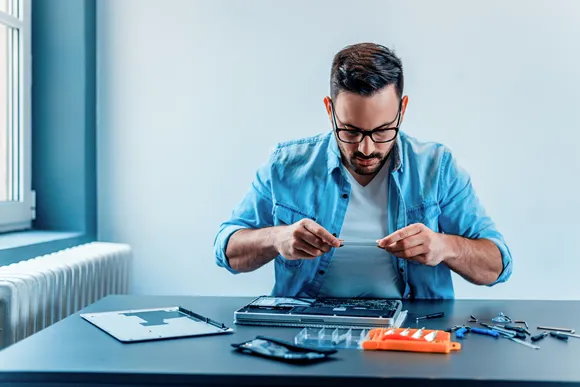 Business Owner's Policy
This comprehensive policy includes general liability and property insurance combined with other types of key insurance coverage, such as crime coverage. Some insurance carriers may include computer/electronic data processing equipment coverage or hired and non-owned auto liability if the business does not own any autos. Business-owned autos are always insured on a business auto policy.
This is an ideal policy for companies that fit in the small-to-midsize organization category. The benefit of such combination insurance is that it is easy to manage and cost effective.
Commercial Auto Insurance
A consumer electronics repair business may own vehicles for transporting goods or rent them when needed. In both cases, it should have commercial auto liability insurance. When renting a vehicle for short terms, you can purchase auto liability from the rental place, but you can also get this coverage on the Business Auto policy.
Most states require minimum liability limits for bodily injury and property damage. In addition, some states require No-Fault, also called Personal Injury Protection coverage. A business must also consider that some at-fault drivers may not have insurance. This is where Uninsured Motorists insurance comes into play.
When a business purchases comprehensive and collision coverage on their vehicles, they have coverage for repair or replacement when damaged in a crash or from fire, flood, hurricane, and vandalism, as well as if the auto is stolen.
Workers' Compensation Insurance
This insurance protects the business in case of accidents and injuries to its staff. Several types of accidents can happen. For instance, an employee may get injured while carrying heavy electronics. There is also potential for injury during the repair process. This type of insurance covers lost wages. It also pays for the medical treatment of employees who have been hurt during while working. Most states require mandatory death benefits for the family of employees who died on the job.
Business Income Insurance
Loss of income is a natural outcome in some cases. For instance, the building may get entirely engulfed by fire. Even if the business owner has enough insurance to rebuild, they will experience a loss of income until the business is up and running again. This is where business income insurance can help. It offers a steady income to the business owner until regular operations resume so they can meet ongoing financial obligations.
In Conclusion
Building a sustainable, long-lasting business is a challenge. Investing in commercial insurance is a critical step along that journey. As consumer electronic repair businesses grow and scale, the owners should take measures to safeguard their businesses from a broad spectrum of potential losses. Comprehensive small business insurance covers several adverse outcomes. It helps business owners run their shops effectively.
We Are a Trusted Insurance Provider