Understanding Furniture Stores Insurance
Furniture stores have been providing value to consumers with a variety of options to meet most budgets and unique styles for centuries. However, with time, the risks involved with these types of businesses are changing too. The assets of businesses in the furniture industry may include buildings, business contents, manufacturing equipment, stock, human resources, delivery vehicles, and much more. Insurance aims to protect your business, for its liabilities as well as its assets.
Why is furniture store insurance essential?
Like any other business, furniture stores are susceptible to various types of property losses, fire damage to the building and contents, a hurricane blows off the roof, vandalism or even theft. Liability created by injuries to your employees or visitors at the retail store are also cause for claims and potential lawsuits. If you have delivery services, not only are the employees constantly lifting and straining while delivering furniture, there is also a chance that your employees could damage your customers home or belongings. These potential risks can be mitigated through insurance.
What businesses are eligible for furniture store insurance?
Businesses included in this industry:
Retail Furniture Store
Furniture Manufacturer
Furniture Distributor
Furniture Wholesaler
Furniture Rental Company
Other types of Home Furnishing stores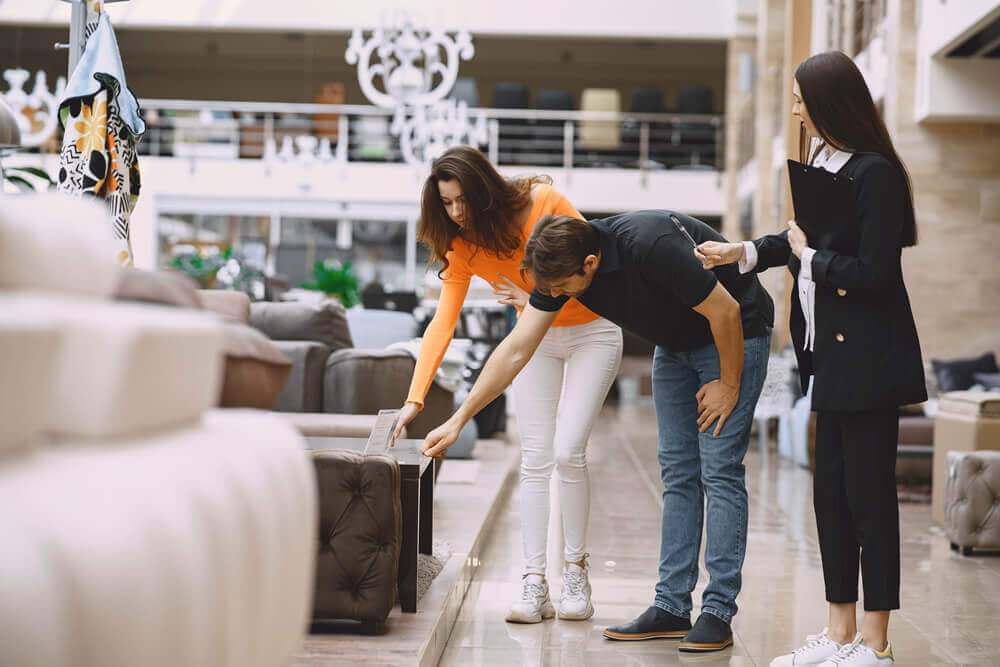 What are the recommended insurance policies for the Furniture industry?
General Liability Insurance
General Liability insurance covers third party claims and lawsuits alleging physical trauma or property damage caused by your business operations. This policy will pay for defense expense and judgements awarded for covered claims.
Premises liability insurance protects you from third-party claims of bodily injury or property damage while they are in your store or on your property.
Product liability insurance covers damage to property or physical injury arising out of your products, after purchase is completed. Coverage for product recall is not covered under a standard general liability policy.
Personal Injury coverage included in the General Liability policy provides limited coverage for claims of libel, slander, and false arrest while the Advertising Liability protects you from claims of accidental copyright infringement or use of another company's advertisement, logo or slogan in your advertisement.
Commercial Property Insurance
Commercial Property insurance, commonly known as business property insurance, works similarly to how a homeowners insurance policy works, to a point. Depending on the business type, it may own some costly assets such as buildings, manufacturing equipment, stock, and many essential goods, i.e., raw material and finished goods that should be insured.
There are many covered causes of loss that can damage or destroy assets like fire, windstorm, vandalism, theft, or vandalism, or the possibility of having a building collapse due to the weight of snow on the roof. Remember that you can also include loss of business income when you suffer damage to your building by a covered peril that requires your business to close.
Flood Insurance
Flood insurance, in this typically separate policy the assets are covered for damage caused by rising water from a lake, river, ocean or inlet. Damage caused by burst pipes or water damage from a leaky roof are not covered under flood policies.
Earthquake Insurance
Earthquake insurance is specifically designed to cover property damage to your business assets due to an earthquake in your region. Flood and Earthquake insurance should be considered after checking the flood or earthquake history of the area where your business is situated.
Commercial Auto Insurance
Commercial auto insurance is essential when the business owns vehicles that deliver the finished goods to the client's home or if there is a need to move product around to different stores or transport of raw materials for manufacturing businesses.
Commercial Auto policy covers bodily injury and property damage to a third party caused by your vehicle in an at-fault accident. It will provide for both legal defence and settlement for claims or if a lawsuit is filed. Comprehensive and collision coverage can also be included for damage to your owned vehicles. Other options include rental car reimbursement, Personal Injury Protection aka No-Fault and Uninsured or Underinsured Motorists coverage, depending on your state laws.
Worker's Compensation Insurance
Worker's compensation insurance, the furniture business is highly dependent on your highly trained staff, whether it is your top sales person in the store or the master craftsman making custom furniture. This policy provides statutory coverage for medical expenses, replacement services and a percentage of loss wages for employees injured on the job. The legal expenses and judgements are paid under the Employers Liability portion of the Workers Compensation policy for covered claims of employer negligence contributing to the employee's injury.
Cyber Insurance
Cyber insurance, the stores keep track of customer transactions or even some basic personal information. Nowadays, the stores run online or have some facilities like renting or furniture through the application. In any of the above cases, the loss of business data under any cybercrime can create a problem for businesses and customers. The cyber policy aid in similar circumstances by paying for recovery charges or any other random demands.
What is the cost of furniture store insurance?
The cost of the insurance can vary from client to client based on the following factors,
Location of store
Type of business, retail, wholesale, manufacturer
Value of assets insured
Gross annual revenue
Annual payroll
Type of furniture sold or made
Vehicles owned
The smooth running of a furniture business depends on many factors, and the proper insurance coverage is a necessity to avoid loss to your bottom line.
We Are a Trusted Insurance Provider