Home furnishings stores sell many items, including some that may be fragile. Unlike area rugs, mats, linens, curtains, pillows, mattresses, cushions, and furniture, appliances, dishware, and artwork are more susceptible to damage or loss.
Moreover, there is a daily influx of customers in the store to browse and buy. More people entering an establishment increases the risk of something going wrong or someone getting hurt. Hence, a proper risk management and loss prevention plan helps avoid accidents and minimize the severity of losses suffered by the store.
Insurance is valuable to avoid the costs incurred by such circumstances. General liability insurance for home furnishings stores can pay for damages for bodily injury, property damage liability, defense costs, and court fees that could be a huge financial burden to the business owner. Continue reading to learn more about how other business insurance for home furnishing can help.
Loss Exposures of Home Furnishing Stores
Establishing a business in home furnishings has its own hazards and risks. Some of these include:
A tornado hits the store, destroying the building and its contents.
An employee steals petty cash from the office.
A burst water pipe leads to interior water damage to the floor and products.
While making a customer delivery, a company vehicle runs over the mailbox
Computer system gets hacked, resulting in stolen business, employee, and customer information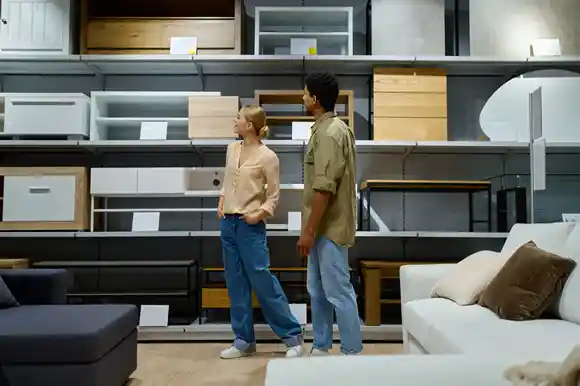 These are just a few examples of the risks that any business can face. Proper insurance for home furnishing stores can help the business prosper and grow by providing coverage against third-party lawsuits, owned property damage, auto accidents, and employee injuries. mishaps, etc.
Recommended Insurance for Home Furnishing Stores
Business insurance for home furnishing stores consists of several different policies for protection from out-of-pocket expenses. Some of these include:
Business Owner's Policy (BOP)
A business owner's policy combines general liability and commercial property insurance. It provides coverage at a lower cost as opposed to when buying both of these policies separately. If a business doesn't qualify for a BOP, a commercial package policy accomplishes the same thing, combining multiple coverage types into one policy.
Lawsuits for bodily injury, property damage, and personal and advertising injury are covered under the general liability on a BOP. The business owner could be held accountable if a product sold injures or damages a customer's property. Advertising injury liability covers defamation of character, libel, and copyright infringement.
The commercial property coverage on a BOP provides coverage for the store's building, products, inventory, equipment, furnishings, fixtures, and loss of income suffered by the policyholder for covered perils.
Business interruption including extra expense insurance provides reimbursement of lost revenue and other expenses when a business must close because of covered damage to the structure. Usually included in a BOP, the replacement revenue allows the business to meet its ongoing operating expenses like continuing payroll, sales tax, loan payments, mortgage, rent, and lease payments. The extra expense coverage can help with relocation costs if the store needs to be moved to a temporary or new location. Suppose the store needs to close for several months for repairs after a fire incident. This coverage will help businesses stay afloat even after a fire tragedy.
Workers' Compensation
Employees are the foundation of any business. They answer customer queries, sell products, and ensure smooth operations. However, accidents can happen at any point in time, even if the workplace is safe. Most states require workers' compensation insurance when a business reaches a certain number of employees.
Workers' compensation pays for medical care for employees hurt while working. It also pays a portion of lost wages if the employee is not well enough to go back to work. There are state-mandated benefits for fatalities in the workplace to help with funeral expenses, and death benefits to the family affected.
Crime
Business crime insurance provides coverage against organization-related crime and losses. It provides protection against loss from forgery or alteration, employee theft, and theft of money and securities inside and outside the business premises. Robbery and safe burglary is covered. inside the business premises. Similar to some cyber coverage it can also respond to funds transfer fraud.
Crime insurance coverage can protect against both first-party and third-party incidents. First-party coverage is insurance for direct losses to the business from a criminal act. Third-party coverage is for the customer who is a victim of a crime perpetrated by a business's employee. For example, an employee stealing something from a customer's home while making a delivery. Your business can be held responsible for the actions of employees.
Premium Cost for Home Furnishings Stores
There isn't any fixed premium for home furnishings. The cost depends on several factors, such as:
Location of business
Revenue
Payroll
Limits purchased
Deductibles
Final Words
Undoubtedly, having insurance for home furnishing stores is important for providing a financial cushion that will help businesses overcome losses and give them peace of mind. Liability lawsuits can be a huge setback for a home furnishings store owner, jeopardizing business growth. It is always suggested to thoroughly read the terms and conditions, coverages, and exclusions of a quote before purchasing the policy. For further on at www.insuranceadvisor.com.
We Are a Trusted Insurance Provider