Understanding Optical Goods Store Insurance
Optical goods businesses provide eyeglasses and accessories for both prescription and non-prescription orders. They receive and fulfill orders for lenses, eyeglass frames, and sunglasses. Many such operations also employ an optometrist that can furnish a customer with an eyeglass prescription. The inventory carried by optics stores represents large investments. Hence, store owners without general liability and property insurance policies may face hefty insurance claims. Any unforeseen event – accidents, wildfire, mob disturbances, or burglary – could wipe out the entire inventory or the store itself.
The US eyewear market amounts to US $31.56 billion in 2022. The insurance industry stands by this industry to allow it to operate unimpeded by financial claims.
Business and Professional Risks
Professional risks need to be covered. Also, consider property claims arising from an electrical fire due to a malfunctioning circuit breaker, which may threaten to wipe out an entire optical store.
The store's continuity itself could be at stake, besides the losses sustained due to the destruction of its inventory. Liability exposures also abound, whether general, professional or cyber liability. Optical services store insurance covers the risks that are unique to these stores, enabling them to run their business without interruptions.
Examples of such risks include:
Example 1: Defective optical product delivered: Due to a manufacturing glitch, the shipped eyeglasses cause an injury to the consumer.
Example 2: Data breach: A store sells eyeglass frames and sunglasses online, which exposes it to data breaches of customers' private information.
Example 3: Copyright infringement: An optics store puts up a billboard using a tagline about eye health used by an optometrist's office and gets sued for it.
Example 4: An aged client slips and injures himself on a freshly mopped floor.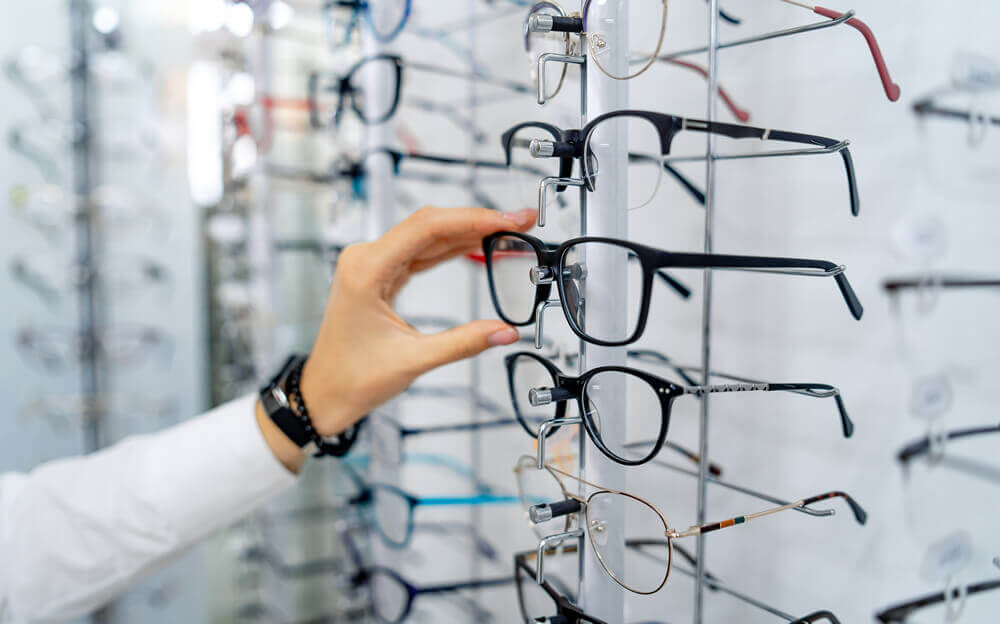 Recommended Policies
With tailored insurance plans, optical goods stores can focus on running their businesses. Insurance policies with particular relevance to optical services are:
General liability insurance
Professional Liability Insurance
Workers' Compensation
Excess Liability Insurance
Cyber Insurance
General Liability Insurance
This is one of the primary policies that optical stores purchase. For example, a client trips over a carton of packed eyeglasses and hurts himself. General liability will cover the medical costs and other related claims involved.
Many people will visit an optical goods store, making the safety of the visitors and the store an important prerogative for the business owner. Product liability, third-party property damage, and bodily and personal injury are some claims that could be raised. General liability insurance also picks up legal defense costs for covered claims.
Example: Copyright infringement: An optics store puts up a billboard using a tagline about eye health, trademarked by an optometrist's office.
Professional Liability Insurance
Professional liability insurance or errors and omission insurance covers the legal costs when an optical goods store has allegedly given deficient or defective advice or rendered services that have caused harm to the client, who subsequently raises a negligence claim.
Example: A wrong eyeglass prescription is given after an eye exam is performed causing migraines and suffering to the patient. The irate customer sues the store.
Commercial Property Insurance
Commercial property insurance protects the physical structure, premises, equipment, and inventory. It covers the optical retail store's inventory in the case of a covered disaster, a theft, or an act of vandalism that destroys the shop.
Example: The optical retail store gets attacked during a spate of riots and vandalism. This damages the eyeglass lenses and frames, which are expensive and fragile inventory to purchase and restock.
Commercial Auto Insurance
Commercial auto insurance is required if a store transports optical goods or related merchandise.
Example: While driving a van for business deliveries, the weather turns chilly and foggy, and visibility drops. The driver runs a stop sign and hits another vehicle. The bodily injury and property damage claims of the other involved vehicle is covered by the commercial auto insurance policy held by the store. If comprehensive and collision coverage was purchased by the optical store, then the damage to the company owned vehicle would also be covered.
Workers' Compensation Insurance
This covers an employee's medical expenses as well as a portion of their lost income when they suffer an injury while working at the optical goods store. Workers' compensation also provides financial benefits for an employee's dependents if they lose their life performing their work at the establishment.
Example: An employee suffers chronic shoulder pain while performing her duties. The optics store's workers' compensation insurance would compensate her for her lost wages till she returns to work.
Business Owner's Policy or BOP
This is a combination of general liability, property, business interruption, and extra expense coverage. Smaller optical goods stores, in particular, prefer this cost-effective policy.
Cyber Insurance
Cybercrimes are rampant. The risk is particularly high if the optical services store sells its products online.
Example: Data breach: An optical services store sells eyeglass frames and sunglasses online, which exposes it to data breaches of customer contact information.
Comprehensive Insurance Costs
In order to decide on the right set of plans to cover an optical services store and what it would cost, a look at a mix of the following parameters is recommended:
Annual revenue of the business
The number of people it employs and annual payroll
Its location
The sizes and number of outlets
Property values insured
Who Benefits?
Performing eye checkups and making lenses has its own complexities. There are multiple risks that optical stores handle.
A safely functioning optical goods store, insured against its exposures, benefits all its stakeholders:
The public
The business establishment
The employees running the optical store
The customers who visit the place
We A
re a Trusted Insurance Provider