Guard Against Risks with Paint and Supplies Store Insurance
Stepping into the realm of running a paint and supplies store brings with it a world of options and opportunities. From stocking up on the latest paint products to creating stunning displays, you have the power to transform your store into a hub of creativity and inspiration.
But along with a great paint store comes responsibility, and that's where paint and supplies store insurance comes in. Insurance Advisor has the insurance coverage to meet the needs of owners of such businesses.
More than Paint: Exploring the Coverage Options
Whether you're a seasoned business veteran or starting a new firm, paint and supplies store insurance can help you achieve your business goals. There are several coverage options available on the market today. Take a look at the crucial insurance types for your store:
General Liability Insurance
As a paint and supplies store owner, you're probably aware that accidents can happen at any time; it's essential to stay prepared. General liability insurance is a main component of paint and supplies store insurance, offering broad coverage against various potential risks and hazards.
Imagine a scenario where a customer visits your store and accidentally trips over a bucket of paint, injuring themselves. With general liability coverage, your insurance carrier will hand the claim for medical expenses and other costs associated with the accident.
Additionally, if a customer claims that your store's products caused them harm or injury, product liability coverage in the general liability policy can help protect you.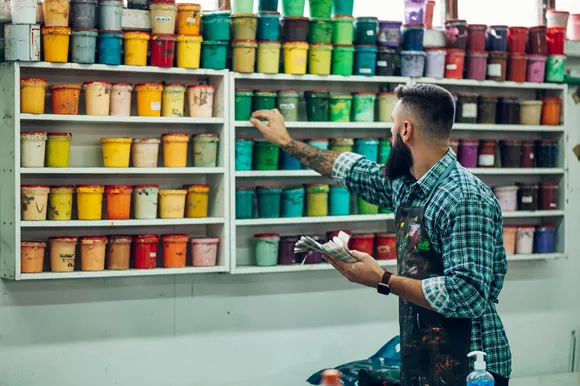 Worker's Compensation Insurance
Worker's compensation is a critical component of paint and supplies store insurance, helping protect your employees in case of work-related injuries.
For example, if one of your employees gets injured while restocking paint supplies, worker's compensation insurance will cover the medical expenses and lost wages of the employee during their recovery period. This ensures that your employees receive the care they need without the business having to incur significant costs.
Cyber Liability Insurance
Cyber liability insurance is a critical type of coverage that helps protect against the fallout from potential digital threats. As a paint and supplies store owner, you likely rely heavily on technology for company operations. From processing payments online to storing customer data, there are various cyber risks present in different situations.
For example, if a hacker gains access to your store's payment system and steals customer data, cyber liability insurance will defend your business from the customer lawsuits that may follow, alleging your lack of security allowed the attack. Cyber insurance can cover first-party claims, too, like helping to cover the costs of notifying the affected customers, recovering the data, regulatory fines, or even paying a ransom with a well-designed policy.
Commercial Auto Insurance
As a paint and supplies store owner, you or your employees may use vehicles to deliver products to customers. In such cases, commercial auto insurance is essential to protect your firm from the financial costs of a collision during work hours. You can tailor the coverage to pay for bodily injury or property damage resulting from an accident for which your driver was negligent.
For instance, say one of your employees gets into an accident while on their way to deliver some paint to a client. Since they were driving the company van when they hit someone from behind at a stop light, most likely, the company is liable for the damage to the vehicle your driver hit as well as any injuries caused. That's where commercial auto insurance can help by providing coverage for such costs and liabilities.
Why you Need Paint and Supplies Store Insurance: Key Benefits
Here's what business owners can be covered for if they insure their company:
Protection against potential risks and hazards
Financial support in case of customer injuries and legal claims against your firm
Coverage for injuries of visitors that occur at your store with general liability
Coverage against costs incurred by cyber-attacks and data breaches with cyber insurance
Payment for medical care and wage replacement benefits for employees injured on the job if you buy worker's compensation coverage
Protection for your company's vehicles if you purchase comprehensive and collision coverage on commercial auto insurance.
Uncovering the Costs of Coverage
The exact cost of coverage depends on various factors, the size of the business, the location, and the type and limits of coverage needed. Here are some estimated figures for the various types of insurance available on the market:
The average cost of general liability insurance for small businesses is around $500 a year but can range from $2,000 to $5,000 annually, depending on the annual revenue and type of products and services offered.
The cost of worker's compensation insurance varies by state and industry, but the national average premium is about $1.54 for each $100 of payroll.
Cyber liability insurance premium can range from $500 to several thousand dollars a year, depending on the size of the business and the level of coverage needed.
The cost of commercial auto insurance varies depending on factors such as the number and type of vehicles, the location of the store, and the limits and coverages purchased.
It's important to keep in mind that these figures are estimates and that the actual cost of coverage depends on a variety of factors specific to each business.
Get Covered Against Business Risks
Congratulations on taking the first step toward insuring your paint and supplies store! With InsuranceAdvisor.com, you can get help with finding the perfect coverage for your specific business needs.
At Insurance Advisor, we also provide helpful tips, guides, and business insights to help ensure that you make the right decisions for your firm. Don't wait any longer; visit InsuranceAdvisor.com today and get help with protecting your store!
We A
re a Trusted Insurance Provider