Like any other retail store, a pet shop has a lot of inventory, including food for pets, toys, collars, accessories, carriers, and grooming items. However, there may also be animals and aquariums at pet supply stores, unlike retail stores. They may also have grooming services and veterinarian care available. Naturally, there is an influx of customers to use those services in the store.
The pet care and supplies industry is growing at a large scale, and so is the need for insurance and risk management. Pet supply stores are typically open to both pets and customers, posing many risk exposures for the shop owners. Therefore, a pet supply store business needs insurance that fits its needs and requirements.
Understanding the need for Pet Supply Store Business Insurance
Running a pet supply store can be challenging. There are many challenges and risks that store owners need to face. Here are a few situations that may pose a threat to pet supply store owners:
Employee injuries - Animals are unpredictable creatures that sometimes get aggressive, causing physical harm to employees. This could be a severe liability for the store owner, who will have to shell out money for employees' medical treatment and lost wages from the business's funds.
Pet safety risks - AAnimals could also be physically injured at the store. An employee could hurt a dog with clippers while grooming, or a cat might eat something that could make her sick. Pet owners may sue the business for hurting their pets which can be a huge liability.
Risks to pet owners - Pet owners could be injured in the shop or bitten by another customer's dog. Business owners could be held responsible and have to pay for the damages caused by the injury, pain, and lost income.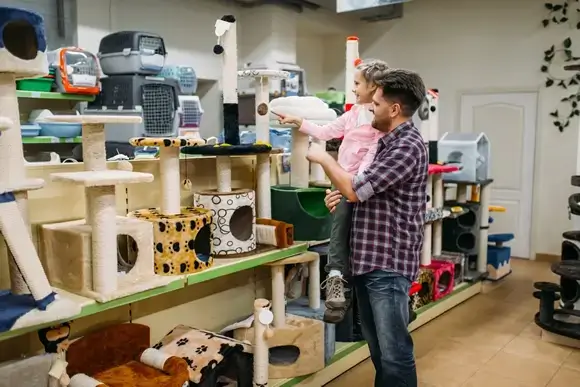 Cyber security risks - Personal information of customers may be stored on the computer system of a pet supply store. This could be their credit card details, residential address, phone numbers, social security numbers, etc. If the store's online site is hacked or if there is a security breach, all this crucial information could be lost and misused.
Instances like these call for having proper insurance coverage to help mitigate the damage and liability caused by the pet store's operations.
Components of Pet Supply Store Business Insurance
Pet store insurance includes various policies and coverages to protect the business against common occurrences.
General liability insurance
General liability insurance provides coverage against liabilities arising from bodily injury and property damage to the public and customers. There could be a slip and fall accident at the store due to a wet floor wherein a customer could twist his ankle, causing a severe injury. The store owner can be held liable for this injury and would have to pay for the customer's financial losses caused by the fall. General liability insurance responds to bodily injury liability claims or lawsuits.
General liability insurance also pays for liability arising from injury or property damage caused by one of the products sold at the store. Product liability covers products such as pet food, treats, and supplies sold. If a client's pet becomes ill, the consumer may ask for compensation from the store owner. Product liability insurance is a part of general liability insurance that answers these types of claims.
One can bundle general liability insurance with commercial property insurance to save premium with a Business Owner's policy or a Commercial Package policy.
Business Owner's policy
Business Owner's policy offers a wide scope of coverage, combining general liability coverage and commercial property coverage. Hence, it is an economic policy. General liability shields against customer injury or property damage claims caused by the business or its products. The property insurance covers damage to the business's building, furnishings, inventory, equipment, or other business property. Limited coverage is also included for Personal and Advertising Injury allegations and claims.
Workers' Compensation Insurance
This type of insurance provides coverage for employee work-related injuries. Health insurance may not provide coverage if an employee gets injured at work. This is when Workers' Compensation Insurance comes into the picture—an employee's health insurance is not responsible for paying for injuries on the job. Workers' Compensation coverage is primary and pays for medical costs incurred by an employee physically hurt due to work accidents. Employees are the backbone of any business, and it's imperative to have the means to pay the state-mandated benefits with or without a work comp policy. Most businesses find the policy a much more affordable option. This policy also pays for a percentage of lost wages when an employee is recovering and unable to perform job duties.
Cyber liability insurance
This policy shields against the high liability costs of a data breach, cyber-attack, ransomware, phishing, malware, denial of service attacks, and other cyber incidents that can cause irate customers to sue the business.
Cyber first-party coverage
This policy provides coverage for the insured business during a cyber-incident. It pays for breach identification, forensic audits, data recovery, system damage, customer notifications, public relation expense, and potential fines from compliance regulators, and business interruption.
Most Cyber policies can be customized to provide first and third-party losses resulting from cybercrimes.
Commercial auto insurance
Pet store supply shop operations may involve commuting to the warehouse to get supplies or product delivery to clients. While employees should be cautious while driving, they still have to deal with others on the road who may not drive as safely. An accident could lead to another person getting injured or the company's vehicle being damaged. Commercial auto insurance pays for bodily injury and property damage liability arising from negligence while using a company vehicle. It will also provide legal defense if the business is sued over the injuries or damage caused. Physical damage coverage for the company's vehicle can be included with comprehensive and collision coverage.
Other state-required commercial auto insurance coverages available on a business auto policy include Personal Injury or No-Fault, Uninsured or Underinsured Motorist Bodily Injury or Property Damage, and optional coverage like Rental Reimbursement, Medical Payments, and more.
The Cost of Business Insurance for Pet Supply Stores
The premium for pet store insurance depends on many different underwriting factors, including annual revenue, products and services offered, values insured for business property and equipment, loss of income, location, and types of insurance purchased. Similarly, a small pet store business will have a lower premium than a similar large-scale business.
Bottom line
There is no denying the fact that pet store businesses need insurance coverage against various risks and exposures to protect their bottom line. However, reviewing your concerns and the coverage you want with a licensed insurance agent who will arrange the appropriate insurance is important.
For more information, get in touch with our insurance agents at https://www.insuranceadvisor.com/.
We Are a Trusted Insurance Provider