As a pottery store owner, you know how easily products can break and rack up losses. Accidents can happen at any time, and they can be costly. That's where pottery store insurance comes in.
This insurance is designed specifically for businesses that sell pottery and ceramic products. It can protect against various risks that may arise, including burglary, damage to inventory, liability claims, and more.
Coverage Options
If you are a pottery store owner, it's important to understand the types of coverage available under pottery store insurance. These include:
General Liability Insurance
It's wise to purchase general liability insurance as part of your overall insurance program. This coverage helps protect your business against various accidents that take place on your business premises.
For example, if a customer slips and falls because of a wet spot on your store floor and is injured, they may file a lawsuit to seek compensation for their medical bills, economic loss, and pain and suffering. Without general liability insurance, your business could be on the hook for these costs, which could be substantial.
Worker's Compensation Insurance
As a pottery store owner, you likely have employees, and it's important to consider purchasing worker's compensation insurance. This coverage protects your company from costs relating to employee injuries at work.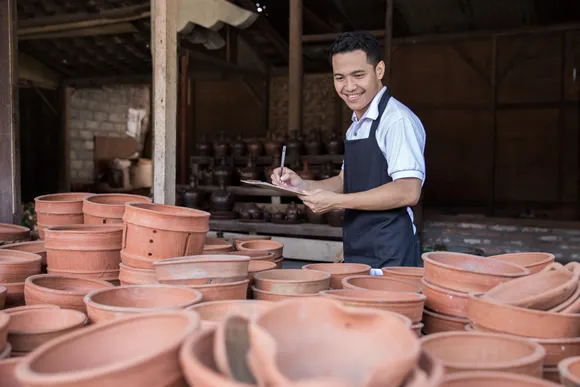 For example, if one of your employees suffers a burn from the kiln or gets injured moving inventory, they'll need medical attention with time off work to recover. Worker's compensation insurance covers the cost of their medical care and lost wages.
Commercial Property Insurance
You've probably invested significant money into your business, including the building leased commercial space, pottery equipment, and inventory. Commercial property insurance helps protect your company's assets.
For example, if a fire damages your pottery store, commercial property insurance can cover the cost of repairing your building and replacing equipment and inventory. Without this type of coverage, you would be left paying for these costs out of pocket, which could be financially devastating for your business.
If you have business interruption insurance, and the fire closes your business, you can replace your net revenue with this coverage. It only applies when your building is damaged by a covered peril, forcing the operation to cease. Business income coverage usually has a waiting period before coverage starts 72 hours, but this can vary. Deductible also applies.
Commercial Auto Insurance
As a pottery store owner, you may have a business vehicle for delivering pottery, picking up supplies, or transporting finished products to art shows or galleries. If this is the case, you need to purchase commercial auto insurance.
This policy covers your company for bodily injury and property damage liability claims that arise from at-fault accidents involving your company vehicle. For example, suppose your employee is in an accident and rear-ends another car. In that case, commercial auto insurance can help cover the cost of repairs for the vehicle hit and any bodily injuries suffered by the driver and passengers.
Key Advantages of Pottery Store Insurance
Pottery store insurance can help cover a range of potential losses, including damage to your building and equipment, medical expenses for injuries suffered by customers or employees, and more.
The coverage can help your firm recover from unexpected events and continue operating, even in the face of significant losses or setbacks.
By working with a knowledgeable insurance agent and tailoring your policy to meet your unique needs, you can ensure your company is well-protected against various potential risks.
Insurance coverage can help you comply with legal requirements and regulations in your state, protecting you from potential fines or penalties and improving your reputation among clients.
Costs of Insurance
Here are some estimated costs to consider when it comes to pottery store insurance:
Premiums: The premium cost is the amount you pay the insurer in exchange for the insurance coverage. Premiums can range anywhere from $500 to $50,000 per year, depending on the size of your company and the level of coverage you need.
Deductibles: Another significant cost to consider is the deductible, the amount you'll need to pay out of pocket before your insurance coverage kicks in. Deductibles typically range from $250 to $2,500 per claim, depending on the line of insurance (property, liability, auto). If you are located in a hurricane or tornado-prone area, you may have a percentage of your property values applied as a deductible (2%, 3%, 5%,10%)
Administrative Fees: Finally, be aware of the administrative fees associated with your policy. These can include the costs of setting up your policy, including broker fees, inspection fees, state surcharges, or surplus lines taxes.
Administrative fees vary widely, but typical costs range from $50 to $500 annually.
Buy Pottery Store Insurance Now
Investing in the right insurance coverage is critical to protecting your business and assets from unforeseen events and losses. With the help of a reputable insurance agent at Insurance Advisor, you can find the right coverage for your firm. Our licensed agents and helpful resources make purchasing insurance coverage easy.
Please don't wait until it's too late; protect your pottery store with the right insurance coverage today!
We Are a Trusted Insurance Provider