How tobacco shop insurance Helps Secure your Company
Compared to other commercial businesses, tobacco shops are prone to unique risks due to the nature of the products sold. For instance, some studies indicate that the neighborhoods surrounding these shops may have higher health and safety risks.
As the owner of such a store, buying appropriate tobacco shop insurance is advisable. Doing this can help protect your company from the financial and operational impact of common retail hazards.
This article post highlights this industry's potential risks and this industry's potential risks and recommends the types of coverages to purchase for optimum protection.
Potential Risks of the Industry
Tobacco and vape businesses are subject to several risks. Here are some scenarios that can be handled better with adequate insurance:
Your smoke shop gets vandalized, and your building and inventory are damaged.
Your employee slips on a puddle of water in your shop, falls, and hurts his wrist. He is entitled to be compensated for medical bills and lost wages.
A customer purchases a lighter, which malfunctions and causes burns when used. The customer decides to sue for compensation.
Your shop is burglarized, cash and inventory are stolen.
In the above cases, buying the right insurance can help cover the costs of losses and damages.
Types of Insurance
Smoke and vape shops should consider the following coverages to fulfill their risk protection needs:
General Liability Insurance
This insurance helps protect against third-party liability lawsuits due to bodily injury and property damage, personal and advertising injury. Product liability coverage is usually included under this insurance, which is crucial because your product line may consist of high-risk and flammable products such as electronic smoking devices, batteries, lighters, and nicotine-infused products.
A customer may allege the products your smoke shop is selling have harmed them in some way and sue the company. Though you are not the manufacturer, by selling these products, you could be sued as well. In this case, general liability insurance provides legal defense and pays costs and related settlements.
Commercial Property Insurance
This essential category of commercial insurance helps businesses cope with financial loss due to property damage. For instance, say thieves ransack your shop, get away with a sizeable amount of inventory, and damage your furniture and equipment.
This is where commercial property insurance helps pay for damaged property's repair and replacement costs. Without this insurance, you would need to bear these costs out of pocket.
If your store is near the coast, it's advisable to make sure you have wind coverage for hurricane damage. You also want to consider commercial flood insurance since this is a stand-alone policy. In most cases, flood is not covered under a commercial property policy. Remember that much of the damage incurred from floods occur in non-flood zone areas. Flood covers the costs of damages caused by rising water entering your business premises.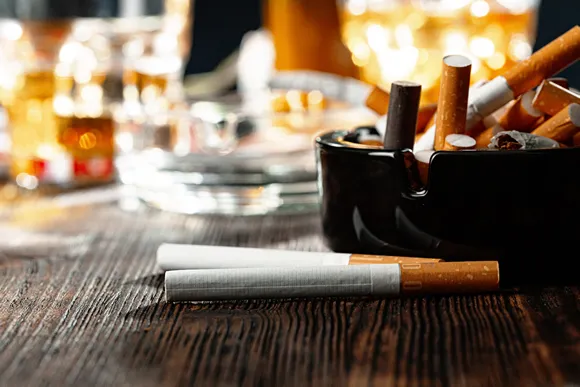 Commercial Crime Insurance
Many tobacco and vape shops are located on street corners, making them generally more vulnerable to burglary. Commercial crime insurance offers protection from financial losses incurred due to theft of money committed by third parties and employees.
Say a thief breaks into your store, threatens your cashier, and steals money from the till and other items from the store. In this case, your commercial crime insurance can help cover the loss when it includes theft of funds and employee dishonesty coverage.
Worker's Compensation Insurance
If your store has employees, it is best to get worker's compensation insurance is best. Say a worker slips and falls inside your shop or develops a lung condition due to extensive exposure to secondary smoke in the store.
Worker's compensation insurance can help cover the costs of medical expenses and lost wages. It must be noted that this insurance covers occupational diseases caused by workplace conditions, for example, miners that became ill with black lung disease. Generic illnesses such as the flu are not considered an occupational disease.
Specific incidents can lead to the interruption of daily store operations for an extended period. For instance, say your smoke shop is destroyed due to covered perils such as a fire, vandalism, or windstorm. Even if you have adequate insurance for the repair and replacement of property, you may experience a loss of revenue for some time if the building is so damaged you can't open your store.
Having business income insurance is valuable in such times. This type of insurance replaces net lost income during this period. This means that you, as an owner, can continue to pay ongoing expenses such as your mortgage or rent, utilities, and key employee payroll.
Costs of Tobacco Shop Insurance
The costs of insurance vary based on the needs of a firm and the conditions in which it operates. Here are some variables that help determine coverage costs:
Amount of a business's revenue
Annual payroll The values of inventory and property insured Types of products sold and their potential to cause harm Location's susceptibility to loss from various sources
Takeaway
The types and costs of tobacco shop insurance may vary based on the size and location of your store and the inventory sold. Getting the right mix of coverages is key to safeguarding your business.
The best approach is to partner with an insurance provider who understands your industry's needs and unique challenges. Contact Insurance Advisor today for affordable, comprehensive insurance for your unique business challenges.
We Are a Trusted Insurance Provider