Understanding Hotel & Motel Insurance
As establishments that provide temporary lodging, dining, entertainment, and leisure activities, hospitality businesses come with equal liabilities. Whether you are an owner of a 5-star resort hotel or a motel owner, the business risks are quite similar. You must protect your hotel business from potential liability for spas, swimming pools, bars and lounges, fitness centers, in-house restaurants, etc.
Here are some common insurance policies hotel business owners opt for.
General Policies
Hotels/Motels package Policy
The Commercial Package Policy can cover the unique needs of your hospitality business to protect your assets and cover you for lawsuits arising out of your operations. It is a collective package of a number of customized insurance coverages that shield your business holistically. Our agents will educate you about the suitable policies for your hotel business.
Workers' Compensation
Protects you from employee lawsuits and pays for the medical care and lost income for your employee who is injured on the job.
Commercial Auto Insurance
High-end hotels have luxury vehicles for airport pick-ups. Some hotels also have vehicles to transport goods. A typical Commercial Auto Insurance Policy covers repairs and medical costs of the third-party when you are at fault as well as your damage to your owned commercial vehicle.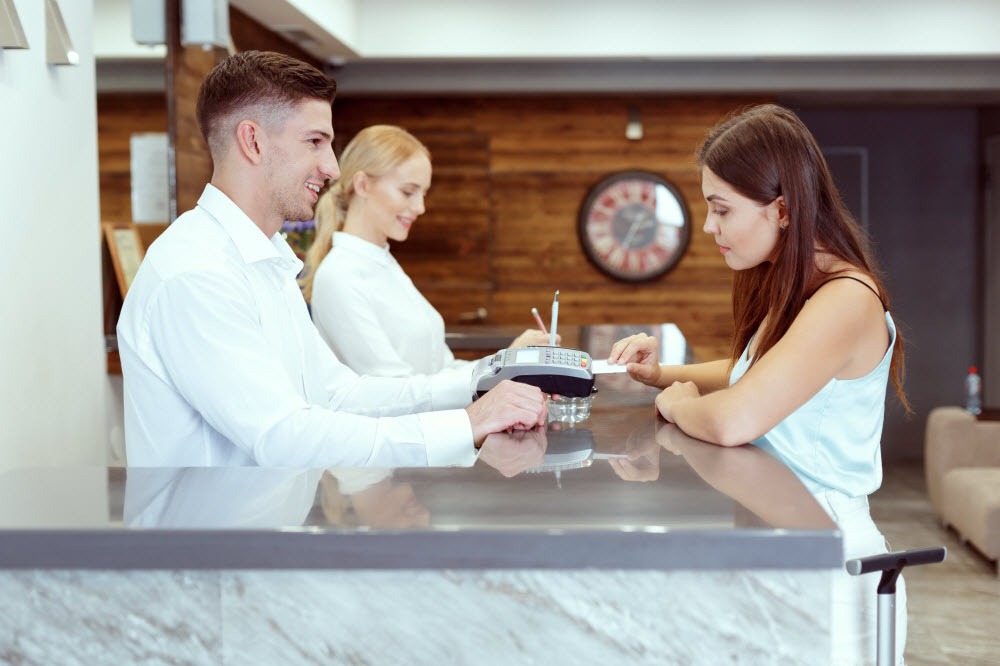 Liquor Liability
Many hotels offer onsite bars and lounges. This insurance protects you from lawsuits arising out of the serving of alcohol. For example, if the bartender over serves a guest who while intoxicated drives home and on the way home hits another car head-on, killing the occupants. Your bar could be sued for negligently serving alcohol to that intoxicated person.
Cyber Coverage
In case your data management system is hacked and your guests' data gets leaked, you could be found liable for that breach if your security software was not up to date. There are many laws surrounding the privacy of data and one small breach could be devastating to your business. The data could include credit card details, medical records, driver licenses, and social security numbers which put your clients or employees at risk of identity theft or fraudulent credit card charge. Cyber Coverage typically includes liability coverage as well as first-party coverage such as notification expense, public relations expense, and even damage to your system. Cyber provides protection from internet-related losses.
Property Coverage
Equipment Breakdown Coverage
Equipment breakdown can be a serious loss to your business considering the number of amenities that require equipment to work properly. Consider you have a hotel in severely hot or cold locales, just not having heat or air conditioning because of a system break down could cause mass exit of guests. Equipment breakdown also covers damage to your building if pressurized system malfunctions causing an explosion. Property coverage does not typically cover loss caused by the failure of a mechanical system.
Business Interruption Coverage
This is a crucial coverage that will protect your hotel business in case you suffer building damage from a hurricane or fire and need to close your doors. When you purchase business interruption, you will be paid for the lost income resulting from the closure of your business caused by damage to your premises. Business interruption coverage will fund your continuing monthly expenses and employee salaries up to the limit and time period purchase to help you stay in business.
Crime Coverage
Crime coverage applies to theft of money, stocks, bonds, any type of negotiable instrument. It can be customized to include coverages from employee dishonesty, burglary, robbery, counterfeit money to fraudulent online bank account transactions.
Commercial Property Insurance
This type of insurance will protect the hotel's assets, such as the buildings and contents. For example, if an electrical fire completely wipes out the reception area, your commercial property insurance would pay for the repairs.
Risks Involved
There are several scenarios wherein your business might face financial challenges. Some of the instances are as follows:
In the hospitality business, fraud risks usually arise when a guest pays using counterfeit money or credit cards. Your hotel business will have to absorb losses for such transactions without crime coverage.
A fire in your luxury hotel burns down an entire floor, all furniture and fixture are a total loss. The commercial property coverage will pay the sizable cost of repairs. Business interruption if purchased would pay for the lost income resulting from the closure of that floor while it is being repaired.
You will be held liable to pay for medical care and lost wages when an employee is injured while working. A chef in your kitchen suffers a severe burn while cooking. As a business owner, you will be required to pay for the employee's medical expenses and lost income.
Recommended Policies
Liquor Liability
This insurance is for any business setup that sells and serves alcohol. If a customer drinks and drives after leaving your hotel and crashes into another vehicle, you could be held responsible for the damages. You could also be held liable for civil damages which could malign your business reputation in the market.
Cyber Policy
Cyber insurance mainly covers loss of digital assets, cyber extortion costs, privacy liability, and much more. These coverages will protect your customer data and help you recover from a system breach more efficiently.
Commercial Package Policy
The holistic nature of this policy proves to be useful to all business owners. A package policy includes a combination of General Liability Insurance, Commercial Property Insurance, and Business Income Insurance. It can be customized by adding coverage for Crime, Liquor Liability, Hired and Non Owned Auto Liability to name a few. This insurance shields you from many types of property losses and legal liabilities you are faced with.
Comprehensive Costs
Hotel Insurance encompasses many different types of coverage depending on your operations, your individual needs, and your risk appetite.
Following factors mainly dictate the comprehensive cost of your insurance:
Revenue
Location of the hotel
Services Offered
Payroll
Property limits
Property deductibles
Multiple hotels, locations, franchises can all be combined on one package policy.
Class of business
This type of insurance helps hotel businesses to maintain and thrive in the face of serious risks. The following are a few of the many hospitality types of operations that benefit from Hotel Insurance:
Hotels
Motels
Bed & Breakfast
Casino Hotels
Lodges
Resorts
We Are a Trusted Insurance Provider