Like any other business, running a gym or fitness center comes with risks. Even if your operations run smoothly, there is potential for accidents to happen.
For example, say a client doing strength exercises while his form is incorrect sustains an injury. He incurs medical bills and is unable to do his job. He files a claim or lawsuit against the gym because he felt he was inadequately trained. He presents damages from his medical care, rehabilitation, and economic loss, which are pretty costly. If the claim progresses to a lawsuit, you must hire a lawyer to defend your business and the trainer. There's also the potential of a settlement needing to be paid to the client. In this case, you would have to pay out-of-pocket for these expenses without access to gym liability insurance.
This post will outline the potential risks of running a gym, the categories of business insurance relevant to your firm's needs, and how much the coverage will cost.
Potential Liabilities
Running a gym or fitness center comes with multiple risks regardless of how well you run it since gyms may be crowded, and the potential for accidents is likely. Take a look at the following situations:
Clients may have accidents and get hurt while working out at your gym. Plus, they might sue for inaccurate instructions. For instance, if a client expected to lose weight by working out with a personal trainer at your gym but was unsuccessful, they could file a lawsuit. Even if the suit is unfounded, you may need to pay for a defense, court fees, and possible settlements.
A piece of equipment may malfunction and hurt a client using it. Your business may face a claim for bodily injury and a demand for payment of medical bills and lost wages if the client was unable to work.
If employed personal instructors get hurt on the job, they must be compensated for medical expenses and lost wages.
Say your gym and its property get destroyed in a fire, and you need to shut down operations. The sooner you can pay for the repair and replacement of the property, the sooner you can get functions up and running again.
Today, fitness centers may store client data digitally. Some of this data may be sensitive, and in case of a data breach, the gym may need to take swift action to do damage control, which comes at a cost.
Gym and fitness center owners can safeguard their businesses from the above risks with timely investment in the optimum types of gym insurance.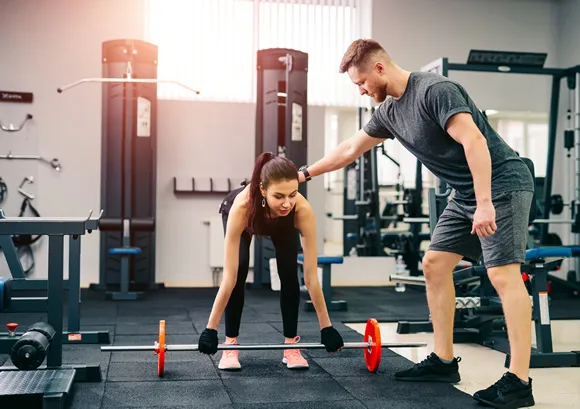 Types of Insurance
You can protect your business by considering the following types of business insurance for gyms:
General Liability Insurance
This type of insurance helps gyms and fitness centers safeguard against specific types of third-party claims and lawsuits. It will cover the costs of accidents and injuries sustained at your studio when your business is legally liable. Property damage accidentally caused by your employees at a client's residence could also be insured.
General liability also helps protect your business against personal and advertising injury due to claims of libel, slander, and copyright infringement. In such cases, the insurance can help cover the legal costs of defending your firm for covered claims.
Professional Liability Insurance
This type of gym insurance is relevant for the professional expertise of your staff. In the case of gyms and fitness centers, most clients join with certain expectations – improving their health, losing weight, or fine-tuning their training techniques for realizing better results.
However, clients could sue for negligence, mistakes, or oversights if these expectations are not met. Professional liability insurance helps pay for defense fees, settlements, and judgments in these cases.
Business Owner's Policy
Gyms and fitness centers usually have clients working out using expensive equipment. Hence, it's essential to have commercial property coverage in place. A business owner's policy generally includes general liability and commercial property coverage to protect your business against property damage caused by theft, vandalism, fire, wind, hail, and other insured perils.
Under this gym insurance, the property insured can include the fitness center's building and contents, including furniture, fixtures, and equipment. The coverage will pay to repair and replace damaged property so you can get your business up and running as soon as possible.
Workers' Compensation Insurance
This is generally a mandatory inclusion in gym insurance as it helps cover the costs of medical expenses and lost wages for employees who experience work-related injuries. Say a gym instructor injures themselves at work; workers' compensation can cover their medical expenses and the lost wages. If an employee sustains a fatal injury, workers' compensation insurance will pay the state-required death benefit to their family.
Cyber Liability Insurance
Today, many business activities are conducted digitally - from paying for memberships to storing personal and health data. Gyms and fitness centers could host a lot of sensitive information on computer servers, which are vulnerable to data breaches.
Here, cyber liability insurance can help pay for expenses such as legal fees, notification of the affected clients, public relations expenses, and financial losses resulting from business interruption.
Costs of Insurance
Gym insurance costs can vary based on specific factors, including:
The size of your gym or fitness business; includes the number of centers, trainers, and support staff you have. For example, the more centers you own, the greater the coverage needed, and the higher premium paid.
Client profiles; for instance, if celebrities visit your gym, it might need additional coverage limits
The level of safety in the neighborhood and the general weather conditions in the area.
Annual revenue
Location
Get Insured Today
The fitness industry, especially the gym business, is a competitive one. A thriving gym must be a safe, vibrant, operational space to sustain business in the long term. Access to gym insurance helps you build a safety net for your company. Check out more posts on the Insurance Advisor resources today to learn how to evaluate your insurance needs and choose comprehensive coverage.
We Are a Trusted Insurance Provider