Exploring Nutritionist Insurance: Policies, Coverage, Costs, and More
As a nutritionist or dietician, your job is to guide people on what they should eat to remain healthy. This career path can be very fulfilling for those passionate about nutrition and health. But just like every other business, it has its risks.
What if a client has an allergic reaction to the food you prescribed? What if a supplement that you prescribe makes a patient ill? These situations can lead to lawsuits, claims, or even loss of reputation. Don't worry, though; you may be able to avoid some of these risks by getting insurance.
What is Nutritionist Insurance?
This is a set of insurance policies designed for dieticians. The coverage recommended depends on the risks you face and the policies you choose. This insurance can help you cover business risks related to third-party bodily injury and property damage, and claims brought because of professional neglect, mistakes, and errors, to name a few. You can combine various policies to get the right coverage for your business.
Why get Business Insurance?
Nutritionists are generally responsible for guiding their clients in choosing healthy diets, lifestyles, and eating habits. You recommend changes to improve your client's health through diet and exercise. But occasionally, your advice may affect your clients adversely and you may be faced with claims or lawsuits.
Apart from the specific needs of a nutritionist, you may also face various general risks related to running a business. These include vehicle accidents, employee injuries, property damage, and other similar risks. Having the optimum insurance policies can help you in handling these risks. Your insurance can help you with lawsuit expenses, damages, and other costs.
Types of Nutritionist Policies
Each business faces different risks, and you should try to get policies that cover most of those risks for your particular operation. Here are some insurance policies that are usually included in dietician insurance coverage.
General Liability Insurance
This policy can cover basic business risks related to third-party claims. It can cover expenses related to physical injuries, property damage, and advertising injuries. For instance, if a client slips and falls while visiting your office, this policy could cover the Injured's damages arising from the fall if your business is legally liable. If you have medical payment coverage on your general liability policy, this limit can be paid out without evidence of your legal liability, but it is usually a small limit. Or suppose you meet at a client's home; you could accidentally damage their property and your client could submit a claim for the damage. In this case, general liability may help you pay for the repairs and replacements. Even advertising your firm could have risks; for example, one of your campaigns could be seen as libel by a competitor and they could sue for damages. General liability insurance can help you cover the legal costs of this situation.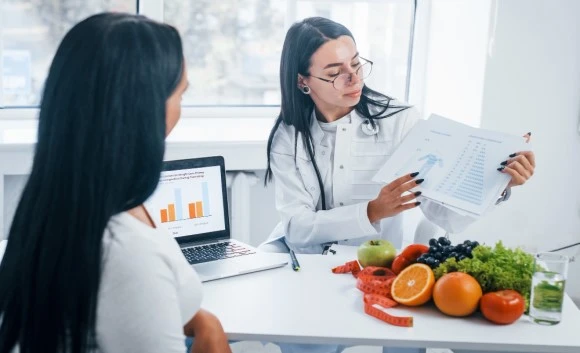 Professional Liability Insurance
This insurance policy is generally considered an important part of nutritionist policies. It can be beneficial in certain situations when you are unable to deliver professional services or when your services lead to a financial loss. For example, say you provide a diet plan containing ingredients that aggravate a client's existing medical condition and they fall sick; they could file a lawsuit against you for professional negligence. Here, professional liability insurance can help you cover the costs of determining if you were negligent while providing your services. It can also help cover the costs of legal proceedings related to claims filed by your clients, whether they are valid or not, as long as the policy covers the specific situation and is not otherwise excluded.
Cyber Liability Insurance
If your business stores client data on computer systems, you face the risk of data breaches, cyberattacks, and online fraud. Here, cyber liability can help nutritionists with the costs of recovering the data and responding to the cyber threat, as well as investigating what went wrong. Some policies can be customized to cover the costs of ransom payments demanded by cybercriminals. Investigating cyberattacks and recovering the data are processes that could take a while to complete. Your business may get disrupted as a result and you may need to hire additional workers or rent additional equipment to get things back to normal. Such costs can also be covered by a cyber policy when customized with the appropriate endorsements.
Commercial Auto Insurance
If your company owns a vehicle and uses it for client visits or business travel, this policy can be a useful addition to your dietician insurance coverage. Although Virginia and New Hampshire have not made auto insurance mandatory, there are financial responsibility laws in these states that still make you responsible to pay for any damage or injury that you are liable for, so even in these states, unless you have the money in the bank to pay those liability claims, you need auto insurance. Business auto insurance covers legal expenses when sued for bodily injury and property damage stemming from at-fault accidents in your company vehicle. For instance, if you run a stop sign and hit another person's car, this policy can assist in covering the costs associated with the liability claims for repairing the other's vehicle damage, damages owed for medical care and lost wages of the injured parties as well as defense costs.
Business Owner's Policy
This is a policy bundle that includes general liability and commercial property coverage, which can help protect your office space from the costs of damages due to unexpected events such as fire, theft, vandalism, and windstorms, among other perils insured. However, property policies usually exclude coverage for flood and earthquake, for which you will need to purchase separate policies.
Costs of Nutritionist Insurance
Insurance premiums can vary depending on the size of the business, the types of services provided, the location, and various other factors. Here are some factors that can affect the costs of dietician insurance coverage:
Types of insurance policies purchased
Revenue of the business
Types of services provided
Value of the business property.
Nutritionists, Protect Your Business!
As a dietician, you're probably looking up ways how to safeguard your business from paying heavy expenses related to customer claims and third-party damages. Whether you practice alone or have employees, business insurance for nutritionists can help you protect the firm you have built with effort and dedication.
Visit the Insurance Advisor blog to learn more about insurance policies and their benefits. We keep updating our website with articles, guides, and business insights to help you navigate the world of commercial insurance with ease. If you need more personalized help, you can get in touch with one of our licensed insurance agents at 855-600-2384.
Choose Insurance Advisor today and enjoy:
Comprehensive quotes
Easy payment options
Multiple policy types
We Are a Trusted Insurance Provider