Alabama Small Business Insurance
As a business owner, you need several different forms of business insurance in Alabama to protect yourself against hazards related to your daily operations, business property, and employees. Without it, you may have to cover expensive lawsuits and recovery costs yourself.
According to the US Small Business Administration Office of Advocacy, in 2021, Alabama was home to 408,374 companies that qualify as small businesses. These small businesses account for 99.4% of all businesses in Alabama. Businesses with less than 500 employees are considered small businesses. Companies that operate in Alabama have been purchasing business insurance for years.
According to the Alabama Department of labor, in Alabama, the Workers' Compensation statute requires your business to have a Workers' Compensation policy if a company employs five or more (full-time or part-time) employees (other than those contractors and trades engaged in the construction of new single-family, detached dwellings which have a different rule).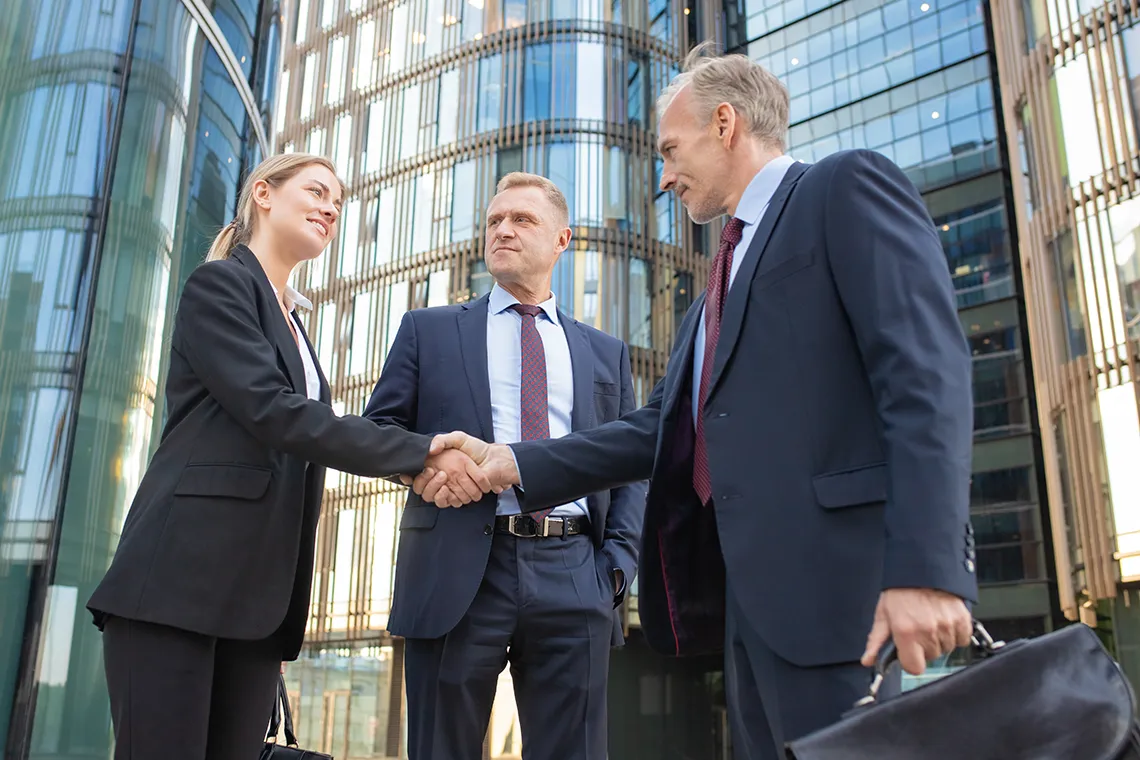 For contractors and construction employers in the business of constructing or assisting on-site in the construction of new single-family, detached residential dwellings, the rules for requiring Workers' Compensation are different. These businesses must have a workers' compensation policy with just one employee.
Employers of domestic workers, farm laborers, casual employees, or located in municipalities designated by the most recent census as having a population of less than 2,000 are exempted from purchasing workers' compensation. However, they can choose to purchase Alabama Workers' Compensation to provide benefits to their employees voluntarily.
From technology companies to construction enterprises in Alabama, business insurance can assist with alleviating expenses for unexpected occurrences for all industries, including:
Architects and Engineers
Personal Care
Commercial Property Management
Consulting
Contractors and Construction
Medical Professions
Hospitality
Marketing
Wholesalers and Distributors
Retail
What kinds of Business Insurance are recommended in Alabama?
Many small and medium-sized companies in Alabama usually buy the following types of insurance policies:
1. General Liability Insurance
General liability insurance in Alabama is a necessity for most companies there. General liability covers third-party liability. For any lease contracts related to commercial space, General Liability Insurance will be required.
This policy is best for:
Bodily injuries at your business or job site
Damage to property of others from service rendered or product sold
Personal and advertising injury liability
Business liability insurance pays legal costs incurred when a client sues you for bodily injury or property damage resulting from your business operations. Personal Injury liability covers accusations of wrongful detention, false arrest, and invasion of privacy. Advertising Injury includes claims for defamation of character, libel, slander, patent infringement, and copyright infringement.
2. Professional liability insurance
Professional liability insurance, also called errors and omissions insurance (E&O), covers the liability arising from your professional mistakes. For businesses (other than the medical field,) Errors & Omissions Insurance will pay damages for financial loss sustained by customers.
The idea for this insurance category was adopted to fulfill the specialized needs of those whose livelihoods depend on their expertise. Professional service providers can still make mistakes even with advanced technological equipment and procedures. Regrettably, their mistakes could cost clients significant time, money, and reputation.
Practitioners in the medical field purchase Malpractice Insurance. This particular kind of professional liability insurance will pay for bodily injury due to a medical professional's error or omission during treatment. It will also provide help in legal defense when sued for covered claims.
3. Cyber Insurance
Cyber insurance protects small & large firms from data breaches, phishing, or ransomware attacks. It's crucial for companies handling sensitive private information, credit card details, or bank account numbers to obtain this insurance. It can be customized to include first-party incidents (losses incurred by your business) and third-party incidents (liability to others).
Some of these coverages that can be included in a Cyber policy are:
Customer notification costs
Fraud monitoring services
Computer forensic support after a data breach.
Third-party liability for financial loss, mental anguish
Business interruption
Restoration of data post-breach
PCI fines, penalties, and remediation expenses
The effects of a cyber-attack are not just an inconvenience; they may result in catastrophic loss. Cyber Insurance coverage can help your company recover from the devastation resulting from an attack. It can pay for credit monitoring, attorney fees, fines, and other expenses.
4. Business Owners Policy (BOP)
Commercial Property and General Liability coverage are often bundled into one insurance policy, referred to as a Business Owner's Policy (BOP) or a Commercial Package Policy. General liability insurance in Alabama is often the most affordable type of commercial insurance for companies. If your business owns any assets, Commercial Property coverage will protect your investment from damage or loss from theft, fire, wind, hail, riot, vandalism, and more.
This policy provides:
Business property coverage
Business Income and extra expense
Third-party bodily injury liability
Third-party property damage liability
If you rent an office, you will require General Liability, as the lease will need it. In addition, client contracts require general liability coverage. This insurance gives a solid foundation to companies so they can withstand a storm.
5. Workers' Compensation (WC)
Employers in Alabama that have more than four employees must have Workers' Compensation insurance. Those businesses involved in the construction of single-family, detached dwellings, regardless of the number of employees, likewise. Employers who have workers' compensation should find it to be the sole remedy for injured employees.
Just because you may have less than five employees does not mean you won't need Workers' Compensation. If one of your employees gets hurt, and your company is without this coverage, your company would likely be responsible for paying for the injured employee's medical care and 2/3 of their pay if they cannot perform their job duties.
Medical expenses stemming from workplace injuries and occupational illnesses can escalate rapidly due to the skyrocketing cost of medical care these days. If your business doesn't purchase workers' compensation insurance and falls under the requirement, Alabama imposes stiff penalties for not carrying appropriate insurance.
Also, Read: Workers Compensation Cost Reduction Strategies
6. Commercial Auto Insurance
Commercial auto and truck insurance pays claims of bodily injury and property damage liability from at-fault accidents and defense costs if sued. Physical damage is covered for business-owned vehicles in case of a collision or comprehensive loss when these options are purchased.
Alabama auto insurance limit requirements are:
$25,000 per person for bodily injury liability
$50,000 per accident for bodily injury liability
$25,000 for each accident for property damage liability
Optional Business Auto coverage:
Uninsured or Underinsured Motorists Coverage
Medical Payments
Comprehensive and Collision
Rental reimbursement
Towing
Hired and Employers' Non-Owned Auto Liability
It's recommended to have commercial auto insurance if your company has vehicles titled in the business name.
7. Commercial Umbrella
Umbrella Insurance adds an extra layer of coverage to your general liability, commercial auto liability, and employer's liability insurance when the claims paid on the underlying policy exhaust those limits. For instance, if your business carries a $1,000,000 limit on the underlying Business Auto policy, and you purchase a $1,000,000 Umbrella, once the $1M on Business Auto is paid out for covered claims, the Umbrella would then participate in the payment of the remaining unpaid claims. Let's face it: in a severe car accident with more than one person hurt, $1M will not go a long way with the cost of medical care, economic loss, and pain and suffering damages. Umbrella coverage can act as a shelter, providing an additional amount in case limits are exceeded.
Which Businesses are Requirements for Alabama Small Business Insurance?
Workers' compensation law in Alabama mandates that businesses that employ five or more people carry workers' comp insurance. Exempt from this law are employers of domestic and casual employees, while employers of farm laborers can choose to be covered by provisions.
Businesses engaged in construction or those assisting on-site in the construction of new single-family, detached residential dwellings are required to purchase workers' compensation coverage with only one employee.
What is the Cost of Business Insurance in Alabama?
An Alabama business insurance quote depends on your needs and industry, location, and size. For example, Business Property insurance for a building on the beach in Gulf Shores will cost a lot more for the same building inland in Birmingham.
A major factor determining the premium amount for General Liability and Workers' Compensation coverage is the industry you're in. Businesses are rated based on the risk factors related to the industry and the claims submitted by others in the same industry for the line of coverage being quoted. Tree trimmers, manufacturers, and roofers are deemed high-risk for employees, and Workers' Comp costs are much higher than for office or sales employees. In low-risk categories, small businesses in Alabama spend about $49 each month on general liability insurance.
Why Choose an Insurance Advisor for Alabama Business Insurance?
Instead of making an appointment to meet with an agent in person to request an Alabama business insurance quote, go to InsuranceAdvisor.com from the comfort of your home or anywhere when it's convenient for you. Once you create an account, your business information is stored safely on our site. You can come back anytime to request quotes for other types of insurance or at your next renewal so that you can compare your options. You can keep your past and current insurance records on file and at your fingertips at InsuranceAdvisor.com.
We also make it easy to get your certificates of insurance for clients. You can enter certificate details in your account and get instant certificates (no coverage changes are needed.) We want to make managing your business insurance easy!
Also, Check: Which business insurance policies are required in Arizona?
FAQs for Alabama Business Insurance
Make an appointment with your vendor to request a copy of their public liability certificate, which will provide the policy number with information and documentation related to this insurance. Call the insurance provider and request confirmation of the insurance's validity by calling the phone number given on the certificate.
For small businesses, the average annual cost of essential business liability insurance ranges from $42 to $49 monthly.
An Alabama commercial insurance agent can determine the best insurance company for your business. Insurance companies often specialize in specific business industries, varying from state to state. An independent insurance agent licensed in Alabama matches your business with carriers that know your industry and company's insurance needs. Visit us at InsuranceAdvisor.com to request a quote for General Liability, Workers' Compensation, Business Property, Business Auto, or Umbrella insurance.
The cheapest insurance in Alabama is not the best insurance for your business. If you want broader coverage, meaning more losses are covered, that translates into paying more for insurance.
Getting more than one quote from the same or different agents is recommended to see how one Alabama insurance company's rates compare to another's. Always read the exclusions in the policy. Get an affordable option with the most likely occurrences to happen to your business and not listed under exclusions. The old saying, "You get what you pay for," is true with all types of insurance.
Smaller, low-risk companies in Alabama tend to spend about $49 each month on general liability insurance. But premium costs vary based on several factors, such as: Your industry Location Annual Sales Coverage type and limits Business Payroll
We are a Trusted Service Provider