Why You Need Computer Consulting Insurance?
Computer consultants, IT consultants, system designers, software developers, and IT architects plan, design, sell, and implement computer systems, hardware, software, network and communication systems, and other technologies.
They may either design these computer technology products or recommend and purchase third-party products and components for their clients. The work of a computer or IT consultant also includes educating, training, and supporting the client's users.
However, they often overlook the potential risks in their professional life. Like any business, computer consultants and IT consultants face numerous business risks. These difficulties include those common to any business and those specific to the computer consulting profession.
Probable Risks
Computer consultants usually work closely with clients and are likely to be privy to information related to critical functions within the client's organization. Hence, a mistake or oversight may adversely and significantly impact the client's business operations.
A computer consultant may face any or all of the following risks in their profession:
Client claims arising from the consultant's mistakes, oversight, errors, negligence, and omission, which have resulted in financial loss for the client
Injuries to the client and the public while on the premises
Damage to owned building and assets, including computers, computer parts, tools, office equipment, and furniture
Damage to or loss of a client's computer in your custody
Workplace accidents and injuries
Violation of NDA terms and obligations causing damage to the client
In such cases, they will need suitable insurance to help mitigate those risks and protect their business from insurable damage and loss.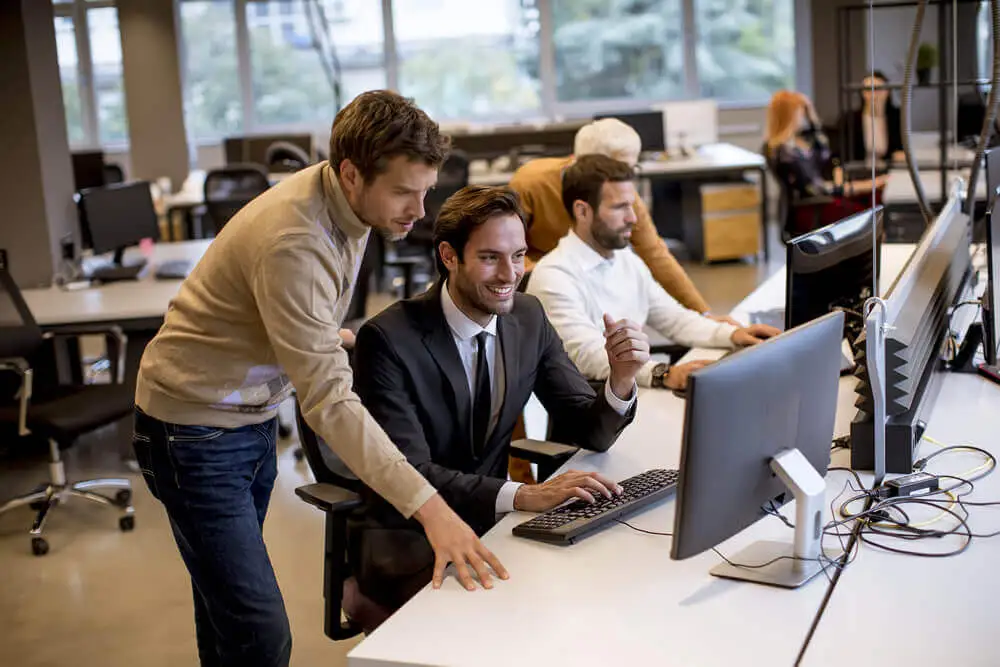 Recommended Policies
Computer/IT consultants can protect themselves against potential business risks by selecting a combination of appropriate policies. They must consider the various policies below to protect themselves from general business risks and those specific to the computer consultation business.
Business Owner's Policy (BOP):
BOP is an insurance package meant for small businesses.
Several types of insurance like Property, Business Income, and General Liability can be bundled into one package to create an affordable BOP for computer consultants. An independent agent can help you find the right combination of policies for adequate protection against financial stress caused by property and liability losses.
Commercial Property Insurance:
This type of insurance protects buildings and other business-owned assets, including computers, computer components, tools, and furniture, fixtures, inventory, and office equipment.
Business Interruption Coverage:
If the business has to suspend its services due to building damage and must continue to pay fixed operating expenses, business interruption insurance can step in to compensate for the reduction in revenue. This insurance can only be claimed for damage that has occurred to the building due to a covered property insurance peril.
General Liability Insurance:
This policy covers third-party claims arising from bodily injury or property damage liability caused by business operations.
Product liability, a part of the general liability policy, covers claims arising from products with design or manufacturing defects or failure to provide the required warning, training, or instructions regarding its proper usage, which have resulted in bodily injury or damaged property.
Other costs that general liability insurance covers are:
Cost of bail bonds up to policy limit
Medical payments
Legal defense expenses
Personal and Advertising Injury liability
Suppose the client faces physical injury, or their property is damaged due to a faulty product. The injured client can name the computer consultant in a lawsuit, even if the latter is not the manufacturer of the defective product or part.
General liability insurance can cover the consultant's legal liability for such losses or injuries caused by the product or parts used in their work.
Professional Liability Insurance:
This coverage helps protect against claims alleging oversight, mistakes, errors, omissions, and negligence by computer consultants or technicians while delivering their professional services. A client who is negatively affected financially due to the above reasons may sue for damages.
Commercial Umbrella Insurance:
This policy provides excess limits over and above the primary limits of general liability, auto liability, and employer's liability coverage. When insured damages exceed primary limits – usually a $1,000,000 limit – an umbrella or excess policy will pay up to its policy limit once underlying limits are exhausted.
Workers' Compensation Insurance:
This insurance is typically mandatory for any business with a certain number of employees, depending on the state. It compensates employees for a percentage of lost wages and medical expenses incurred if they have suffered workplace injuries. Other services an injured employee may need are also reimbursable, such as home nursing visits or replacement services.
Other Computer Consultant Insurance Coverage to Consider
Some other types of computer consultant insurance policies to consider include the following:
Cyber Liability Insurance:
This policy covers third-party liability claims in the event of data loss, cyber hacks, and breaches of the client's private information.
Property in Transit:
A type of Inland Marine Insurance, transit coverage protects computers, equipment, and tools while they are in transit to or from a client's location. It also covers theft and damage occurring from auto accidents during transportation.
Business Auto Exposure:
This policy covers bodily injury and property damage liability to third parties if business owned vehicles are involved in an at-fault accident. Auto coverage requirements are statutory and many personal auto policies exclude coverage for business use. You can cover your vehicles by purchasing comprehensive and collision coverage on them. Some states require No-Fault or Personal Injury Protection and Uninsured Motorists Coverage which are also provided here.
Employment Practices Liability Insurance:
This coverage offers protection from legal action by a current or former employee, including alleged accusations of:
Sexual harassment
Wrongful termination
Discrimination
Breach of employment contract
Failure to employ or promote
Negligent evaluation
Wrongful discipline
Wrongful infliction of emotional distress
Deprivation of career opportunity
Comprehensive Costs
The cost of an insurance program for a computer consulting business depends on several factors, including:
Annual and projected revenue of the computer consulting business
Qualification and years of experience as a computer consultant and their team
Property values insured: Physical location, year built, and type of construction
Annual payroll
Claim history
Types of insurance coverage and coverage limits
The selection of relevant policies and the above factors will decide the total cost of computer consultant insurance.
How to Buy Computer Consultant Insurance?
You can request quotes for insurance policies by clicking here. Alternatively, you can call Insurance Advisor directly to discuss your requirements with our agents to get assistance with selecting the best policy for your specific needs.
Benefits of Engaging an Insurance Advisor
Independent insurance advisors can help you find the right insurance policy for your computer consulting practice. In addition, they will provide support during the claim process. Insurance Advisor has a nationwide team of licensed insurance agents specializing in insurance for businesses.
Insurance Advisor is your source for all your commercial insurance needs, including computer consultant insurance. They combine the relationship of a traditional agent with the flexibility and convenience of online service.
Frequently Asked Questions (FAQ) about Computer Consulting Insurance
1. Why can't general liability insurance alone suffice for computer consulting businesses?
General liability insurance typically covers physical bodily injury, property damage, and personal injury claims that arise from your premises or operation. General liability specifically excludes coverage for claims arising out of your professional services. Errors or omissions while providing your service, like coding errors, software malfunctions, and professional oversights that cause financial losses to your clients would be covered under professional liability insurance. Our Computer Consulting Insurance offers specialized coverage tailored to these specific IT-related vulnerabilities.
2.Is computer consulting insurance suitable for individual consultants and consulting firms?
Yes, Computer Consulting Insurance is adaptable to individual consultants, small consulting businesses, and large consulting firms. The coverage can be tailored to the size and nature of your consulting operation.
3.Can computer consulting insurance help with legal costs if my business is sued?
Absolutely. Computer Consulting Insurance can cover legal defense costs, settlements, and judgments if your business faces a lawsuit related to your consulting services for covered incidents. Insurance is priceless when protecting your financial concerns throughout the claim process or legal proceedings.
4. How can I determine the right coverage limits for my computer consulting insurance?
The appropriate coverage limits depend on factors such as the size of your business, the scope of services you provide, the value of the projects you handle, and the potential risks you face. Consulting with an experienced insurance agent at InsuranceAdvisor.com will help you assess your business's needs.
We Are a Trusted Insurance Provider