Computer Repair Shop And Technician Insurance
Computer repair shops have vital responsibilities, such as handling the physical and intellectual properties of the customers and assisting them with their needs. The business is responsible for third party property damage and bodily injury liability losses resulting from the business's services provided. There may also be a professional liability exposure as well in your operations, liability from other than bodily injury or property damage. As an employer, you also have a statutory responsibility to your employees who may be injured on the job.
What are common risks for computer repair shops?
Computer repair shops are exposed to many common risks such as property damage to the client's electronics, errors and omissions occurring by the technicians, cybercrimes suffered by client due to negligent service performed by your technician, and bodily injury to any person entering the store. If you've put a lot of money into your store, furniture, fixtures, computers and equipment, you may want to protect your financial investment with business property insurance as well.
Types of insurance computer repair shops and technician needs.
Based on the unique risks involved with the industry, the business needs the following kind of insurance coverages:
Errors and Omissions Insurance
Errors and omissions insurance offers protection against lawsuits or claims for damages resulting from your services. This insurance is meant to respond to claims that result for your error or negligence in repairing or servicing a computer. For instance, if your technician did not install current security updates and the customer's information was easily hacked by a bad actor who stole your client's financial identity, and began racking up credit card debt, that customer is likely to blame your servicing for this occurrence. The client would expect you to rectify their unfortunate situation, whether it be setting up credit monitoring, credit repair and damage to their reputation. Maybe you have an employee that copies all the password client had stored, later using these for financial gain. These are types of claims that this policy will respond to, it is also known as professional liability insurance.
General Liability Insurance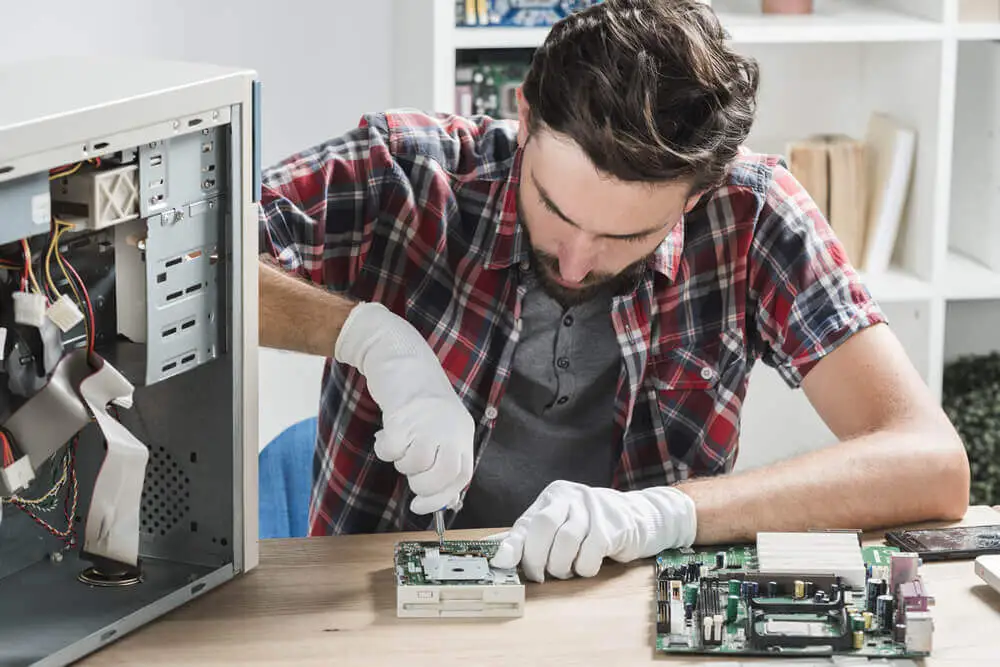 This policy covers liability arising from your premises and product or service. Examples include someone getting hurt on your premises, or your service causes damage to your injury, or customer property damage, There is limited coverage for personal and advertising injury, for instance if you are accused of defamation of character, wrongful arrest, libel, slander, and copyright infringement. This insurance will respond to liability claims, and lawsuits by providing legal defense and coverage for judgments when your business is legally liable for covered incidents.
Cyber Insurance
Cyber insurance includes both first-party and third-party cyber coverage. The policy will respond to situations when the company itself is a victim of a data breach, cybercrime, or ransomware attack, for covered incidents by paying for repair to your systems or the ransom demand. In cases where the client suffers cyber-attacks or data breaches on his computer due to the business's negligence during the repair services. This policy will provide legal defense and pay for court costs and settlement for covered situations.
Bailee's Insurance
Bailee's insurance is specifically designed for businesses that take possession of customers' property for repair or service. When your company takes possession of your client's laptop, it creates business responsibility for the safekeeping of that customer's property. It covers damage to the client's property, such as accidental damage while the client's property is under the care, custody or control of the business.
Fidelity Bonds
Fidelity bonds are also known as employee dishonesty bonds. This bond provides reimbursement to you if any of your employees indulge in activities like theft of data, fraud, electronic fund transfer, resulting in a financial loss to your business. Third party employee dishonesty coverage would pay if an employee stole a client's money or data while accessing the client's computer for repair and the customer suffered financial harm. Bonds are different than insurance because unlike an insurance company, the bonding company will press charges against the at-fault party and collect restitution in full.
Commercial Auto Insurance
Computer repair shops may offer pick-up and delivery services for computer repair services or provide transportation for technicians to repair computers at customers' homes. The business owned vehicles should be insured on a business or commercial auto policy. Personal auto insurance may not cover accidents related to vehicles used for business purposes. The policy will cover bodily injury and property damage liability, collision, comprehensive, medical payments and in some states no-fault/personal injury protection and uninsured motorist coverage.
Worker's Compensation Insurance
For computer repair shops, the technicians are important human assets. The worker's compensation insurance pays for employee medical bills, ongoing care, and a percentage of loss wages if the employee is unable to work because of the injury.
How much does computer repair and technician insurance cost?
The insurance cost depends upon the following factors:
Revenue of the business
Type of services offered
Claim history
Business property and equipment value insured
Payroll
Level of knowledge and experience
Protect your computer repair business with the right insurance, visit InsuranceAdvisor.com to get a quote now.
Frequently Asked Questions (FAQ) about Computer Repair Shop And Technician Insurance
1. Is this insurance adaptable to different sizes of computer repair businesses?
Yes. Most Computer Repair Shop Insurance policies can be customized to cater to the needs of individual technicians, small repair businesses, and larger tech service companies. The coverage can be adjusted based on the scale and nature of your business operations.
2.How can this insurance assist in case of legal disputes?
This insurance can cover legal defense costs, settlements, and judgments if your business faces a lawsuit related to your repair services for covered claims. It offers financial security and confidence to face legal proceedings. Depending on the type of insurance and coverage amount, your premium cost can protect your business from general and professional liability claims.
3. Does having Computer Repair Shop Insurance help build client trust?
Yes. Clients are always concerned about your business's ability to deliver high-quality services. This insurance coverage will enhance your professional image and demonstrate that you take your responsibilities seriously and are financially prepared to handle unexpected challenges.
4. How do I determine the appropriate coverage and limits for my Computer Repair Shop Insurance?
The right coverage type and limit depends on factors like the revenue size of your repair business, if you have employees, the business owned assets insured, the complexity of projects you handle, and the value of the equipment you work on. Consult with our experienced insurance agents at Insurance Advisor, who can provide invaluable advice in determining your insurance costs.
We Are a Trusted Insurance Provider