School guidance counselors play an essential role in a student's life. They interact with students, parents, and educators daily and positively impact many students. However, these interactions and outcomes also leave school counselors vulnerable to several risks. For instance, a student's psychological state of mind may worsen despite interventions. In response, the parents may file a lawsuit against the school counselor. These actions leave the counselor open to significant financial and reputation losses.
School counselors may need to take a leave of absence from work to attend court hearings, and defense expenses are not cheap. If school counselors arm themselves with adequate business insurance, they can safeguard their practice and have peace of mind, knowing the insurance company can defend them.
This blog highlights potential liabilities and recommends relevant school counseling business insurance categories.
What Can Go Wrong?
School counselors are at risk of several potential liabilities. Here are some scenarios to be aware of:
A third party may sue a school counselor. For instance, there may be a claim that a parent alleges that the student shows no improvement despite the ongoing counseling sessions. Alternatively, a counselor may be sued for offering dangerous advice which has resulted in a fatality.
An accident may occur at the workplace. For instance, clients may trip and fall and hurt themselves during a session. They may file a lawsuit against the school counselor to compensate for medical and rehabilitation expenses.
The school counselor's workplace may be vandalized, and equipment may be stolen. There may also be property damage to laptops and furniture due to a storm or a fire outbreak.
Many school counselors store sensitive information on their laptops and other devices. They may be targeted by cyber-attacks, which can compromise sensitive data.
School counselors may hire employees in areas such as clerical, transportation, and other counselors. If employees suffer workplace injuries, the business is liable for the state-required benefits owed to injured employees.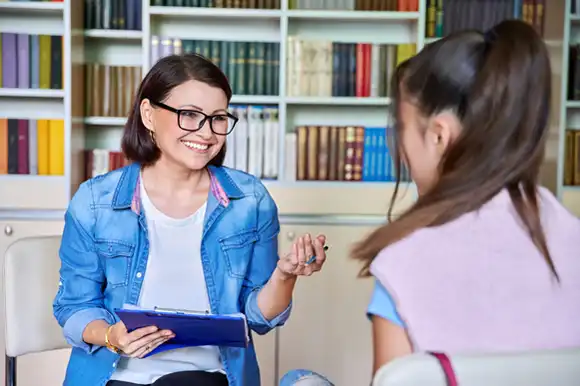 It is advisable for practitioners to take adequate school counselor liability insurance, to protect their careers and practices.
Types of school counseling business insurance
School counselors open themselves up to various risks, which can be mitigated by buying comprehensive school counselor insurance, as follows:
1. General Liability Insurance
This primary type of insurance protects school guidance counselors from third-party lawsuits. These lawsuits can arise from several incidents. For instance, clients may file a lawsuit if they encounter an accident and have sustained a physical injury. They may have incurred hospitalization and medical expenses and missed school or work due to the incident.
General liability insurance protects school counselors from incurring significant out-of-pocket expenses when facing a lawsuit. Insurance covers the cost of legal services, court fees, and compensation for covered claims.
2. Professional liability/ Malpractice insurance
School counselor professional liability insurance helps protect practitioners, such as school counselors, from professional liability or malpractice lawsuits. Let's understand the circumstances that caused such a suit to be filed. For instance, the student's parents may believe that the therapy sessions' outcome has not improved the situation. School counselors may also be sued by the institution they are attached to.
Student patients may take drastic measures, which can result in a fatality. All these scenarios can result in a lawsuit being filed for malpractice. School counselors are at risk of both financial and reputation losses. They must have adequate resources to face these lawsuits. This is where professional liability/ malpractice insurance comes to the rescue.
3. Business Owner's Policy
This is a comprehensive policy that includes coverage beyond general liability. A significant part of the BOP is commercial property insurance. Business property insurance protects the counselor's physical assets. If the counselor's office is vandalized and property is stolen, this insurance enables school guidance counselors to recover quickly with costs to repair damage and replace stolen property.
Without business property insurance, replacing or repairing the equipment would be expensive. Other coverage typically built-in on a BOP includes employee dishonesty, computers, business income, and extra expense insurance. A Business Owners policy can protect them from the financial fallout of accidents, vandalism, or harsh weather conditions that damage business-owned assets.

4. Workers Compensation Insurance
It is advisable for school counselors that have employees to have workers' compensation insurance. Assistants, counseling support staff, and drivers can easily meet with accidents on the job. This type of insurance covers employee expenses incurred for medical and hospitalization bills, a percentage of lost wages, and death benefits to an employee's next of kin.
5. Cyber Insurance
Today, many school counselors are using technology to record sessions and save student details online. They use laptops, smart devices, and various content management software to protect critical data. But there is a flip side to this shift. With technological advancements come increased incidents of cyber-attacks, and there is potential for sensitive data to be exposed. Cyber insurance can help school counselors cover various expenses incurred from these criminal acts. Cyber policies may include coverage for the cost of reputation management, notifications to clients, credit monitoring, and liability defense if sued over leaked private data.
Conclusion
Today, it's advisable for school counselors to consider purchasing adequate insurance to safeguard against various adverse outcomes. Insurance is necessary despite all the counselor's steps to build a credible practice. Practitioners can reach out for school counselor insurance quotes to insurance specialists savvy with the hazards of this profession and choose an insurance partner that understands their needs.
School counselors can partner with an insurance provider, such as InsuranceAdvisor, to identify the most comprehensive insurance coverage for their practice.
We Are a Trusted Insurance Provider