As per Fortune Business Insight's market research report, speech therapy is a growing field, with the market size valued at USD 4.13 billion in 2021. Speech therapists treat children with diagnoses like autism and developmental speech delays. The profession deals with the assessment and treatment of communication and swallowing disorders, as well as the treatment of language disorders. Speech therapists work with children and adults to improve their communication skills, including speaking, listening, and writing.
As a business owner who provides these specialized services to patients, the chances of being sued at some point in time are higher. This can be devastating and traumatic for a speech therapy business owner. With General and Professional Liability Insurance for Speech Therapists, one can protect their practice from various types of lawsuits so that speech therapists can focus on doing what they love—helping people communicate better!
Risks and liabilities involved
There are various exposures to losses operating a Speech Therapy practice that can be insured. Common risks and liabilities include:
A client may sue a speech therapist over failure to fix a speech impediment. Lawsuits can be very expensive to defend and damaging to a speech therapist's reputation. The cost of litigation, legal fees, and other expenses related to defending against a lawsuit can add up quickly.
The work of a speech therapist involves meeting clients daily. There could be an instance of a slip and fall accident of a client at the clinic due to a wet floor. The speech therapist will be liable to pay for medical treatment.
A fire at the therapy clinic damaged the building, furniture, and equipment at the speech therapist's office. Repair costs for these damages can be huge, and the Therapy practice cannot operate any longer, causing revenue to stop.
Therapy clinics often store customers' credit card numbers or personal information. A hacker could easily hack data and misuse it. The speech therapist will be liable to pay for notifying customers whose personal information was exposed, credit monitoring services, investigation, ransom, etc.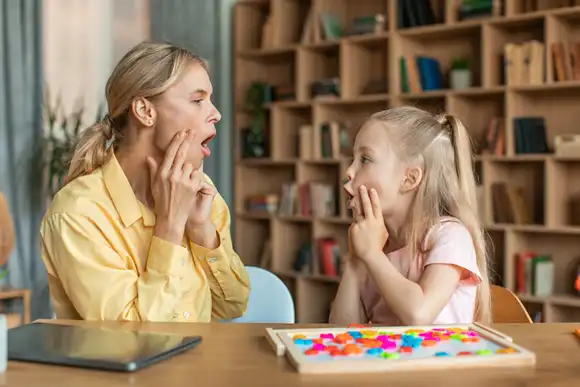 Hence, buying Speech Therapist Insurance should be the foremost priority to safeguard the business against such hazards.
Coverages included under Business Insurance for Speech Therapists
Speech Pathologists Business Insurance encompasses the following coverages:
1. General Liability Insurance (GL)
General Liability insurance covers accidental third-party injuries (not the business owner or their employees) such as slip and fall accidents. It pays for legal liability damages resulting from medical bills, economic loss, attorney's fees, court-ordered judgments, and funeral expenses in fatal accidents. This policy also provides coverage for damage to a third party's property caused by the business. It pays for repair for the damaged property of the client, replacement of a destroyed item, and legal fees for a property damage lawsuit. GL also provides coverage against advertising injury. If the business accidentally copies a competitor's logo for promotional purposes. GL provides coverage against copyright infringement and defamation (both libel and slander) if a suit is brought for the copied logo.
2. Business Owner's Policy (BOP)
This policy bundles general liability insurance and commercial property insurance. The general liability component pays for third-party injuries and property damage. It also pays for advertising injuries. The commercial property insurance component provides coverage to building, business property, contents, and lost earnings in the case of a commercial building's damage or loss by theft, fire, windstorm, or other covered peril.
A BOP is more cost-efficient as compared to buying both policies separately.
3. Professional Liability Insurance
This insurance covers when a client sues for negligence while performing professional services, such as failure to give the proper treatment or misdiagnosis. It provides liability coverage for services that caused harm to the patient or accusations of negligence and omissions.
4. Workers' Compensation Insurance
This policy pays for medical costs and lost wages for staff for work-related injuries and occupational diseases. Most states require workers' compensation insurance for businesses that have a certain number of employees, while some states require it for just one employee. Make sure you know the rules for your state of operation. Workers' Compensation benefits include immediate medical costs, ongoing medical costs, prescriptions, replacement services, and a percentage of lost wages if an employee cannot return to work due to the covered injury/illness.
Employer's liability insurance is typically included in workers' compensation policy. It covers the employer for lawsuits brought by employees claiming that the employer was negligent in some manner which caused or contributed to their injury. The carrier will provide the insured with defense and pay court costs and settlements.

5. Cyber Insurance
This policy provides coverage for losses incurred due to data leaks and breaches. Therapy businesses usually store clients' private information, such as medical history or credit card numbers, in their systems. A hacker can hack the system, which causes customers' sensitive data to be compromised. Cyber insurance protects against cyber liability claims and third-party lawsuits arising from a cyber attack. It also provides first-party expense coverage for forensic investigations, ransom demands, and legally required responses, like client notification and credit monitoring costs.
6. Commercial Auto Insurance
This policy provides coverage against lawsuits, property damage, and medical costs arising from an auto accident involving the company's vehicle. On a business auto policy, a business can include collision coverage that pays for damage to the company's vehicle regardless of who caused the accident. Coverage for uninsured motorists is included for those states that require it and also those that don't. Non-collision loss to owned vehicles by fire, theft, flood, and vandalism can be included in a Business Auto policy by purchasing comprehensive physical damage.
Cost of Speech Therapist Insurance
The cost of Business Insurance for Speech Therapists depends on several factors, including:
Counseling and therapy services offered
Revenue of the business
Number of employees
Location
Business equipment and property
For a small Speech Therapy practice, the cost for General Liability coverage may start at $500 and up for the year.
Summing up
Speech Pathologists Insurance is an essential investment for safeguarding Speech Therapist businesses. It is always advised to read the fine print before selecting a policy and ensure that it provides coverage for the potential losses your business faces. It is also advisable to talk to an insurance expert who can guide you through the process of purchasing a speech therapist insurance plan. For more information or to request a quote, log on to www.insuranceadvisor.com
We Are a Trusted Insurance Provider