General Liability Insurance Workers Compensation Insurance Umbrella or Excess Liability Insurance
Drapes and curtains, among other home decor upholstery, play a significant role in making a house feel like a home. It is not one of those over-the-counter products people take off the shelf and purchase. People like to see the color, feel the material, and visualize how their choice of draperies will look in their homes.
To make it easy for buyers to assess their choice of draperies and aid in visualizing which works best in their homes, drapery store owners usually set up elaborate showrooms. These showrooms are tastefully done to draw customers in and, at the same time, encourage them with a variety of colors and patterns to choose from and purchase.
The soft linen curtains; the admirable satin drapes; the intricately crocheted tablecloth, and a plethora of other items displayed and in stock will cost a lot of money to replace if the store suffers a fire or hurricane. Shoppers may also get hurt while at the store. Tripping over a box or slipping on a wet floor are unforeseen accidents for which the store may be liable.
Like most businesses, insurance can save a drapery company—irrespective of whether it is a retail outlet or a wholesale distributorship. Insurance is necessary if you own the building or have a large-scale inventory. Continue reading to learn more about drapery store insurance and how it can benefit you.
Risks and Liabilities of a Drapery Distributor Business
Despite being careful about the upkeep and maintenance at a drapery store, there could still be a risk of someone being hurt or having their property damaged.
Here are a few examples of threats associated with this business:
Theft by dishonest employees
A fire at the store causes damage to the building and its contents
A customer gets hurt at the store when she trips over a curtain that fell on the floor
An employee falls off a ladder when hanging display curtains and breaks his knee
A company vehicle hits another vehicle when running a stop sign
Hence, it's essential to have the necessary insurance so an accident doesn't put the operation out of business, allowing it to prosper and grow. Business Insurance for drapery distributors provides coverage for damages and defense for liability claims, property losses, employee injuries, cyber-attacks, and auto liability claims.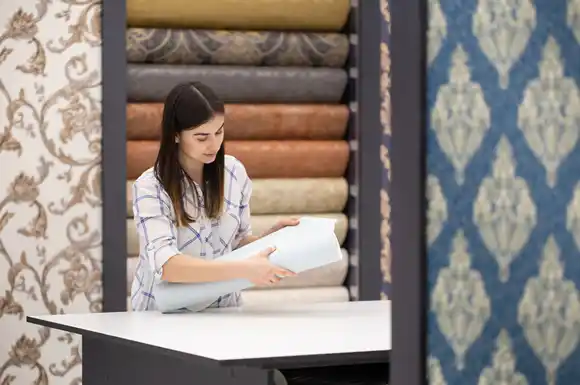 Recommended Policies for Drapery Distribution Business
Several coverages are recommended for a drapery distributor business for maximum protection during unexpected situations. Some of these include:
General Liability Insurance
This is regarded as a traditional business insurance policy as it is usually the first coverage purchased by businesses. General Liability policy provides coverage against third-party injuries and property damage, and personal and advertising injuries (false arrest, defamation of character, invasion of privacy, and unintentional copyright infringement).
Commercial auto insurance
Employees of a drapery distribution business might deliver products to customers with the use of the company's vehicle. When a business owns cars, a business auto insurance policy is required. Commercial auto insurance provides coverage for damage or theft of the company's vehicles and third-party bodily injury and property damage liability for the other party when involved in an at-fault accident.
Commercial property insurance
A drapery distributor carries a lot of curtains in stock, and some are made of flammable material. Situations like a fire will cause a lot of damage to the building, contents, and inventory. Commercial property insurance will provide coverage for the restoration or replacement of the building and its contents in the event of a fire or other perils like wind, riot, vandalism, falling objects, etc.
Cyber insurance
Many drapery business owners sell their items online. If that is the case, then they should purchase cyber insurance. It helps pay for losses from a data breach or malicious software attack. It provides coverage for customer notification expenses, fraud monitoring services for customers affected, and legal defense from a customer's lawsuit.
Cyber insurance includes both first-party and third-party coverages. First-party cyber insurance provides coverage for your business's losses, like hardware damage, loss of income, reputational harm, and cyber extortion, to name a few.
Third-party cyber liability insurance covers customer lawsuits filed when the client's information is compromised and blames your business for negligence in not securing the customers' information.
Workers' compensation insurance
Protecting the drapery business alone isn't enough. Employees are the heart of an organization, so they should be covered too. Workers' compensation insurance pays for the medical costs of employees who suffer a work-related injury.
Workers' compensation pays for immediate medical costs, physical therapy, prescriptions, follow-up doctor visits, and more. Workers' compensation pays a percentage of lost wages when the employee cannot return to work because of their injury. If a fatal accident occurs, it pays a state-mandated benefit for funeral expenses and death benefits to the affected family.
Employers' liability, part of the workers' compensation policy, provides defense for the employer if an employee files a lawsuit against the company for negligence causing or contributing to the injury and the awarded damage.
Crime insurance
Crime insurance, also called Fidelity, or Employee Dishonesty bonding for business service providers, is essential to protect the employer from acts of dishonest employees. Third-party crime protects the business's clients from dishonest acts committed by employees while at a customer's location. If you have employees installing draperies for a client, the business would be protected from theft by its workers. Crimes such as theft, burglary, forgery and money transfer fraud can be covered under this policy or bond.
Umbrella/excess liability insurance
An umbrella/ excess liability policy provides an additional layer of coverage when a claim amount exceeds the limit of the underlying policies. Suppose the business owner is found liable for a customer's injury at the store and is sued for $1.5 million. However, if the business owner has only $1 million coverage under general liability insurance, then an umbrella policy will cover the remaining cost.
Cost of Drapery Business Insurance
The premium for drapery business insurance is dependent on a few key factors, such as:
Sum insured for property
Claims history
Location of store
Number of employees
Revenue of the business
Policy limits and deductibles
Policy type
Bottom Line
A comprehensive drapery business insurance program protects the company, store, employees, and the public. Assessing the needs and requirements of the business before buying an insurance policy is an essential part of an insurance agent's service. If purchasing business insurance on your own, carefully reading the policy's terms and conditions, coverage type, limits, and exclusions are equally important.
Consult a licensed commercial insurance agent to help choose the right insurance coverage. Insurance Advisor has a nationwide team of licensed insurance agents specializing in commercial insurance for small businesses. We combine the relationship of a traditional agent with the flexibility and convenience of an online service.
We Are a Trusted Insurance Provider