The first jewelry store opened in the USA in 1785. As of 2021, there were 51,153 jewelry stores in the US employing about 143,840 people. Most people buy jewelry at local stores instead of large retail giants. However, average jewelry purchases per capita declined during the Covid-19 pandemic.
Understanding the need for Jewelry Distributor Insurance
A jewelry distributor business is not immune from risks. A jeweler is subject to several risks while running a jewelry store business. Major risks include theft, burglary, employee injury, and property damage.
The principal types of insurance coverage for jewelry distributors include the following:
Jewelers Block (Inland Marine)
Worker's Compensation
Commercial Auto if the business owns vehicles
Commercial Property and Equipment Insurance
General Liability insurance
A Business Owner's Policy (BOP) bundles Commercial Property and General Liability
An Umbrella or Excess liability insurance
Cyber insurance
Like a BOP, a Commercial Package policies bundle at least Property and General Liability with the ability to add more insurance coverage types to the package.
Insurance companies use many parameters to determine insurance costs. Most will use the business location, industry type, value of business-owned assets insured, what types of products and services are offered, revenue, and payroll by job duty.
Here are the chief elements of a jewelry distributor insurance program.
Jewelers' Block Insurance
Jewelers Block insurance is a type of inland marine insurance coverage designed specifically for businesses operating in the fine jewelry industry. The purpose is to cover the precious and semi-precious jewels and precious metals inventory held by a distributor, wholesaler, or store. This coverage also applies to jewelry manufacturers, coin dealers, and pawn shops.
This policy will cover the precious stones and metals while traveling, if left unattended in an auto, during registered mail shipping, mysterious disappearance, while wearing, jewelry of others entrusted to the business, and the inventory loaned to others. Although a commercial property policy will technically cover these items, coverage is more restrictive.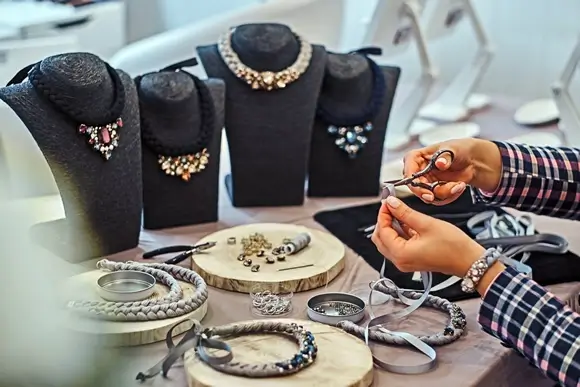 General Liability Insurance
General liability insurance protects a jewelry wholesaler business from third-party claims. Such claims include property damage, bodily harm, or injury. General liability insurance covers the costs of litigation, settlement, and judgment to the extent of the policy coverage and limit.
This type of commercial insurance saves the jewelry store owner from out-of-pocket costs and legal fees if the business is sued. It covers the costs of litigation for covered claims and lawsuits related to third-party bodily injury or property damage caused by the business's normal operations. This policy provides General Liability insurance coverage for bodily injuries and property damage resulting from the store owner's property, products, and services. It does not include coverage for professional errors, owned property damage, employment practices, intentional bodily harm, employee injuries, or cyber occurrences.
Business Owners' Policy
In addition to General Liability coverage, as explained above, a BOP policy also protects the physical assets of the jewelry store. It covers the owned building, computer equipment, furnishings, and fixtures. General Liability insurance is also covered under a Business Owner's policy, which is explained in the previous section. A Business Owner's Insurance policy also can protect outdoor elements, like business signs, from loss and damage when coverage is specifically scheduled.
If a fire destroys the building and its contents, the business owner's policy will pay for the reconstruction of the building and replacing the contents.
Commercial auto insurance
While making deliveries to wholesale or retail clients in the company van, a store's delivery driver may have an auto accident for which he was at fault. Commercial auto insurance will cover the bodily injury and property damage liability arising out of the accident for the other driver, passengers, and vehicle. The employee's injuries would be handled under the workers' compensation policy of that business since worker's compensation is primary in this situation.
Business auto insurance also provides comprehensive collision coverage for damage to the business's vehicles. State-mandated coverage and optional coverage including Uninsured Motorist Bodily Injury and Property Damage, Medical Payments, Personal Injury or No-Fault, Rental Reimbursement, and Towing can also be included on the business auto policy.
Workers' Compensation Insurance
The employees at a jewelry store may suffer injuries while on the job. They may get attacked trying to prevent theft in the store or simply fall and hurt them self. The workers' compensation policy will pay for the medical care needed by an employee injured on the job. This coverage extends to employees' injuries sustained in a car accident while on the job. The condition is that the employee must be engaged in the store's business either at or away from the store. This insurance also covers a percentage of lost wages if the employee is unable to work. The benefits payable under this policy are determined by the laws in each state.
Umbrella or Excess Liability Insurance
Sometimes, the losses arising from an adverse event may be very high. The insurance coverage under General Liability, Auto Insurance, and Employer's Liability policies will not be sufficient to cover third-party or employee claims in such a case. In the event of litigation, the damages and compensation owed to the injured party may be more than the coverage limits of the underlying insurance. An Excess Liability coverage policy takes care of the coverage gaps and provides an extra layer of protection over and above existing policies. An Umbrella insurance policy provides other types of insurance coverage which is additional coverage to the existing commercial insurance policies.
Cyber Insurance
In the digital age, cyber insurance is a must. A jewelry store may conduct online business or store customer payment methods or other information in the cloud or on an internet-based management system. Cyber insurance is highly customizable and protects the store from third-party liability claims or lawsuits arising from cybercrime, hacking, and data breach. This type of insurance will also cover losses incurred by the business because of a covered cyber incident, called first-party coverage. First-party coverage may include coverage for damaged hardware or computer systems, ransom, notification, and credit monitoring expenses, forensic cyber audits, and more.
Key Takeaways
Get insurance for jewelry distributors, wholesalers, or stores to protect the business's financial health. Usually, several different policies make up a sound insurance program for jewelry businesses as outlined above. Jewelry distributor insurance safeguards the jewelry store and its owner against many mishaps.
Insurance Advisor has a nationwide team of licensed insurance agents specializing in commercial insurance for small businesses. We are here as a trusted advisor and information source for all commercial insurance needs. We combine the relationship of a traditional agent with the flexibility and convenience of online service.
We Are a Trusted Service Provider