Setting up a plumbing supplies & fixtures wholesale distribution business is not a cakewalk. Plumbing supplies wholesalers have money tied up in inventory, such as shower fixtures, kitchen sinks, faucets, sprayers, bathtub accessories, drinking fountains, whirlpools, and accessories. This type of business requires substantial money, time, and effort.
Persons involved in such businesses also have to deal with a lot of paperwork, accounting, ordering, logistics, and customer service. To run a successful plumbing supplies wholesale distribution business, distributors must also ensure that all the products are high quality and manufactured correctly.
Hence, purchasing commercial insurance for plumbing supply wholesale distributors is imperative to protect the business from financial losses due to claims and lawsuits. Small business insurance coverage can be obtained to provide adequate protection against different types of losses like property and third-party liabilities.
Risks and Liabilities
Plumbing supplies & fixtures wholesalers' businesses can be exposed to several risks and liabilities, such as:
A fire incident at the wholesale warehouse can damage products and buildings, resulting in a substantial financial loss for the company.
Suppose a client trips over pipes on the floor in the reception area at the wholesale warehouse. The client may claim that the wholesaler is responsible for their injury. If found to be legally liable for the client's injury, the wholesaler will have to pay for damages resulting from the client's medical expenses, which can have a negative impact on the financial outlook of the wholesaler.
Suppose an employee gets in an accident while delivering products to clients. Unfortunately, the employee is negligent in causing the accident and injures the other driver. The plumbing supplies wholesaler would be responsible to pay for the damages incurred by other the driver for his medical bills, vehicle damage, lost wages, and pain and suffering.
An employee gets injured while restocking inventory. Employers are almost always responsible for employee injuries on the job, for medical care, and lost wages among other expenses. This is true whether or not the employer has workers' compensation insurance.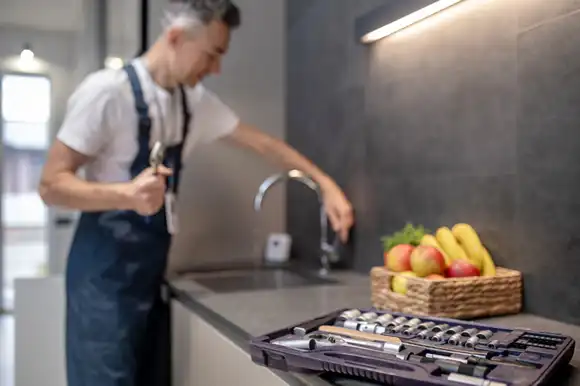 Commercial Insurance for Plumbing Supplies and Fixtures Wholesalers
Business insurance coverage for plumbing supplies and fixtures distributors can help with unexpected costs like an auto accident involving the company's vehicle, defense costs for liability lawsuits, settlements, and other legal expenses.
Here are some policies included in business insurance for plumbing supply & fixtures wholesalers:
General Liability Insurance (GL)
Wholesalers interact with clients daily and may have to deliver products to their businesses or homes. Therefore, they should opt for general liability insurance that covers claims arising from damage to third-party property, third-party bodily injury, and advertising injury. Customers may sue the wholesaler's business for bodily injury sustained from operations at or away from the business location. General liability insurance will pay for such claims. Similarly, it will pay for the repair or replacement of property damage caused by the wholesaler's operations. If a plumber replaces a faucet that was manufactured incorrectly, the liability could ultimately fall back on the distributor.
GL also provides coverage against personal injury libel, slander, wrongful detention or arrest, and invasion of privacy). General liability insurance usually includes a small limit of coverage for medical expenses for third-party injuries occurring on business premises where negligence does not have to be proven. It's like a "goodwill" gesture to avoid larger lawsuits with lawyer involvement. It will provide coverage against first aid, medical, dental, hospital, and ambulance charges.
Workers' compensation insurance
No matter the expertise in the wholesale business, accidents tend to happen. A warehouse worker may have a herniated disk because of loading and unloading boxes of supplies. It is the employer's responsibility to pay for their injured employee's medical expenses. Workers' compensation insurance policy is required in most states for businesses that have a certain number of employees. It provides coverage for employees injured on the job and partial lost wages when an employee is unable to work.
Typically, Workers' compensation policy includes employer's liability insurance for when an employee sues the business owner for negligence in causing an injury. Employer's liability insurance pays for the attorney's fees, court costs, and settlement.
Business Owner's Policy (BOP)
A business owner's policy, or BOP, is a combination of general liability and commercial property insurance in one plan. It provides coverage in the event of liability resulting from third-party claims or lawsuits of bodily injury or property damage caused by the business. Additionally, it handles advertising and personal injury claims. The commercial property insurance component in a BOP provides coverage for commercial property, such as buildings, office furniture, inventory, and equipment used for business purposes. The special form or all-risk BOP covers property losses for all things except what is specifically excluded, like flood and earthquake. Always read policy exclusions!
A BOP also includes business interruption coverage that replaces lost income due to direct damage to a business's structure caused by covered perils that forces the business to close. Business income replaces a portion of net lost revenue so the company can continue to meet its financial obligations like payroll, loans, taxes, and more.
Commercial auto insurance
This insurance pays for auto liability to others caused by an accident where the business's driver was negligent. Third-party property damage and bodily injury is covered by a business auto policy. It also provides legal defense if the injured person files suit against the business for auto liability. If collision coverage was included on the business vehicle involved in the accident, then the policy pays to repair or replace that vehicle regardless of fault. Comprehensive coverage pays for damages to the company's vehicle caused by floods, fire, theft, vandalism, and other perils, not including collision.

Commercial umbrella insurance
This policy provides coverage for claims above and beyond the limit of the underlying policies. It supplements the limits of coverage offered by general liability, commercial auto liability, and employer's liability insurance (part of worker's compensation insurance).
Cyber liability insurance
This policy helps pay for costs related to data breaches, cyber-attacks, ransomware, phishing, malware, and other cyber incidents that disrupt business. Businesses that store credit card information and other private information need cyber insurance. It can pay for both first-party and third-party costs incurred from a covered cyber-attack.
Cost of Insurance for Plumbing Supplies & Fixtures Wholesale Businesses
The premium of small business insurance for plumbing wholesalers depends primarily on the following factors:
Wholesale products and services offered
Business property and equipment values insured
Revenue
Location
Number of employees and payroll
Building details, year built, construction type, age of roof
Summing up
Plumbing supplies & fixtures wholesaler business insurance is essential to running a plumbing supply business. The right coverage can help protect the wholesaler from losses caused by theft, lawsuits, natural disasters, and other unexpected events that could affect the bottom line. For more information, log onto www.insuranceadvisor.com
We Are a Trusted Insurance Provider