Top Businesses We Insure in the Photo & video
As a professional photographer or videographer, your goal is to correctly frame and capture the perfect shot. But as a businessperson, you know that things may not always go according to plan.
Collaborating with clients may open you up to some risks. Likewise, your expensive equipment is subject to loss or damage while in transit or at your shooting site. Visiting customers might be exposed to settings where there is a higher risk of a fall or having their property damaged. Similarly, the safety of expensive equipment needs to be a priority. With the right business insurance, photographers and video pros can cover their assets and liabilities.
What photo and video businesses need insurance?
No matter if you're an independent photographer or own a company with employees, having the right insurance coverage protects you from unanticipated property losses or liability claims and lawsuits. It is important for every professional photographer or videographer to arrange for suitable insurance coverage. The following reasons are why you are more susceptible to claims:
You serve clients
People visit your place of business
Assignments take you to public spaces or client locations
Your company owns automobiles used for business
You drive a personal vehicle for professional purposes
You have employees
The business owns assets and photography or video equipment
Why is photography and video business insurance important?
Accidents and injuries can happen, especially when out on location or in the field!
In real life, mishaps and injuries can occur. If an injury occurs on your property or while you're working in the field, the financial consequences can be devastating to your business. By purchasing the appropriate liability insurance, your insurer could cover the expenses of third-party injury lawsuits filed against your business. Workers' Compensation, insurance provides workers with medical care and a paycheck when hurt on the job. One unexpected accident could potentially destroy the company you worked so hard to build causing it to fold.
Business property and specialized equipment can be difficult and expensive to repair or replace
Individuals in the photography and videography field depend on the specialized equipment that they need on a routine basis, including cameras, special lenses, lighting, and computers. Unfortunately, this equipment is pricey and could be difficult to replace. Business insurance, more specifically, inland marine coverage offers protection for this equipment while away from your business location. While commercial property insurance can cover your equipment while at your location for loss or damage resulting from a covered peril, including fire, theft, wind storms, and more.
If a natural disaster strikes or if your office is burglarized, your company may fail to recover financially after the incident. Without insurance coverage, you'll pay for the entire cost of replacing damaged or lost property. If your business was totaled and has to close, even for a short amount of time, will you be able to meet your ongoing operating expenses?
Certain types of business insurance may be required in your state
Auto Insurance
Workers Compensation
General Liability
Almost all states have financial responsibility laws regarding the ownership and usage of automobiles. Workers Compensation is required for businesses that have over 3 employees, but this can vary by state. Many boroughs, cities, or counties require general liability to operate a business within their boundaries. It would be wise to make sure the business is complying with local and state requirements.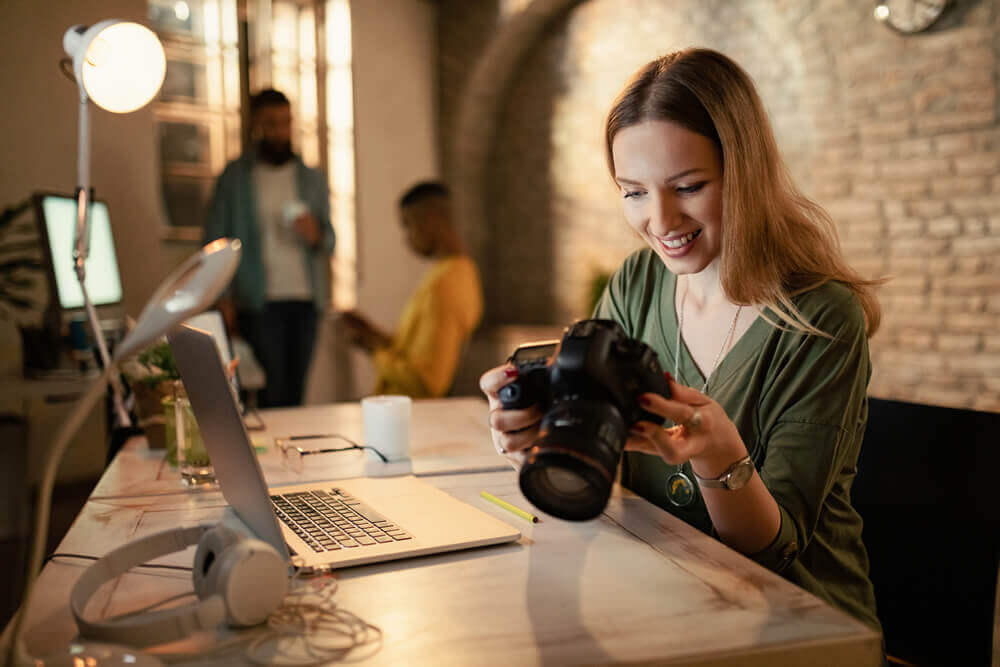 Policies Purchased by Photographers and Videographers
Commercial General Liability Insurance
This policy covers the insured photographer or videographer if his actions or work environment causes bodily injury to another or damages property belonging to someone else. It can also cover defamation injury claims. A liability policy covering such situations would respond if someone suffered a fracture by slipping and falling in a photography studio or got burnt by a hot lamp. If the insured's equipment at a wedding, caused someone to trip and hurt themselves, and the cell phone they were holding, this policy would provide legal defense and court awarded judgment when found liable. It also covers the business if the company is sued for accidental copyright infringement by another company for use of their logo.
General liability policies provide for a per occurrence limit, maximum paid for any one accident, and an aggregate limit which is the total amount available for multiple claims during the annual policy term. An artist in this field usually has between $300,000 and $1,000,000 per occurrence limit on their general liability policy.
If you're a professional photographer or video enthusiast, this is the most important policy you should buy. Many event venues need proof of this policy before allowing photographers or videographers to snap images or record videos at their sites. They do not want their own business insurance to become involved if the photographer or videographer damages property or hurts a guest.
Commercial Property Insurance
A photographer or videographer cannot have second thoughts about investing in costly, specialized equipment, these are tools of the trade. A commercial property insurance plan can take off some pressure by covering the equipment if it is stolen or damaged in a fire at your business location, a studio's policy also covers the furniture, computers, and other items at the studio. If a claim is filed, the business would pay the deductible and insurance would pay off the remainder.
There are 2 kinds of property valuation methods with insurance, the first type is replacement cost value (RCV), the most popular choice. The second type is actual cash value (ACV), the amount of claim paid for the property loss is depreciated which simply is not enough to replace the item at today's cost.
Optional coverage under commercial property insurance is business interruption. Business interruption with extra expense coverage replaces lost income and pays additional expenses incurred to mitigate your total loss by speeding up recovery. If your building is damaged by a covered peril and you're unable to operate your studio, this coverage will replace your revenue stream up to the limits purchased. This will allow you to meet your ongoing expenses like paying rent, mortgage or equipment loans until your business fully recovers.
Business Owner's Policy
Many photographers and videographers opt to purchase a business owners policy (BOP) over obtaining separate general liability and business property insurance. This policy, also known as BOP insurance, combines both coverages and includes business interruption. This package is more convenient and is also less expensive than separate policies.
Commercial Auto Insurance
If the business owns a vehicle used for professional reasons, it should be insured on a business auto policy. Most personal policies limit or even exclude coverage for business use. Make sure if you are using a personally owned vehicle for business that you discuss the situation with your agent who can counsel you on what's best for your situation. There may be a business use endorsement that can be added to a personal auto. That will raise the rates slightly but it shouldn't be unreasonable. Many studios have their own fleet of vehicles and employees that drive them. In such instances, a commercial auto insurance policy will be required for them. For the most part, these policies provide the same coverages as personal policies but for a business entity.
Business Umbrella Liability
An umbrella or excess liability policy provides additional limits to pay claims that exceed the limits provided on the underlying liability policy. These policies are written in excess of general, auto, and employer's liability coverage. Limits start at $1 million and can be increased up to most limits a company may want.
Errors & Omissions
Professional photographers and videographers ought to have an errors & omissions policy to cover their professional services. This policy can safeguard them in the event of a mistake that falls outside of the bodily injury or property damage covered by other liability policies. In most cases, a professional liability claim or suit is caused by a mistake, negligence, or failure to execute a job properly.
Let's say you inadvertently destroyed the wedding photos or did not capture the content the way it was intended. Maybe you failed to appear on time at the wedding and missed the walk down the aisle. These are some examples of circumstances that might get you involved in a lawsuit. Even if you did nothing wrong, anyone can sue anyone, it would be nice to know you have legal defense provided by the professional liability policy.
Workers Compensation
Anyone who has employees must have workers compensation insurance, as many states mandate it when you reach a certain number of employees. This policy pays medical costs for staff injured while working and a percentage of lost earnings if they can't work. A sole proprietor is not usually required to have workers compensation and may have coverage for medical care if injured on the job under their own health insurance plan.
Cost to Insure Photographers and Videographers?
The various elements that go into the cost of video and photography insurance consist of your exposure to loss (annual sales or payroll) and the value of your business' equipment that you choose to insure.
Being a photographer or videographer is mostly considered a low-risk business. The average rate for a commercial general liability insurance policy for a year for a sole operator is around $425. Larger operations, of course, will have more exposure and incur higher premiums.
The commercial property insurance costs will be determined by the value of the property to be protected, the construction of the building, the year built, and the locale. Property insurance costs are much different in Florida compared to Pennsylvania due risk of hurricanes. A sole proprietor with $20,000 in equipment might spend roughly $300 per year on a commercial property, whereas a studio with all the necessary tools, props, tables with $200,000 forth might spend around $3,000 per year, depending on the location.
To cover your equipment outside your business location, an inland marine policy is the way to go instead of a property policy since it will cover your equipment regardless of where it is located. These rates can range from $1-3 per $100 of value.
If a photographer or a videographer needs to purchase commercial auto insurance the cost will vary based on where the business is situated, the size of the fleet, what the specific vehicle is, coverage purchased, limits, deductible and the drivers past violations. It may cost anywhere from $1,200 to $3,000 a year, depending on the above factors.
An errors and omissions policy for a videographer or photographer will vary according to the kind of work they do and, again, the size of the business. A single videographer may pay about $300 annually for a policy that has a liability limit of up to $350,000.
The average photography studio will spend somewhere between $400 and $1,000 a year on commercial umbrella insurance with $1 million in coverage.
Businesses that employ a certain number of employees (depending on the state and industry) may be required to have workers' compensation insurance. State law defines the requirement to purchase this policy. This coverage is based on payroll and the classification of employees' job duties. A clerical employee rate is less than a construction worker rate per $100.
We Are a Trusted Insurance Provider