Top Businesses We Insure in the Auto Services
As the owner of an auto service business, you play an essential role as an adviser by providing customers with options for needed service or maintenance on their automobiles.
What would happen if any of your auto service tools and equipment was damaged in a fire? What if an injury occurred to one of your employees on the job or one of your customers fell in your parking lot? Does your insurance sufficiently cover the unique risks you face?
Your small business can be safeguarded against the risks of the auto industry through garage insurance, garage liability insurance, garage keeper's legal liability insurance, customer injury, or damage to a customer's property. Having the appropriate automotive dealer insurance gives you peace of mind and financial protection in the event of a crisis.
Recommended Auto Services Business Insurance
Garage liability insurance
Instead of General Liability for an auto service business, a special auto equipment dealer insurance policy is designed specifically for your business operations called Garage liability. Garage liability insurance is necessary for any type of auto repair and service business. It protects your garage from the substantial costs of bodily injury and property damage third-party liability claims and lawsuits when your shop is liable.
The policy provides coverage for third-party:
Bodily injury
Premises property damage
Non-Owned auto (vehicles left for service) liability
Advertising injuries, such as slander
Personal injury (wrongful arrest, invasion of privacy)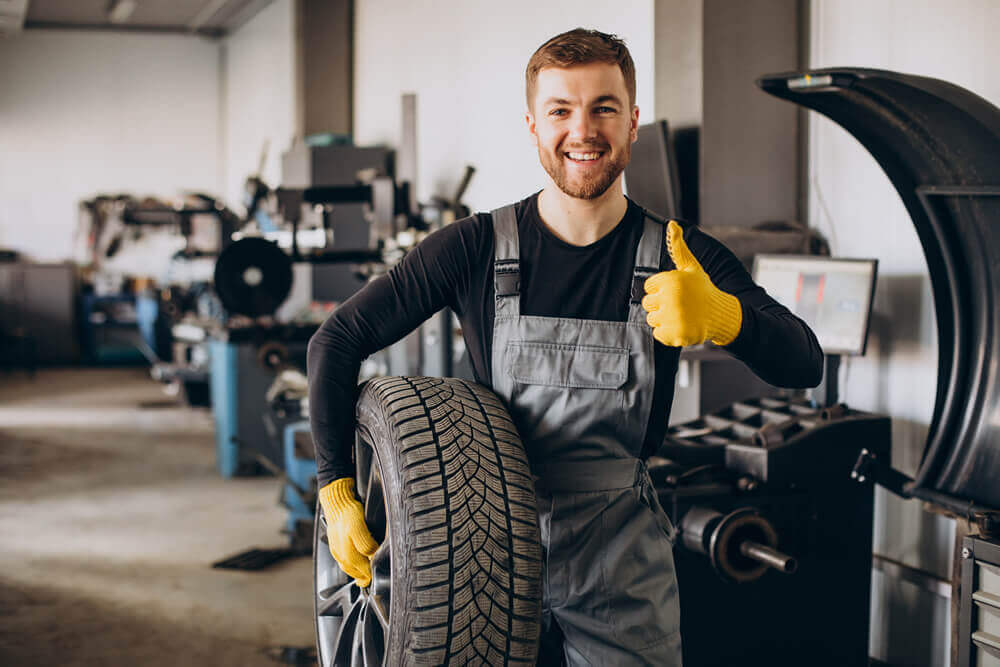 Coverage provided by Garage Liability Insurance for Auto Service Companies:
Third-party bodily injury
A customer may slip and fall because of spilled coffee on the floor, hurting themselves in your waiting room. They may break a bone, and require emergency transport, x-rays or MRI to determine the damage and of course the cast and any other related equipment. Because coffee had been spilled and not immediately cleaned up, or marked with a wet floor sign, the shop may very well be liable for the injury. If liable, the shop would need to pay the cost of all medical care, pain and suffering as well as the economic loss of the injured party.
Third-party property damage
Garage liability insurance typically provides reimbursement if a client's property is damaged (not vehicles left for service). This coverage may also provide legal defense if you're sued by a client to recover the costs. For instance, if you operate a car wash and it malfunctions and breaks a side mirror off a client's car, your garage liability coverage may cover the damages.
Copyright infringement and other advertising injuries
For instance, if an employee writes a negative review about a competitor's auto repair shop and your business is the subject of a lawsuit, general liability insurance can help you pay your legal fees. While making an advertising campaign for your store or garage, you may copy a logo or slogan you saw elsewhere without even realizing it.
This is the automotive dealer insurance coverage that business owners need for their public relations strategies or to advertise their automotive business' services using social media.
Defamation, such as libel (written) and slander (spoken)
Accidental copyright infringement
Garage Keepers Legal Liability Insurance
Garage Keepers Legal Liability coverage insures your business for physical damage to the vehicles left with you for service or repair. Your shop or its employees would need to be liable for any damage to a customer's vehicle for this coverage to pay the claim.
For example, your mechanic finishes repair on a customer's car and takes it for a test drive to assure that everything is working properly. At the corner, he fails to stop at the stop sign and is struck by a pickup truck. Your driver is cited for the accident. Garage Keepers Legal Liability would pay for the repairs or replacement of the customer's vehicle, less the deductible.
While the legal liability of your shop is required for the above claim to be paid, there is another type of Garage Keepers coverage that will pay for loss or damage to the customer's vehicle regardless of fault (liability). This is typically called Garage Keepers Direct Liability.
Garage Keepers Direct Liability pays for loss or damage to a customer's vehicle even if your shop is not at fault. Let's say you received a vehicle for repairs to be done the next day. The high-end vehicle is stored in your well-lit, fenced-in lot. During the night, the car is broken into and stolen. With Garage Keepers Legal Liability, the theft of the customer's car would not be paid for because it was not your business's fault that a thief broke into your lot, and stole the car. With Garage Keepers Direct Liability, the car theft claim would be paid.
Workers' Compensation Insurance
Workers' compensation insurance pertains to employee medical care and lost wages caused by work-related injuries. In most states, this policy is required for businesses with a certain number of employees.
Despite all your efforts, it is difficult to protect your employees from being hurt on the job. From sustaining a slip and fall in the repair shop to suffering a brain injury while test driving a car left for service, accidents are bound to happen.
Workers' compensation pays for:
Expenditures for an ambulance, diagnostics, and medical treatment
Rehabilitation costs for ongoing physical therapy
Business Property includes:
Auto repair and servicing tools, equipment, and machinery
Gas pumps, car washes, and other specialized equipment
Office furniture and fixtures
Your building if you own it
Business property insurance will compensate you if your property is damaged or lost due to a covered peril. A special form property policy will cover your business property for things like fire, windstorm, theft, hail, riot, vandalism, and more.
Business Interruption
If your enterprise is unable to operate because of covered damage to your building, it could cause financial difficulty. Business interruption insurance will replace your net income while your building is being repaired until you can reopen. With this coverage, you can meet your ongoing financial responsibilities.
Insurance Cost For Auto Dealers & Services
Several variables will impact insurance premiums, such as:
If your business owns autos, tow trucks, etc.
Automotive services offered
Insured values of owned assets
Revenue
Location
Payroll
Frequently Asked Questions (FAQ) about Auto Services Business Insurance
1. Does business auto insurance cover repairs?
If you purchase comprehensive and collision on your vehicle the business auto insurance policy covers repairs caused by collision with other vehicles or object and comprehensive coverage can pay for damage caused by fire, flood, theft and other non-collision related damage. The comprehensive and collision coverage on an auto insurance policy does not cover routine wear and tear and normal routine maintenance. For coverage on engine, transmissions, or other mechanical problems you can buy an extended warranty product.
2. Does business car insurance cover mechanic negligence?
You trust the mechanics who repair your car to do a good job and fix the issues you're experiencing. In this scenario, a mechanic performs faulty maintenance because they don't know what they're doing. The business auto insurance policy would not cover damage to the car that was caused by the mechanic's negligence. in that case, the auto repair shop should have insurance to pay for damage caused by a negligent mechanic. You should put in a claim with the repair shop though you may have a difficult time doing that without an attorney. A reputable car repair shop should stand by their work and rectify the problem. Please read the following and contact a lawyer if you want to know your full legal options.
3. What does garagekeepers legal liability cover?
Garagekeepers legal liability is different from garage liability. Garagekeepers legal liability coverage pays for damage to a customer's vehicle that is left for service with the repair shop. There must be established legal liability of the repair shop for this coverage to pay for the damage or replacement of the customer's car, for instance, the mechanic gets into an at-fault-accident while testing the car to make sure it is running properly. Garage liability pays for the damages incurred by the other vehicle involved in the accident where the mechanic was at fault, it will pay the bodily injury and property damage liability.
4. What is the difference between garage liability vs general liability?
For garage operations, general liability insurance does not provide third party liability arising out of an auto accident. Garage Liability should be purchased by garage owners to cover liability arising out of a mechanic test-driving a customer's car after repair to make sure it is running properly. If a mechanic is at fault for an accident while test-driving a customer's care and injures another driver or damages another vehicle, it is the garage liability for the resulting damage. Most garage policies combine general and garage liability on one policy. Garage Liability policyholders are protected against third-party property damage and bodily injury liability claims from auto use. General liability coverage also pays for third-party bodily injury and property damage claims, but it only responds to those occurring on the premises and not related to operations of a vehicle.
5. What does collision insurance cost?
There is a difference in the collision coverage on a business auto policy and the extended warranty coverage sold for repair and maintenance of a vehicle. Collision on a business auto policy covers accidents in which the vehicle collides with another car or object. Extended warranty products cover the major mechanical systems in a vehicle for normal wear and tear, maintenance and breakdown. Several factors affect the cost of both collision and extended warranty products, including the make, model and age of the car, the insurer, car value, repair costs, and mileage. AAA estimates that the average vehicle repair costs are between $500 and $600, but as we know, they can rise much higher with the technological advancements such as back up cameras, GPS and Wi-Fi now included in many vehicles.
6. What are extended car warranty or mechanical breakdown products?
An extended car warranty policy or a mechanical breakdown policy pays for sudden and accidental mechanical breakdown of your vehicle. This coverage is usually sold be a dealership when buying a vehicle and it protects your wallet against unexpected vehicle repairs and breakdowns. You can also get this protection after you buy a vehicle, there are plenty of options online. Whether you have a car, truck, or RV, you can get mechanical repair coverage for your vehicle by purchasing an extended warranty product or mechanical breakdown policy.
We Are a Trusted Insurance Provider