Top Businesses We Insure in the Healthcare professionals
The healthcare industry is the most prominent globally, valued at approximately $11.9 trillion as of 2022 as forecast by business wire, a Berkshire Hathaway Company. The industry is projected to continue growing over the next several years. As a result, it welcomes a large spectrum of interested job hunters.
Along with the rise in the healthcare market, there has been a further increase in the demand for healthcare professionals' insurance or healthcare industry insurance. These insurances are critical because they provide essential protection for businesses and professionals active in the fast-paced and high-stakes healthcare business.
Who needs health care business insurance?
Purchasing business insurance is a vital part of any healthcare professional's risk management strategy, and your state's regulations may require many types of insurance. Whether you practice medicine as your profession and face risks from medical malpractice, have premises liability or property insurance, or perhaps you are a health care provider that needs coverage for your work vehicle, there are various insurance types and policies that can be tailored to your goals. Your healthcare business needs insurance If any of the below items are true:
Provide medical advice or services.
Own or lease commercial space.
Is open to the public
Travel to your clients' homes or offices
Own or lease a company vehicle
Owns assets, buildings, medical equipment, furnishings
Accepts electronic payments from a health insurer, Medicare or Medicaid
You employ staff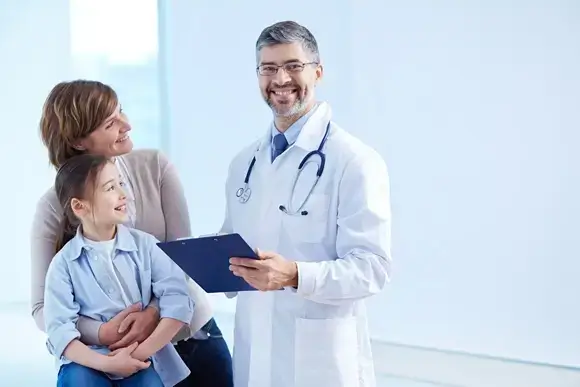 Why is health care business insurance important?
Malpractice lawsuits are common and can be expensive
Medical malpractice insurance is a must-have component of running any healthcare business. By purchasing this insurance, you can protect your business from lawsuits. Even if you win the suit, the legal expense of the case and time spent dealing with it can be expensive and taxing on you and your business. Business insurance can cover your legal defense costs incurred to protect you from a lawsuit.
Even a simple error or mistake when working with something as important as a patient's health can lead to significant patient injury or death. If you are in any way responsible for the injury or death of someone due to an error or omission, you could face catastrophic legal repercussions.
Injury or misfortune can and will happen
If your business owns or leases commercial property where you see patients and clients, having the right insurance coverage to protect against bodily injury or property damage liability can be a lifesaver. If a disaster occurs and your property is destroyed or if a patient injures himself on your property, business insurance can address damages and lawsuits. Insurance coverage can provide legal defense if sued or replace or repair your property damaged or stolen, or if a patient hurts himself on your business's property.
Without business insurance coverage, you will be on the hook to repair or replace your business property or pay all costs related to a lawsuit for third-party injury. While minor accidents may be addressable without insurance, you cannot predict when or if a severe disaster or accident may occur. Just one unexpected event could mean a financial disaster for your business.
Your state may require specific kinds of business insurance
If you are a medical professional, you may be mandated under state law to carry specific limits of coverage, including medical malpractice insurance and worker's compensation insurance. Even if your business is not required to have coverage under the law, securing coverage is wise. Medical malpractice insurance can defend your and your practice from lawsuits claiming medical negligence and wrongful acts. Worker's compensation insurance pays your employees' medical costs if injured on the job.
Without obtaining the various types of liability insurance, your company may face financial responsibilities when third parties or workers suffer accidents or injuries caused by your business activities. An injury or lawsuit could cause severe economic losses that jeopardize your company's survival. If insurance coverage is required by law, not complying will land you and your business in trouble and could lead to fines and penalties or even jeopardize your license.
Recommended business insurance policies for healthcare professionals
Healthcare providers and companies often select insurance based on their operations and the needs of the company. The various policies can be customized to meet the precise needs of a specific professional or company. Some of the healthcare policies that should be considered include:
Medical Malpractice Insurance
Also known as medical professional liability insurance, this insurance enables doctors and other licensed health-related professionals to defend themselves from liability that results from errors or omissions while providing professional services that result in bodily harm or death to a patient. Patients or their families may sue for pain and suffering, economic damages, medical expenses, replacement services, and more. Professional liability insurance will provide your legal defense for covered acts and resulting settlement or judgment.
Abuse Liability Coverage
This insurance protects companies or organizations that have had their staff accused of abuse. Various types of abuse can be covered under this type of insurance, such as sexual, psychological, physical, and corporal punishment, and more. Defense is provided by the insurance carrier for covered wrongful acts of employees for which the organization can be held liable.
Directors & Officers Liability Coverage
Directors and Officers of private, public, and non-profit organizations are especially vulnerable to accusations of wrongdoing. The director's and officers' liability coverage protects against those claims. This policy protects the directors and officers against third-party claims, such as those of shareholders or patients. The policy will defend accusations or claims of wrongful acts (as defined in the policy) by directors or officers. Claims related to bankruptcy, unpaid wages, misrepresentation of financial condition, employee allegations, unethical behavior, breach of trust, and so on.
Privacy/Cyber Liability Coverage
This policy aims to shield businesses from the activities, capabilities, and resources of hackers and other cyber threats that could compromise people's personal information, hold a company's information ransom, stop functions handled online, process fraudulent fund transfers, damage systems, and hardware, and cause a loss of revenue among so many others. By purchasing a cyber policy, companies can be protected from these occurrences and get the help needed to get back to normalcy.
Employment Practices Liability Coverage
Employment practices liability coverage for your company will assist when faced with litigation from staff regarding allegations of maltreatment which could include sexual harassment, discrimination, hostile work environment, and other employee-related issues. Employment practice liability insurance will cover claims from current or former employees, seasonal workers, independent contractors, and leased employees. This policy can be endorsed to cover third-party discrimination claims as well. Even if the suit is dismissed, the cost of defense in itself makes this policy a good investment.
Property and Business Interruption Coverage
Business interruption insurance is insurance coverage intended to replace income lost when a business is affected by a calamity such as a cyclone or fire. This insurance covers payroll, taxes, loan payments, renting a workspace if necessary, and operating expenses. This coverage also applies if the government mandates a shutdown of operations.
Business Crime Coverage
Business crime coverage protects a business where losses result from robbery, forgery, embezzlement, extortion, employee theft, and computer fraud. This coverage can protect a company's assets, cash, goods, or other property from theft or misappropriation. Businesses can cover a wide range of offenses under a commercial crime policy, including employee dishonesty, theft of money within or outside the premises, and more.
We Are a Trusted Insurance Provider